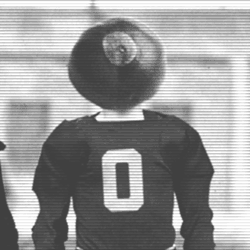 evantosu30
---
Member since 08 February 2012 | Blog
Favorites
COLLEGE FOOTBALL PLAYER: mike doss
NFL TEAM: browns
MLB TEAM: Indians
Recent Activity
Ok. Oh that's right. You are one of the ones who live on here. Gotcha
Yea right.. People have always posted stupid jokingly things on here. The difference now is now you have people living on here just waiting for someone to post something they can bash.
Yea but wasn't about Braxton. It was a joke. Seriously this site never used to be like this. I have been following it for over three years and I don't ever remember this happening. Shame. Such a great site
Ban me for that? That is the dumbest thing I have ever heard
Lol just bored at work.. It's been a pretty damn good year. Lighten up a little.. Send me to jail. I don't post hardly ever anyways. Just get my buckeye info and that's it. And lately most info turns out to be slamming the op for not knowing a post had been made earlier that morning or now if a person needs to be in jail. Lol it's kind of silly isn't it?
Because all they care about is making money. The studios will pinch every dime out of anything they can get their greedy hands on. Its awful so our beloved christmas vacation is never safe as long as there is money to be made
Don't piss me off art
One, we dont play sat so she gave me that. Second... my beer taste good right now and.she still does not care about football. Smh
I dont know about you clark but I sure am enjoying it
I guess I was a little harsh on the guy. I heard one annoying segment and thats what triggered this pointless creation. I am getting married in a week give me this one
Absolutely I think its just a matter of being a little more patient instead of just running and juking at a million miles an hour. Slow down a little and the holes will open up. He has that "it" factor from what I have seen
I agree with you but so far how many times has he had an open lane to just run through? He has had some jet sweep, kickoff, and punt returns but not much of a chance to just get the ball with wide open space and take off. Percy harvin made people miss or caught the ball over the middle and sprinted.to the endzone. He has to make people miss and thus far has been pretty average at breaking tackles. But I feel like its just a matter of time.
Dontre might be the king of the "shoelace tackle." Seems he is always so close to breaking a long run but gets tripped up. But he also looks to be close to being an absolute terror..
Been poking around that site today and I have to say they are very confident that they will win this game. Seems they believe we wont be able to score on their vaunted defense. Hope we shut them up quick
Yes yes it does thank tou
I wish I could upvote you. Living in Indiana is unbearable with the nd fans. Always telling me how great they will be and how much smarter they are. I actually had a nd fan tell me how much better rice is than Navy. I hope Navy kills them
Both from same class and both from texas.. hill was rated a little bit higher but I am guessing its because of jts injury sr year
Osu 52 navy 14
That guy is just awesome.. will miss this guy when he graduates
Givin the direction this team is going seems like slowing down would definitely give us a better chance to win even though the thought of playing wiscy bball makes me cringe. It would save players from foul trouble (if we can figure out what a jump stop is) and save energy for our seven deep. Its just tough to acknowledge that this is the route we have to take after seeing what we did at duke and knowing what we are capable of.
I don't think its the end of the world by no means.. Doesn't change the fact that they are struggling as a whole and its either a funk they will snap out of or its something more. Maybe a change is needed but maybe not. I just think some tweaking maybe to the starting lineup aka smith Jr could benefit us more come tourney time.. just an opinion
I think Williams and sully down low together would create big problems for defenses. sully has been working on his faceup game so him not always being down low could be something that would benefit him. Amir would almost for sure at least score more points than smith but also would alter more shots and get more rebounds. Burke scored a couple times on kraft at the end but that was after he should have had a fifteen second call. Amir down low would have made those good but kinda lucky drives way harder. Kid is an all American and needs to be given a more prominent role