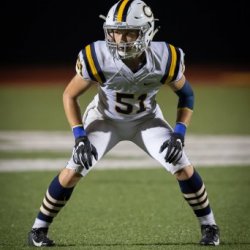 Evansvillebuckeye
---
Evansville, IN (via Seattle, WA (But raised in Lima, OH))
MEMBER SINCE August 14, 2011
Raised in Ohio, Buckeye by genetics. Did not attend OSU, but only because received full ride to Ashland University. My not having a degree from tOSU does not mean that I do not bleed scarlet and gray....
Favorites
SPORTS MOMENT: 2003 Fiesta Bowl with my Father/59-0 shellacking of Wiscy with my son.
COLLEGE FOOTBALL PLAYER: Archie Griffin
COLLEGE BASKETBALL PLAYER: Aaron Craft
NFL TEAM: Seahawks
NHL TEAM: Blue Jackets
NBA TEAM: Celtics
MLB TEAM: Dodgers
SOCCER TEAM: Seriously?
Recent Activity
I hate coaches that are only it in for them self....
I hate coaches that are only it in for them self....
Having lived through the Cooper years - and even the Charlie Bauman game, there is nothing in this world that I would trade for a loss to TSUN. I would rather dance naked with killer hornets infected with Covid-19....
Hopefully everyone clicked on the circle of the open Meatchicken defender in the frame before Allen's interception...pure easter egg gold!!
Wouldn't Jones need 000 to look right on his jersey??
That run is amazing...I especially like the slo-mo version that has all the sideline Buckeyes' reactions!!
Fool just talking out his butt praying the entire season is canceled so they don't get trucked again.
"Most storied programs..." as in once upon a time??
He's going to literally as old as Greg Oden looked if and when he ever graduates....
Congratulations! You most certainly need to hold on to the girl who doesn't mind that you still live in your parents' basement! Go Bucks!
Dobbins by (69 + 70)...by 139....Teague by 15...
42-9 Bucks. Chase Young 4.5 sacks....Dobbins breaks a sweat...
First ever to win the playoff, and now the first ever top seed to win!
How do we balance the need for reps with the risk of injury for the next two games?
Love Springsteen's music. However, my brother who lives in Jersey and pays astronomical property taxes has convinced me to question Springsteen's common man hypocrisy. Apparently he has a multi-thousand acre spread that he has managed to get declared as "farm property," and therefore - the man who has millions of dollars off making music is paying less in property taxes than most normal property owners in the Garden State.
Where's the Boom for Quinton Burke. OG 2020??
Columbus West won't even be a speed bump this year. Bucks win big!
Count me as one who is excited for the defense to take the field this year.
First crappy offensive outing, Hairbaugh will take the keys back from Gattis...