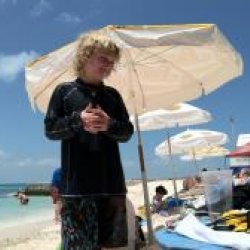 EvanstonBuckeye
---
from Evanston
MEMBER SINCE September 28, 2012
Favorites
SPORTS MOMENT: Sad to say, 8th grade year. Last minute red zone stand versus hated rival and I make a tackle at the three-yard line to save the game. Long gap... then I ran a marathon when I was 30. Not exactly Highlight Express.
COLLEGE BASKETBALL PLAYER: Evan Turner
NFL TEAM: Pittsburgh Steelers
NHL TEAM: Chicago Blackhawks
NBA TEAM: Chicago Bulls
Recent Activity
Watch out, University of Chicago gonna swoop in last second and snatch him.
Call it a legend... or a leader. Your choice.
Cowan and Mitchell Melton are my sleepers. Melton could be Malik Harrison 2.0. Tall, rangy, and productive.
He'll just appear on the field at some time in his uniform.
Is Francois still in play? It's been really quiet lately regarding his recruitment. Do we think Mike Norvell's hiring could keep him home?
They weren't always in press vs. Wisconsin and Coan found some soft spots in the zone, especially when Okudah was out.
He'll have to be good vs. Clemson, that's for sure.
Wow. No kidding. Just watched and he looks really drowsy.
Our DBs vs. Clemson's big WRs. We can't let them get into a game of pitch and catch and three-step drops for Lawrence. If we can break up some passes and maybe get a pick (Lawrence has 8 this year, which is kind of high for elite QBs), it will force him to hold onto the ball longer and give our D-line a chance. Our depth on that line will help.
He's a known entity. Alford could end up being a better HC in the long run, but if you're Colorado State, Butch Jones is a great get.
His other offers were Fordham, UMass, and Buffalo.
It's like they're not even trying.
It should go without saying but the best case scenario in all this would be Hafley staying.
No disrespect to Ash, but this defense is much, much better than 2014.
Congrats to Chase and Justin! What an amazing team and season!
I think Chubba Gubbard is what it sounds like when Coach O says, "pass the hot sauce."
If you've watched Dayton play, they are legit
Obi Toppin is a grown-ass man.
Wasn't WVU supposed to be really good this year? I see that they're not ranked, and even their wins this year have been pretty underwhelming.
I know they'll be physical against us, though.
inexcusable. It will go barely noticed, but it should deeply offend true college football fans. That Georgia team does not deserve to be anywhere near the top-5.
As it stands now, yes. You're arguing they would have vaulted Clemson to #2. Thank God we don't have to worry about that. If nothing else, the CFP has proven its worth the last two years with how to deal with three undefeated teams.
Or to have LSU's game be a scrum, which it was not.
Certainly losing a veteran receiver like Cager makes a huge difference, but my issue would be with Georgia's overall lack of depth at WR. It should definitely be considered in regards not only in how to value LSU's win over such an offensively-challenged team, but also as to why UGA was ever ranked that high to begin with, especially with Utah, Oklahoma, and Baylor all one-loss teams entering the weekend (and with better losses).
That's a big loss for Dawgs and their recruiting. Dude was a witch in getting stud offensive linemen; less sure about their development.
I noticed the same thing. I loved Holtman's decision to keep CJ in there as I think he earned it. DJ will get his time.
Stevens is the only player that could get to the rack. Without him, they became a spot-up jumpshot team and, though they hit then three's in the game, they also let the game get out of hand by not being able to get offensive rebounds and not being able to stop our three-point shooting as we worked inside-out with CJ.
I think, if he had a chance to rephrase it, the OP would say, "I'd rather be in a Clemson fan's position."
I could be wrong, but then he probably wouldn't be posting here.
We trucked UM in Ann Arbor. If Bama trucks them, it's just more to like.