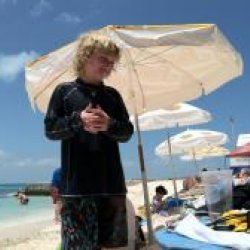 EvanstonBuckeye
---
Member since 28 September 2012 | Blog
Favorites
SPORTS MOMENT: Sad to say, 8th grade year. Last minute red zone stand versus hated rival and I make a tackle at the three-yard line to save the game. Long gap... then I ran a marathon when I was 30. Not exactly Highlight Express.
COLLEGE BASKETBALL PLAYER: Evan Turner
NFL TEAM: Pittsburgh Steelers
NHL TEAM: Chicago Blackhawks
NBA TEAM: Chicago Bulls
Recent Activity
Just watched Teague take a kick back. Hilarious.
It's an interesting argument. The window for winning national championships is pretty small for most programs and we're in the midst of both an incredible recruiting and on-the-field roll. I suspect Finebaum's critique may be a bit of a compliment in disguise in suggesting that we should be winning the Natty's that Bama doesn't, essentially one every 2-3 years. That's some expectations right there, but it seems to be what he's saying.
I knew him as a broadcaster mostly for ABC. I will say that his Southern drawl was pretty captivating on a central Ohio Saturday afternoon; it really set the mood.
There is no excuse for how they turned a stately old stadium into what it looks like from street level. That said, it's not a bad place to see a game as far as a viewing experience.
Games such as this year's trip to Bloomington are great. Expect an amped-up crowd against a decent, if not great, opponent. It's a good way for the team to bond, see some adversity, and get a conference W.
Good clarification. Thanks.
Are there any clips of Dobbins making pedestrian plays or mistakes instead of electrifying jukes and runs? 'Cause if there are, I haven't seen them.
Though he's not an every down back, don't sleep on McCall.
Not sure. Obviously the Lambeau game will be pro-Wisky, but there are a ton of Domers in Chicagoland. A ton of cheeseheads, too, but I see more 50/50 for Chicago game.
Either way, great series and the best two alternative sites I've seen for a two-game series.
Artichioke-parmesan pie. Preach.
Bong Hill, the Burrito Buggy, Court St, Stroud's Run; the charms of Athens are many.
I wouldn't hold my breath on that one.
Can't help but feel after reading that Hilliard is on the outside looking in for PT.
A Tar Heel offer must be awfully enticing for a kid from Pickerington. It's an exciting style of basketball, too.
I would guess that, for Michigan fans, the actual name is a lot less important than the fact that the class is already developing a bond. It's a pretty damned good looking group, even as early as it is.
I think Chatfileld was Carlton Davis 2.0; a kid who valued the Buckeye commitment at the time, but was always looking for "dream" schools to offer. Did we put up a tenacious fight to keep him? No, probably because we have other prospects and there's no sense in losing a battle like that publicly.
Pic reminds me of going to the Athens County Chilli Cookoff one summer while at OU. Except that nobody wanted to walk behind me.
Or, perhaps, a strong strong safety class?
I'll show myself out.
Yeah, I'm struggling to really conjure up any problem with this.
From what I've heard, they'll pursue him till the end. Obviously, though, they're going to use their energy to go afterr Solo and any other recruits that might emerge during the season. I have to think it's a small pool at this point, though, making it easier to pursue Gaoteote.
Thanks for the story on Kakuma. Amazing that such a place can exist.
I guess I see Oweh as a take regardless at this point, given all of the interest that both Urban and LJ have invested. Plus, both Oats and Chatfiield are DE/OLB hybrids. I don't see either as a threat to a spot for Parsons or Oweh; those guys are both takes. Smith is a take, too, as he can slide inside.
Thank you. A man of insight.
Great comments. I also think Scruggs will be a beast and my eyes lit up when Steele decommitted. I know it would be dicey with Cook expressing so much interest, but Steele would be a great add.
That's a big boy and a big get for Lovie. I won't be able to invest too much confidence in Lovie till he starts recruiting, but gets like this will certainly help.