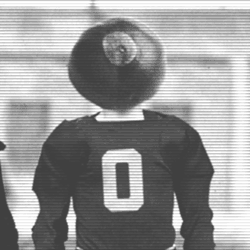 Evannati
---
MEMBER SINCE August 21, 2012
Recent Activity
What about Betty vs. Veronica??
He is definitely "NOT ass, my dudes."
I got some nookie in Morrill in '73.
I am wavering in my commitment not to watch. I do think the perfect outcome would be Clemson playing lights out and LSU winning on an obviously blown call. I could live with that.
Miami - Knowing your literary interest, I started Donna Tartt's "The Secret History" this past weekend. I got through Book I - Bunny's murder - and hope to lose myself in finishing it tonight.
An LSU blow-out is tempting, but what if LSU won 3-0 in a boring, sloppy, ugly game?
Who wants salt in their wound?
Reminds me of going fishing with my Dad 35 years ago or so. We're in a rowboat on the lake with a cooler of beer, lines in the water, bobbers completely still for like three straight hours. No hits. Nothing. We just sat alone with our thoughts. Finally, I asked him, "Dad, why didn't you ever play golf?" He paused and replied, "Too slow."
Befuddled Harbaughs are the funniest Harbaughs.
If we could just use the time machine to send Fields and Olave back for that last play ...
I think he is only controversial here - and maybe at mgoblog. Elsewhere, most of my friends scattered around the country and alums of various different schools think Herbie is great. I prefer a game WITH Herbie to one without.
I would have been an undergrad for five years if I could have ... even six, maybe seven?
The Heisman Trophy-winning quarterback who could not start for Ohio State gets a chance to play against them in the National Title game is not a story??
Just coming in at 7:45 ... I have avoided the media all day. Yeah Bengals and it was nice to see Robert Smith calling out all the Buckeyes, but I digress. I was crushed last night. Did not go to bed until around 4. Woke up at 6:30. Lived in a fog until now when I logged in. Reading this column brought it all back and crushed me all over again. It was there, we let it slip away. I loved this team.
I am still traumatized by the Florida national championship game. I did not see it coming. Ever since I avoid trash talking or making predictions. I do feel, though, that the winner of our game will be the national champs. I don't see LSU or Oklahoma's D as championship caliber ...
All of you not alive at the time, this feels SO Ann Arbor, 1969.
I always try to answer them, "If that is true, are we to assume that you've BEGUN cheating when/if you ever beat us?"
And yet, as Gus Johnson discussed Saturday, Jordan Fuller is a finalist for the academic Heisman? Nary a Wolverine in sight???
https://collegefootballtalk.nbcsports.com/2019/10/30/oregons-justin-herbert-one-of-a-dozen-academic-heisman-finalists/
Without question. Changed the entire trajectory of the game. OSU went in the locker room trailing by one, but it FELT like we were winning. You could see doubt beginning to creep into Alabama's sideline.
But they did have Jack Tatum.
I remember "The Upset of the Century" very clearly. An unbeatable Ohio State team, with a 22-game winning streak rolling into Ann Arbor to put an exclamation mark on their second consecutive national championship. Since they were ineligible to go to the Rose Bowl for the second straight time (Big Ten policy), the game with Michigan would be their last. Michigan, with a new head coach, had no chance. Or so we all thought ... I watched the game last night thinking they are going to be peaking at just the right time, and after we will have gone through the meat grinder against Penn State. I hope Ryan Day knows his history.
I am happy to have Borland just to know he won't be torturing us when we play Wisconsin. He is a pro-type Badger.