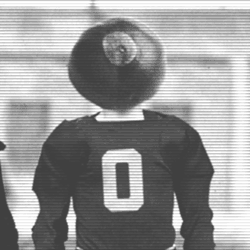 Evannati
---
MEMBER SINCE August 21, 2012
Recent Activity
What is the opposite of "BOOM!" ??
I was not originally impressed with the Cronin hire (not a big Bearcat fan to begin) but his handling of the Crosstown Shootout brawl a few years ago made an impression on me. I believe what he may have lacked in game-coaching, he more than made up for in character-building. You never heard a peep about the Bearcat recruits he brought in. Watching the seniors leave that tournament game and weeping in Cronin's arms will be the coda for his contributions to UC. (I think he made a mistake, btw, leaving.)
Sounds like Brannen is the front-runner. I almost think Van Exel's link to Huggins will hurt him.
I wonder how it feels to know that of all the human beings that have ever done the job that you did, you did it better than all of them? Johnny Bench, the Greatest Catcher of All-time.
Spoken like someone who knows. When you wrap up at Eli's head on down to Pearl's for a nightcap. Love the Buckeyes! Love the 'Nati!
Isn't this where we want to be? Underestimated? Overlooked?
All I know is Hilliard was a helluva high school football player. Granted, high school is high school, but it was Cincinnati GCL.
You kind of had me there for a while, till you liked Bama.
You kind of had me there for a while, till you liked Bama.
DK Metcalf is way overhyped ... maybe, but would you tell him that to his face?
Exactly the same as when Bosa leveled Mariota. "I'm just playing football!"
Did you ever tell Eric? How are Thanksgivings?
Btw, I hated those Knicks, especially Starks.
Do they call Lathan, "Late"?
I became an OSU fan during the Bob Ferguson / Paul Warfield era. I loved Woody as a kid. In those days it was an ongoing argument about GOATS - Woody or Bear? (Bear smoked him head-to-head, 35-6 - that was a long afternoon, with Rod Gerald in the role of Troy Smith being chased down.) The '68 team was, to that point in time, probably the best college team ever assembled. The losses in '69 and '70 to Michigan and Stanford are unexplainable. I do remember Woody installing the carpet in the locker room after '69 that read: "Michigan 24 Ohio State 12". The team had to walk over that every day for a year. I think after getting revenge that year, they were flat in the Rose Bowl.
I think Woody started unraveling after sometime around then, sort of like Bobby Knight. His perfectionism and megalomania got worse. I think when the movie "Patton" came out, people would compare Woody to him and Woody encouraged it. Football became less a game and more a military equivalent. I remember the BBC did a documentary on him that was embarrassing. Had Woody retired in '77 after the Orange Bowl win, I think his legacy would shine more brightly. But he didn't, he hung on.
I remember the night he punched out Charlie Bauman. It was an embarrassment. I seem to recall Keith Jackson and Ara Parseghian calling that game (I could be wrong), but they covered for Woody, not really breaking down what happened. But the public saw it and I knew if Woody was not fired the next day, OSU would be a joke. I woke up to find out he was fired upon reaching Columbus. I was sad and relieved.
You can't discuss Woody without talking about why he was fired. He punched an opposing player who intercepted a pass. That's not normal behavior for an adult responsible for young men.
Nah, Snoop is whispering his cure for headaches, "Keep yo' mind on your money, and yo' money on yo' mind ..."
MLB TV is currently running an excellent documentary on Johnny Bench. If you're a fan, it is must-see. I still remember the summer when Bench was elected to the Hall of Fame. There was a party for him on Fountain Square in downtown Cincinnati and Bob Trumpy was the MC. He said something like the following that has always stuck in my mind, "A thousand years from now, when they pick the all-time baseball team, Johnny Bench will be the catcher."
Word is here that the Reds are offering Jonathan India and Tucker Barnhart for Realmuto. The Reds would have a minimum two-year rental with him, along with an excellent prospect in the minors - Tyler Stephenson - who, in two years, will be ready. So, Tucker is on the clock either way. Barnhart is a great teammate and is excellent at handling pitchers, but this deal appears to be no-lose for the Reds.
I think his indecision regarding Cardale vs. JT going into 2015 was a momentum killer. I still recall that opener at Virginia Tech, where Cardale Cardaled, Braxton Braxtoned, and JT came in at the end and threw a beauty to Michael Thomas, leaving the Va Tech DB picking up his supporter. That team looked unbeatable. They should have gone back-to-back, which would have elevated that first recruiting class to OSU's best ever (over the Super Sophs of '67). Instead, the season devolved into a QB controversy which was resolved too late. The team that beat Notre Dame that year in the Fiesta was the best team in the country.
Other than that, I have no complaints. Maybe he should have gone with Hyde on the 4th and 1 against MSU, Guiton in the second half against Clemson in the first bowl game, and run Zeke more against MSU in the shoe? But as Jonping 67 points out - First World (Elite Program) Problems.
For those who might not remember, Matt James was the kid who fell from a balcony in Panama City during Spring Break his senior year at St. X and died. He was a "can't miss" prospect.
These seemed to be the type of guys Urban slow-walked ... then they went to Wisconsin or Michigan State and kicked our ass.
I understand they're giving Tommy Thrall, the former broadcaster for their Pensacola farm team (The Blue Wahoos), a long look this season. He is joining the existing broadcast team.
Unknown woman not his wife quoted saying : "Roll Tide!"
Mike Price reported reply: "It's rollin, baby!"
I wonder if DeWayne had stayed, if Tate would still be leaving?
Yes to this. More than likely Tate loves football and loves to PLAY football, not watch. He knows he is probably not an NFL-caliber player, at least at QB. But he knows he could be a helluva college QB in the right system a la Manziel, Tebow, Braxton, JT, etc. He only has three years left. I don't blame him for moving on. I think the snark probably comes from realizing how close he was to being the man at Ohio State with a legend coaching him. It has to hurt and he has to be pissed/broken-hearted.
Urban doesn't owe us anything. I hope he finds as much happiness as he provided to me in 2014, especially not just getting that SEC monkey off our back, but taking it behind the woodshed and beating the shit out of it.