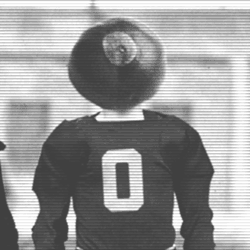 estbuckeye74
---
Columbus (via Columbus )
MEMBER SINCE March 01, 2016
Favorites
NFL TEAM: Pittsburgh Steelers
Recent Activity
Shit Michael Thomas was under the radar. DBU and WRU
I'm watching and rooting for Burrow. Doesn't matter who wins as far as the national perspective of TOSU. Buckeyes are going nowhere. Yes the bad calls hurt but Buckeye fans can and need to be better than ref blaming. There is enough of that on MGO for the entire country. We had the lead and Clemson pinned deep and gave up a 4 play TD drive then the Offense had a chance and didnt close. Yep refs made 3 god awful calls against us but at the end of the day the D could have sealed the game then the O could have won and it sucked they didn't. When Burrow leaves LSU will go right back to the team they have been for the last few years..OSU Clemson and very likely Bama will be the 3 best in country again next year and TOSU will prevail. Go Bucks....Hope Burrow has a natty by the end of the night.
OSU will send the biggest numerical message they can. So...... 66-17 ...and the rest of the schedule can prepare for a pissed off crushing teams with no remorse... please make the playoff again clemson....still throttling Xichigan....Ryan Day doesn't play down to teams.....Screw your dumb ass white out...undefeated season
And they will get practice reps against 5 star receivers....practice will be harder than all games
And I'd like the opportunity to upvote myself on that
The refs sucked in our game but after all that shit our D lined up with a chance to win then our O had a chance to win. If we made the plays we had open and schemed to make we win. Excuses are for mgo blogs and the rest of the 2nd tier teams.
A rival is 365 days a yr. So ok go Indiana over Tennessee..if u walk in the shoe claiming wins from leather helmets....FU
I love our conference and root for all but 2 teams. PSU and the other should be obvious. SEC ESPN whatever... TOSU plays hard and lives up to expectations....no need to root for those 2. OK We lost...everyone in the country saw what OSU fans saw. We are the most loved AND the most hated team in the country. We dont need any help. Btw I did love the Minnesota W
Big 10 titles and national championships just feel like bonuses for buckeye fans after reading that.
He could come back and go in the top 10 but it is his decision.
Proudofourguys
LSU will be watching the qb battle in 2021 between Stroud and Miller with great interest
DPJ is coming back...he is within reach of the all-time dropped passes record.
DPJ is coming back...he is within reach of the all-time dropped passes record.
I really dont think Utah is going to beat Oregon but I am rooting for them.
My only fear is that Harbaugh enters the transfer portal.
Penn st way higher...if you were at the game and saw chase youngs intensity between plays it matched his absolute dominance during plays when the game got close. He would not let the D surrender another score. It was something to watch. He rushed the qb and recognized a draw and chased the back down for like a 6 yd gain.. It was 1 tackle in his stats but maybe the most athletic play from a d lineman I have ever seen.
Totally agree they seem to play looser while playing just as hard.
Man I hope Wade comes back.
Sg went back 8 years! Impressive.
Fields 1st scrambles to extend throwing time before looking to run...which has led to sacks and big plays but is necessary to play in the nfl in my opinion.
Day seems to be a perfect blend of disciplinarian and a players coach
The new D coaches have been better than I could have imagined.
1. Be up so big it is over at halftime so we can celebrate the entire 2nd half. 2. Stay healthy 3. Treat them like they are nothing but a stepping stone on our way to the natty.