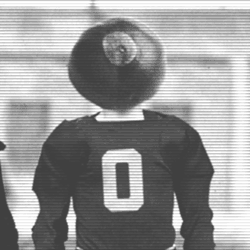 esap153
---
MEMBER SINCE August 01, 2018
Recent Activity
Um, Virginia Tech 2014
Werner's issue isn't that he is slow - that's Borland who is/was recovering from an Achilles injury (which is VERY difficult to come back from and retain the same speed/acceleration). Werner's issue was that he was constantly out of position on run defense and wasn't the best tackler.
I don't think it's weird. I have skinny thighs and I'm always stunned at the strength of these dudes' legs. Being specific isn't creepy - however dude saying it's creepy has a gutter-focus. Don't sweat it
I personally wasn't too disappointed when Tathan Martell transferred - however I did want to see him try to compete for the starting job, then move on as a graduate transfer if he didn't win it - That said I WAS disappointed when Matthew Baldwin transferred because I thought he might have been able to win the QB1 job, and if not, he still might've ended up playing - what concerns me is the fact that Justin Fields runs the football and if he doesn't give himself up and slide, could very well get injured. Heck, he could get hurt taking a shot in the backfield (knock on wood) - we all know how things went down in 2014, and thankfully we had two capable backups to Braxton Miller, neither of whom transferred... Apparently Cardale Jones came really really close to transferring, thank God he stayed because he transformed the offense at just the right time. I still think about how utterly improbable that run was! Especially after the loss to Virginia Tech. I was living in Washington state at the time, and had to deal with a bunch of Oregon fans (from Vancouver, WA which is right at the border of OR) talking smack, especially after they beat Michigan State that same day. All I could do was say that our quarterback was hurt and shrug, pointing out the Ducks record versus the Buckeyes. Still, watching them start blowing teams out after that loss, I tried to temper my enthusiasm, saying it was weak competition, considering how awful the B1G was in out of conference play. I became a believer after they waltzed into East Lansing and Blitzkrieged the Spartans. Here's to hoping our guys stay healthy and have a great year!
I wasn't necessarily upset with Urban Meyer for his team being heavily penalized. They always were, however last year was really really bad. I do think B1G officials are told to focus on Ohio State, call me paranoid, I'm not sure why either... Last year so many bullshit calls, while similar plays would happen that should've gone against their opposition and didn't. I don't know what else to think, other than maybe they wanted to see somebody else win the B1G, I am willing to put on my tinfoil hat and say it
On Urban to coach again rumors, sounded like a click-bait article recirculating the same rumors that have been swirling since he stepped down at tOSU. That said, if his health really was the issue, I can see him staying retired, but I wouldn't be shocked if he coached again. However, unlike the article mentioned, despite USC's wet-dream coaching hire, I think- and again, if his health issue with the arachnoid cyst is true - that he would be better off pulling a Les Miles and taking over a program NOT expected to compete for titles year in and year out, something Mack Brown did as well with the UNC job. Stress and pressure-cooking occupations clearly aren't doing him any favors, not to mention he now has grandkids to watch grow-up. I mean I got to imagine he quit tOSU due to the stress causing flare-ups, and USC won't be any different. That and he has no connection to USC like he did with tOSU. Also Notre Dame wouldn't be any better, and in fact he turned down the Notre Dame job once because despite their expectations of Natty's, Urban felt he couldn't win titles at Notre Dame, I'm guessing because of academic restrictions, so he took the Florida job instead. I'm not sure that he is willing to deal with the cutthroat nature of not just recruiting but retaining assistants... Personally that's my biggest fear about him coaching again is that he will poach away Micky Marrotti and Mark Pantoni, potentially even living legend LJ himself in as a DC as opposed to simply a D-Line coach... Well I guess LJ is now "assistant Head coach" at tOSU, but still... As for Harbaugh, it sounds like he is just upset about Fickell calling him out. Clearly what scUM didn't do DID matter, especially in light of the comments he made about players claiming to be battling depression as a mere excuse. But what do I know? tOSU and Alabama clearly DID something that helped, as one would think writing a letter to the NCAA in support of the transfer clearly matters, or so it seems. Anyway, excited for the season, bummer that Tathan couldn't win the job, which just goes to show sometimes the grass is greener, sometimes it isn't. It's unfortunate, I wasn't happy that he didn't stay to try and compete for the job, then move on as a graduate transfer if he didn't get it, but it is what it is.
I also thought Zach Smith should've been fired a long time before he was, too - but I also didn't think Urban Meyer did anything egregious, especially when the cops didn't believe Courtney - this is just to clarify what I meant in previous comment. I mean, he didn't fire a coach who hadn't been arrested for anything... My mom was a Columbus detective in domestic violence, so I know that regardless of what the supposed victim says, if there is ANY evidence of violence, the state picks up the charges, the suspect is arrested - facts that weren't reported - only the events in Florida. Didn't want to rehash all that, but I didn't think Urban did anything worthy of being fired last year, although if he had, as though Zach actually WAS beating Courtney and Urban knew about it and didn't do anything - which is how he was portrayed - then sure, he should have been fired. However as we all know, that didn't happen. Then I read this and I'm stunned that the media hasn't touched what appears to be a good mine of corrupt shite! Are you kidding???
As always I liked the article Ramzy - kind of incredible none of this stuff has been dissected ad nauseum like the Zach/Courtney Smith/What-didn't-Urban-Meyer-do shite! I always see Twitter posts by Barrett Sallee that paint Urban Meyer in a negative light, as well as taking stabs at Ohio State, and then I looked up where he graduated from, turns out it's an SEC school, Auburn - so go figure. Still I wish ESPN and the rest of sports media took time to point out the hypocrisy and ridiculousness of the skewed reporting... almost makes me want to start a Twitter account to fire back at some of these assholes but I can't stand social media enough to do so. Good read, I saw that post by Forde too, thought that the media just wasn't looking hard enough. Guarantee if every school was under the same intense media scrutiny as Ohio State was over the BS last year, they could find plenty of dirt - in fact, I thought Urban Meyer and the Ohio State program deserved far more credit for NOT having anything egregious turn up after the circus last summer!
A lot of you make good points, and when you look at recruiting rankings and which teams are winning national championships, recruiting rankings DO matter... That said, recruiting rankings aren't always accurate, and sometimes they are accurate for a player's position, for example Harrison - but Harrison wasn't playing linebacker in highschool, ergo his rating didn't matter. People forget that a lot of times players aren't rated higher because they weren't very developed, despite the fact that they have natural talent, but small on coaching. Sometimes players fly under the radar because they aren't involved in the camp circuits, don't play prep ball, or are a two-sport athlete that hasn't focused on football... Sometimes players are just slow to develop, and sometimes recruiting rankings don't mean shite - like Chris Olave, Malik Harrison, Michael Thomas, etcetera. Personally I trust this coaching staff and their decision making. I would love for them to land the best of the best, but how often have we seen four and five star guys ride the bench, not just for the Buckeyes, but other schools as well??? Whatever the reason for the ranking, I have no issues with the coaches taking 5-10 3 star guys, provided the coaches want them, and aren't merely settling for them. Especially because a lot of Ohio's players fall into this category despite the fact that Ohio produces a lot of talent for football - hell so much of the B1G conference is built on Ohio talent, usually guys that don't get recruited by Ohio State
I knew @Can'tguardMike was going to be good in the League - but I certainly didn't think he'd be THIS good! Congrats to him for staying the course and never giving into doubt. Another player who had a rough start to his Buckeyes career but who didn't transfer despite taking a backseat to guys like Curtis Samuel and Dontre Wilson is Parris Cambell, who I believe was a part of the same recruiting class as Dontre who overshadowed him... Anyway apparently he's having a great training camp with the Colts
I think another aspect of player rotation, outside of appealing to future recruits and fresh legs, is the fact that players' bodies aren't getting nearly as much mileage on them - in today's day and age, players don't have to start all game every game to get the exposure needed to be drafted into the NFL - in fact they don't need to see the field multiple seasons, either. All players need is one quality season and a good combine in order to get the national exposure - especially at a place like Ohio State, who despite strength of schedule always wind up playing multiple quality opponents each year. If I was a player, as much as I would want to be on the field, rotating reduces the risk of injury by virtue of not taking as many hits (especially for the offensive skill positions and linebackers). Their bodies won't take the beatings or have as much mileage on them while playing for free in college so that in theory they should be much more fresh for their NFL careers. After all, the body can only take so many hits, the knees can only suffer so much abuse, not to mention risk of concussions. Why play more than necessary if you can get enough exposure without the same abuse?
Hate to disagree, but your right in that this game did happen, but it wasn't in '02 (which season was dominated by players in large part recruited by Coop) - it was in '06. No way Tressel's team puts up more than 14 points with Jim Bollman's offense against a defense that has far better players than Tressel recruited. Tressel occasionally hit with some very talented players, but nowhere near as many as Urban
Just looking at the teams, wow Meyer's team would be absolutely loaded. I have to imagine based on talent alone, Meyer's team would dominate in this game
Just because a player is a 3 * doesn't mean they aren't/won't be a quality player, it usually just means that they have the prototypical physique of a certain position, but they lack experience/technique - basically they need time to develop and get coached up, or the exact reverse of that, meaning they have great technique/football IQ but they need to bulk up and get their body ready for the college game. 3* players are usually expected to take a couple years of development, 4* players are expected to see the field in a year, sometimes right away, 5* players are expected to be able to contribute immediately - or at least that's what I recall reading about the star rankings from one of the recruiting websites, either 247sports or ESPN, which I thought the article was useful in explaining how they grade the players. Anyway, my long-winded way of saying that I have no issue with Coach Day and his staff taking on 3*, especially since some players are only 3* because they didn't get as much exposure in high school as others, didn't participate in the camp circuits or broke onto the football scene late in their high school careers. I recall reading an article about Olave back when he had just committed to the Buckeyes because I was intrigued due to his 3* ranking. His coach basically said he didn't have a lot of national exposure but that he should do well in the "pressure cooker that is Ohio State" or something along those lines, and boy was he on point with that assessment! I'm intrigued with the D-linemen Alex Williams (I think that's his name), as well as Dawand Jones, they're two 3* I think have a shot at being major contributors at some point. Only time will tell
Awesome! Hope that Kourt has a great career in the Scarlet and Gray and realizes his gridiron dreams
Xichigan is so full of themselves! I remember their fans rejoicing when Urban Meyer stepped down, like they did something! I hope I never am happy that one of Ohio State's opponents isn't as good, I would rather see the Buckeyes square off against the best and WIN. It feels so much better beating a Nick Saban-led Alabama squad in the CFP, or the Miami Hurricanes for the BCS title, ending their 20+ game win streak than it does to watch them beat a team sans their best player(s) or legendary coach. In fact it's awesome to watch them beat the best of the best in college football. It seems like every year Xichigan players think they're the best team in college football. I get they're returning their starting quarterback but they weren't even a top 5 team last year, they lost a ton of their top defensive players to graduation and highly touted running back (to injury) yet they really think they are going to be better??? They really think they match up favorably to every team on paper??? Whatever they're smoking I want some!
I liked Tuf in his first season but tearing your Achilles is a really tough injury to come back from... People who do usually just don't get back to the same level, their speed and acceleration are affected. He just visibly seemed too slow to cover guys. I'm with you, I want to see Mitchell and Browning in the middle. It sucks for Tuf but this is Ohio State, you can't have charity starters if you're chasing Championships. However that said, it wasn't all on Tuf Borland - I don't know how many times I saw all the linebackers lost in coverage, or shedding blocks in the opposite direction of the ball carrier. That falls back on the coaching, scheme, etcetera. Hopefully we won't have to worry about that this year
Like everyone on here I'm really excited to see how the defense looks this year - I was super relieved when I first found out about the personnel changes Ryan Day made to the defensive staff, even before I knew much about them. After reading the article on Lathan Ransom's commitment I feel justified in that. Dude said that the d-backs improved a lot in just 3 weeks! Besides, after last year it can't get much worse. Incredible to think the Buckeyes only lost one game last year with an epically porous defense. Gives me a ton more respect for what Dwayne Haskins and the receivers accomplished, especially considering they didn't have a reliable run game for half the season...
Normally I would agree with you on not rotating QBs and O-line, in fact I still do about the QBs, but apparently Clemson rotates their O-line and seem to have found success with it... With as many quality offensive linemen as we supposedly have, it might be worth a try. After all, if we can make it work the advantage of keeping guys fresh would be worth it.
Realignment likely only waters down Ohio State's strength of schedule. Who cares if the B1G West champion is subpar? That's not the reason the Buckeyes were left out of the playoffs the past two years. Losing in blowout fashion to mediocre teams who, for one Saturday played their best, most inspired game all season is what kept them out - that plus two losses in 2017 and a statistically crappy defense in 2018. Personally I'm glad Ohio State didn't make the playoffs in 2017, and although I think they would've fared better against Alabama than Oklahoma did last year, I didn't care to watch them get blown out by Clemson again. Fact is Ohio State needs to play better even in a loss. They gave up against Purdue last year - or simply didn't want it as badly as the Boilermakers did that Saturday. Whatever the reason, if they lose a close game that night, they likely would've punched their ticket to the CFP, B1G West champion be damned
I don't think the quality of opponent necessarily matters (i.e Oklahoma winning 40+ point shootouts in the Big XII managed to get in last year). Nor does realignment ultimately affect strength of schedule. If anything it waters down tOSU's strength of schedule because at least we know we play two quality opponents each season in Ichigan and Penn State. The B1G West champion should in theory at least be quasi-respectable, which is about the most you can hope for, and realignment doesn't necessarily fix that anyway. Let's take a hypothetical case-in-point. Alabama played the B1G champion MSU in the 2nd inaugural CFP and smoked them, but claiming that Alabama played the best B1G opponent that year isn't factual, but because MSU happened to walk into Columbus in a rainstorm and beat a much more talented Buckeyes squad saved Alabama from playing a higher quality opponent. The same thing could happen in realigned divisions if say Penn State and Ohio State were in different divisions and Penn State was the 2nd best team in the B1G all year, but walked into West Lafayette and gets upset by a 4-5 Purdue squad that winds up undefeated in the new realigned divisions. This would put them in the championship game over a one-loss Penn State - an unlikely, but perfectly feasible scenario. The real answer is for the B1G West to play better football. Alabama played an arguably much weaker opponent from the SEC East for several years and it never affected them negatively - this was before the rise of Georgia.
I hadn't heard about their new facilities. Last thing I heard about their facilities was Buckeyes players talking about how their locker rooms were like high school locker rooms, that the training facilities were subpar, but that was a couple years ago. I know Northwestern updated their sports facilities and not coincidentally were able to attract a former 4 or 5 star transfer QB from Clemson.
No more division realignments. The teams in the West should recruit better players and hire and retain better coaches! How lame to complain about not winning the championship and expecting other teams to cater to that! Purdue gets just as much money from the B1G as Ohio State and Penn State, but they don't invest money in their football program, and not surprisingly it's tougher to recruit to a place with such crappy facilities
I thought the biggest issue with the run game last season was the offensive linemen who apparently blamed RPOs as being confusing them on whether to pass protect or run-block, as the latter requires mauling d-linemen, getting push, while pass protection requires the O Line to maintain position in front of their assignment, while trying to maintain a pocket behind them. I'm really not sure why a lot of other schools including Penn State have had little issue figuring it out, I wonder if some of our linemen just weren't smart enough to grasp the RPO concepts. Anyway, it was about halfway through the season, I think after the Purdue game where our O Line was badly exposed - on running plays the linemen wouldn't be bending their knees and we're getting blown back off the line by one of the most porous run defenses in the B1G. Essentially they would maintain pass protection stances, and poor pass protection stances - even then you have to bend your knees for balance and pivot, just not quite as much. Anyway the offensive coaches decided to simplify things and ditched the RPO stuff and suddenly our run game started to come on. But yeah, last season was not JK Dobbins fault, that was on the O Line IMO
I'm not concerned about the defensive recruits, I think a lot of prospects are kinda playing wait and see with the program, so as long as the defense improves this season, and if the Buckeyes have a good year, I'm sure a lot more defensive players will jump on board, even if late in the cycle and including kids who prematurely committed to other schools due to the coaching change