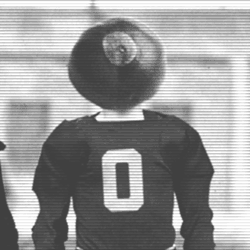 erniefurgler
---
MEMBER SINCE October 08, 2014
Recent Activity
Fourth meeting since 2000 and it will be the fourth different coach for OSU...
In regards to the California model, i think if a kid elects to profit off their likeness, they should have to forego the scholarship money allotted to them and those funds go into the general scholarship fund.
If you wish to accept endorsement deals, you're responsible for paying your own tuition. It'll make some kids stop & think if it's worth it or not. For some it's a no-brainer (Zion, Trevor Lawrence, etc) For those who elect to forego scholly money, those funds get transferred into the general scholarship fund, which in turn helps other current/future students (and current/future alumni)
59-3 buckeyes...hopefully everyone stays healthy
Me too...heading to the game with some friends. Better to wait until we get there & scalp from students??
Hard to not like Ediie Money songs...classic pop rock singer. My fav Eddie song is Gimme Some Water.
Is there even a modern day equivalent to the Moneys, Mellencamps, Petty's, Stewarts, hell even Huey Lewis?? Maybe Adam Levine? John Mayer?
The OSU D appears to be much more fundamentally sound this year & the O seems to be progressing each game. I don't see Coach Day rolling into Bloomington and allowing the team to play flat. We cover but don't necessarily steam roll them...41-13 seems reasonable.
Offensive play calling seems a bit lazy...mix it up a bit
I think the style points will come if they're able to stop team defensively this year. 38-10 is just as convincing as 56-28 in my mind.
Every team in the country would be nervous if their QB1 went down. Think Bama wants to ride Mac Jones to the promise land? Or Clemson with Chase Brice (isn't he a country singer?). Your expectations definitely drop when the back up QB is called upon, but that's where the D needs to step up & grind out some W's
I used to be the same way, but most B-I-B have 60-100 night trials. Shopping brick in mortar does allow you to kick the tires a bit, but laying on a mattress for 30 sec vs sleeping on one are two different things. Don't get me wrong, I'm still a bit nervous about a mattress showing up via UPS
Forde's a no talent ass clown
6'3'' 239 isn't exactly small. I'll reserve judgement on the entire LB core until i see them play a couple games under the new regime.
When he has time to throw he looks fine...unfortunately, he doesn't have much time to throw on most possessions. I only watched a couple series, but he seemed to do well for this being his second "live action" game. The TD pass was nice, defender in his face & he threw a strike to the receive. Rookie QB, gonna be a lot of ups & downs this year.
Ross was only 17 yrs old when he ran for 100+ against IU. In your defense, it was reasonable to believe he would have a very good career
Me as well...not shocked they lost, but to take such a beating, wowzers. If there's any consolation, the 2014 B10 championship where we were on the right side of a absolute dominating performance, in route to a national title...that was fun. The most depressing thing about the '06 title game was that it gave birth to the SEC-speed propaganda.
As for Holland grills...Never owned one but my bro-in-law has one. Well made, but no temp control...just turn it on & it heats up. Seemed to take a while to grill simple foods like burgers/dogs/brats. Never got real hot, maybe 375-400*?
Don't wish any ill-will towards the kid, but it's strange that he went to Miami only to be in another QB battle. And if it's true that OSU recommended he look elsewhere, it tells you two things: 1. Martell's ceiling is not very high 2. OSU is very confident in Fields' ability
As for Forde, i have never understood why BTN puts him on the air. I don't recall him ever saying anything positive about a B1G team. I don't expect the commentators to gush over the schools, but WTF would you put a guy on the air that has nothing positive to say about the teams your channel is trying to promote?
Got it...thanks for the clarification
Two things:
I find it hard to believe there isn't any correlation between the lack of reporting on these topics and the connection ESPN/ABC/Disney has with these schools/conferences. The ESPN/SEC tie that binds is well known and the ESPN/ACC partnership for the ACC Network was founded in July of 2016...when did Clemson become a consistent contender? Now it will get interesting with the recent Disney purchase of Fox...ESPN will own Fox Sports if you will.
Why doesn't Ramzy or the 11W staff as a whole do a more in-depth investigation into some of these stories? "The upside and resources for conducting investigations are both at historic lows, while the risks for putting yourself out there, swinging and missing - are high". I would agree from a "national" media group perspective, but 11W is the craft beer of media...and we know what kind of impact craft beer has had on the beer industry
Smith touched on all of this stuff in the most recent Podcast episode. He stated that he flew to Tuscaloosa & met with Saban & the other coaches on staff. Don't remember all the details but he indicated the job was there if he wanted it but he didn't want to leave his kids in Columbus.
He shits on OSU a fair amount during the whole episode, some warranted (why the info dump on the first day of camp? Not fair to the players), some not so much (taking a few jabs at Drake, Urban, Schiano). All in all, cant blame him for defending himself, but it also comes across as petty