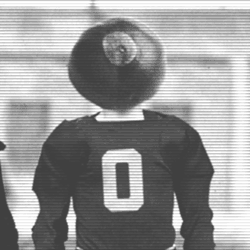 Ericgobucks
---
Member since 22 September 2011 | Blog
Favorites
COLLEGE FOOTBALL PLAYER: Carlos Hyde
COLLEGE BASKETBALL PLAYER: Aaron Craft
NFL TEAM: None
NHL TEAM: None
NBA TEAM: None
MLB TEAM: None
Recent Activity
Would you just like to read my Army Commendation medal citation?
You are 30 and say "youngster." I bet you get a lot of girls, don't you?
You obviously followed his recruitment more than me and you make excellent points. If it was that simple, that's a pretty big miss by our coaches. I do know especially with basketball, teams like Dayton can make the Elite 8. Schools that shouldn't be there make it and it goes to show that simply stars in a recruiting evaluation cannot predict future success. Your points are excellent and i am not debating those, but rather how teams with guys who are suppose to be nothing end up being quite good without parade all-Americans. I think basketball recruiting is the hardest because one miss and the team can be drastically less than what it was hoped by the coaches. Sullinger was a huge success for us, but look at Amir, he's not good. And we needed a better inside presence and never had a consistent outside scoring threat. Now I support Matta and I think he's a great coach, but this team certainly was not what he thought it would be prior to the season.
Hey sport, I said this is nothing more than an unspoken political debate. I didn't say if you voted for candidate X, you are being disingenuous. You response makes no sense.
Oh my apologies dear Sir. I was unaware that parents check adult children's bank accounts. Clearly you mean that in the kindest, most professional manner. There is no implication whatsoever you were referring to him as a "kid."
I didn't break a "no politics" rule, because I didn't say anything about a party or candidate. I was saying this thread has devolved into a political debate without speaking it's name. For a well-written guy, you are again either being willfully ignorant to help your arguments, or simply a writing this from your immature perspective as a 30 year-old who clearly hasn't fully matured. My advice is some service to your country might help you grow as a man.
Your punk ass is 30 and you're calling Nicholas a "kid?" What a douche. You are seriously ridiculous.
I can tell who every poster on this thread voted for in November. This thread is simply a left vs. right political debate. Pro labor people vs. those who believe in corporate supremacy. To say anything otherwise is disingenuous.
I can just about guarantee all of them are here. This site is free and has excellent content. That's a double headed serpent.
You are right and that is unfortunate, but there's no way to predict the future. There is so much nuance with college recruiting, especially in basketball. After the "sure things," there are too many unknowns. No one in the country thought Trey Burke was going to be as good as he turned out. This year was a let-down for sure, but no elite team is immune to let-downs. Not UNC, not UK, not Duke.
I know it's frustrating for me, too. There's not even Buckeye Basketball to keep me distracted.
And I am sure you know why there is such a backlog for the NLRB. I can tell you its no accident.
I agree with you, it's just this lack of momentum that is frustrating considering with who we are and what we have done recently. It always works out, but it's been too quiet for too long.
Oh so now unions are socialism? If you have socialism you don't need unions. Not too bright are you? Collective bargaining is part of Capitalism and always has been.
I love how many message board warriors are CEOs of Fortune 500 companies, or they would all have you believe they are all business owners. These are the same clowns who say you can't tax businesses and social security is killing America.
He looks very young. I can't believe he's 6'1" and 205 lbs.
If I could up vote you thousand times, I would. Even if you don't like Chris Matthews, he's very smart and has a lot of life experience. Ohio will always be middle of the road politically, but apparently some want to silence those they don't agree with. I would listen to Bush, Beohner, and McCain. While I dislike their politics, they are not making political speeches.
Calipari nearly gets every kid he wants. I do not want to see this trend continue.
Yeah it's the North Carolina Automobile Association.
Interesting. I was a member of NSCA and got my CSCS back in 2001/2002 time frame. I changed careers and haven't followed it closely, but I am curious about Crossfit. Now I want to know more about this. Exercise Physiology is very interesting and I miss working with athletes.
The general rule is that if someone is making a lot of money off something exercise/fitness related, it's usually not backed up by scientific data. I am skeptical of Crossfit, and any other company, until I know they are using sound scientific principles in an ethical manner.
Now I need to look up Anthony Lee! Ha ha.
I'll say it again, aside for the first sentence, i really liked your post. Unfortunately, I think you've created a whole sideshow argument because you took that route of criticizing his age/perspective in a condescending way. It's taking away from your points and the quality of your argument. Even if you felt that way you can say the same thing with out saying Nicholas needs his mom to blow his nose.
Globalization killed Detroit, not unions. Those manufacturing jobs were shipped overseas to pay a Chinese kid 40 cents an hour with no benefits and no worker protections. The difference in paying an American to do the work and an exploited poor person in a 3rd-tier economic country went into the corporate coffers and RIDICULOUS CEO salaries. It's a myth that unions killed Detroit.
I did join the army infantry at 18 years of age. During basic training i made $465 a month after taxes and the 100 taken our for the Army College Fund. Your sarcasm doesn't address the concerns the athletes have and many others feel is an unfair system. Maybe you could man up and join the infantry and play D1 college football to speak from a position of experience as opposed to one of ignorance. No one said they are not malnourished, but unless the come from family money, they don't have money for a car, gasoline, a date, a dinner out with friends, etc.