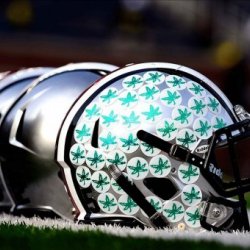 ericfisher24
---
Orlando, Fl
Member since 14 August 2014 | Blog
Eat, Sleep and Breath OSU football. Been a fan my whole life and I currently live in Florida and I am apart of a buckeye club that keeps me sane....Go Buckeyes......oooo and i have a hatred for the team up north.
Favorites
SPORTS MOMENT: Winning High School football championship
COLLEGE FOOTBALL PLAYER: Braxton Miller/ZEKE/12 Gauge/Barrett/LEE
COLLEGE BASKETBALL PLAYER: Jared Sullinger
NFL TEAM: Steelers
NHL TEAM: Lightning
NBA TEAM: Cavs
MLB TEAM: Rays
SOCCER TEAM: Orlando City
Recent Activity
please post full episodes
Is there any way to watch these episodes if you dont have time warner?????
Easy to recruit when THE Urb is the Head Coach
Braxton probably wont throw this year ......sad we fucked around all year with Cardale and waisted chances to play around with the players on field......could come back to bite us over the stretch. Go Bucks beat M State
Confused why were talking about Pixar movies.....but hey Go Bucks
It's time for the BLACKOUT
#BLACK SATURDAY on Oct 17th in the shoe!!!!!!!!
Gameday goes to games people want to watch ohio st isn't even fun to watch right now....all that talent and cardale can't even hit wide open recovers
Completely agree....feed Zeke more
Can you say .........LOADED!!!!!!!
please please please lets hear something and get this over with........ I love Braxton and cant wait to hear him say hey!!!! im a buckeye born and bread and a buckeye even after im dead
Are we supposed to hear something from Braxton today?
couldnt agree more ....im so excited
110 days till revenge day......i hope braxton is healthy and ready!!!!!!!
im pretty sure your right.....how come no one on here gets that
Im pretty sure your correct and I cant believe no one is realizing this.
I would really love the opportunity to go to this game. My little brother just graduated the Naval Academy and he has been transferred to Pensacola Fl. My family and I are huge Buckeye fans and we have had some bad luck with losses in all the games we have attended. My parents were in the navy and we moved around a lot and landed in Orlando Fl. My brother and I have only been able to attend 3 games n our lives. We traveled to Jacksonville Fl to watch Ohio St play the Gators in the Gator Bowl and our boys lost. Then last year my brother myself and my dad traveled 14 hours to Indianapolis IN for the Big Ten Championship where we fell short. Then my brother and I went with the Central Fl Buckeye Club to Miami to the Orange Bowl against Clemson and well you know what happened that night. So we have had some bad luck but we would love to see our boys WIN against Navy.
Go Buckeyes!!!!
I live in Orlando Fl and all of my family is from Ohio but I landed here due to my parents in the Navy. My Dad and I have traveled to a couple games including a 14 hour drive from Orlando to Indianapolis for last years Big Ten Championship and they lost. I also traveled to Jacksonville to watch them play the Gators in the Gator Bowl in 2011 and they lost. Then I traveled with the Central Fl Buckeyes club to Miami where we lost to Clemson in the Orange Bowl. I have NEVER seen the Buckeyes win a game in person. Also my little brother just finished at the Navel Academy and I would like to take him as a graduation gift.