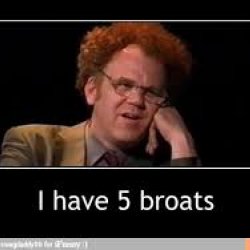 EnonBuck79
---
West Milton (via Springfield)
MEMBER SINCE December 02, 2014
Favorites
SPORTS MOMENT: 2002 National Championship game
COLLEGE FOOTBALL PLAYER: Chris Spielman
COLLEGE BASKETBALL PLAYER: Jimmy Jackson
NFL TEAM: Detroit Lions
NHL TEAM: Pittsburgh
NBA TEAM: Cleveland Cavs
MLB TEAM: Cincinnati Reds
SOCCER TEAM: Unwatchable Shenanigans
Recent Activity
Whats next ? ...They hide the end zone behind white lines?....
I don't know about a Wonderlic score but I once only left one peg on that peg game at Cracker Barrel. So according to that block of wood I'm a pure genius.
Coming to a campus near you in 2020.
He got Wonderlic-ked..
Whenever I see transfer portal I still picture the player with bags packed walking through a doorway and magically appearing at a new destination. It's that easy, right?.....
Should have caught the first pitch.... It got there , and that's all that matters.
That green is a shade of where baby shit fears to tread.
Is that a hole in one or a one in hole?....
Beating TTUN. It has a nice ring to it.
You think Zion thinks about staying at Duke for another year upon hearing this news?..........
I guess if they can somehow cheer for that school. They deserve something...a blue ribbon maybe.
Zac Taylor did see first hand what a quick undersized DT could do in Aaron Donald when he was with the Rams. Would be cool to see Jones stay in Ohio and pair up with Hubbard.
"Said Bo used to smack their butts with a yard stick, really hard." I think Bo missed with Harbaugh.
Michigan basketball ?.....always very close but not quite there.
Those Rutgers 2011 and 2012 classes...... Has anyone done a "Where are they now?"
So is John saying a coach with water on the brain could out coach him not only in the Super Bowl but just any game in general ?...
No Big XII QB has ever won a Super Bowl as a starter. Mahomes was the first to win a single playoff game this past year . If Arizona wants to keep that trend going ....go right ahead.
I don't think it is a must to be from Ohio. But I will say it's a must to be in Ohio long enough to understand the importance and gravity of the rivalry. I think it's best if it is someone who has at least been entrenched in the culture of Ohio State football for at least a little while .In that aspect I'm glad it's Day as the head coach .
Fun fact up until Mahomes this year no QB from the BigXII has ever won a playoff game as the starter in the NFL. Last Big XIi (as it is now) QB to win Super Bowl was West Virginia ( was not in the Big XII then) QB Jeff Hostetler . So really no Big XII QB has ever won a big game in the NFL.
First game I went to was vs Purdue in 95' . Eddie George vs Mike Alstott (hell of a FB for Purdue). First game I really remember was the game vs TTUN where Speilman was absolutely all over the field (I think he had over 25 tackles) and somehow still lost. Was the first experience of truly hating TTUN .
He has elected or was elected out ?.....
It remains to be seen but Mayfield reminds me alot of RG3. Both come from Big XIi spread offenses , both like to scramble, both won Heismans. Both had everyone buzzing after their rookie year. Year two will be the big deciding factor for Baker because everyone now has tape on him and now knows his tendencies. His cockiness also will have guys wanting to get good shots in on him. I'm going with short term Mayfield. Long term Haskins.
If Alex Williams is a legit 260 lbs at 6'6" you put him with Chase Young at 6'5" 265 lbs and that would be a big problem for shorter QBs as far as balls getting tipped.
Hippopotamus Rex
The good Harbaugh is an alumni as well. You know the one with a Super Bowl.