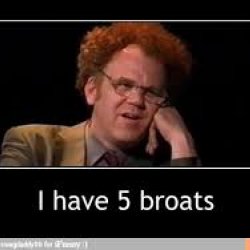 EnonBuck79
---
West Milton (via Springfield)
MEMBER SINCE December 02, 2014
Favorites
SPORTS MOMENT: 2002 National Championship game
COLLEGE FOOTBALL PLAYER: Chris Spielman
COLLEGE BASKETBALL PLAYER: Jimmy Jackson
NFL TEAM: Detroit Lions
NHL TEAM: Pittsburgh
NBA TEAM: Cleveland Cavs
MLB TEAM: Cincinnati Reds
SOCCER TEAM: Unwatchable Shenanigans
Recent Activity
This comment is the truth.
I saw a study from the University of Michigan yesterday shows spankings are not good for children because they lead to poor grades and just bad overall behavior. ..... They surveyed several families from different backgrounds. But mostly just the football team after playing the last game of the regular season.
May the pass rushers of the AFC North( particularly Heyward and Hubbard)plant him in the Ohio turf of Cleveland.
I think the Buckeyes get caught in a game they should not lose. Northwestern or Nebraska. Thus having one B1G loss. But beat TTUN giving them one B1G loss . OSU as 1A) for the tiebreaker. TTUN 1B)
It was interesting. The part about Ohio State fans being crazy is kind of funny coming from a Penn State writer (Joe bots can still be found widespread throughout the area). I guess it's that special type of crazy is what it takes to put MSU as his B1G East pick to win outright. They have a playbook that was pulled from Tecmo Bowl. They didn't even get the "Super" version. I rewatched the MSU game and that was just putrid offense (actually both teams were pretty tough to watch in that game on offense). I just cannot see that offense scoring enough points to cover for a defense that will have questions in the secondary. Their front seven makes it ok as that "crazy" pick. I think it will be 1)OSU 1) TTUN (yes a tie) 3) PSU 4) Maryland (Macfarland is a difference maker) 5) MSU 6) Indiana 7) Rutgers
With Miami's O- line and the fact they start the season vs. Florida. Martell will be the starter by week 2.
I'd like to lose 5 dollars on Rutgers please......
"Apparently, after Robinson told Drayton about his commitment, Drayton cried "actual tears," so Robinson felt welcome and likes the "family" feel of Texas' program." Family?.... Sure, if your Dad and Uncles are at the strip clubs every night getting fairy dust ready for a half assed season.
Just cannot wait until the Reds get rid of Votto and his terrible contract. Might actually start contending. Kind of sick of watching them trade great players like Puig because they know they cannot afford to resign them. They have traded away an All-Star team over the years because they have been hamstrung with Vottos contract. Nobody is going to trade for that terrible deal.
Even though it's for idiotic reasons. It is the only way Florida State would get talked about. That is how far they have fallen.
No QB from the Big XII has ever won a Super Bowl as a starter. Mahomes was the first to win a playoff game last year. May the streak continue. Can't stand Mayfield.
It may be unpopular but there are still 35 more days of off seasoning here..
Tom Herman is the man with the fairy dust plan.....till one night in he snorts it all off some stripper in Miami.. Hope Texas loses every game till he's fired.
"I have to navigate my way through the caves and back channels too make my way through Alabama " That's where his players learned how to do the Dabo. Instead of navigation of back channels it's the navigation of opposing players back sides....
Just change it to NLP. No Litigation Please.
Is it still for football? He was a top basketball prospect as well. Wished it would have worked out at Ohio State. It makes for the end of an era after this year then. There has been at least one player from Huber Heights Wayne on the Buckeyes football roster since at least Braxton Miller's freshman year (may have even been before that with Allen, Freeman, and Evege ). Looking like B.B. Landers will be the end of the streak this year. Glenville had a long streak as well.
Beilein. "This coming season, I'll be taking my talents .....east of Cedar Point."
95' vs TTUN. Went into the game ranked #2. Surefire Heisman winner in Eddie George. Offense was a machine. Defense was solid. Then some guy whose name has never been pronounced correctly comes in and runs for 313 yards. Enough to Make-a-me-puke-a. Eddie George, Rickey Dudley, Terry Glenn.....no national titles.... doesn't seem right.
That news is out of this world.
Like a person born with two X chromosomes.....The Big 12 has no D....
Whats next ? ...They hide the end zone behind white lines?....
I don't know about a Wonderlic score but I once only left one peg on that peg game at Cracker Barrel. So according to that block of wood I'm a pure genius.
Coming to a campus near you in 2020.
He got Wonderlic-ked..
Whenever I see transfer portal I still picture the player with bags packed walking through a doorway and magically appearing at a new destination. It's that easy, right?.....