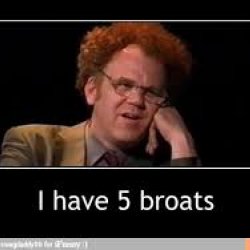 EnonBuck79
---
West Milton (via Springfield)
MEMBER SINCE December 02, 2014
Favorites
SPORTS MOMENT: 2002 National Championship game
COLLEGE FOOTBALL PLAYER: Chris Spielman
COLLEGE BASKETBALL PLAYER: Jimmy Jackson
NFL TEAM: Detroit Lions
NHL TEAM: Pittsburgh
NBA TEAM: Cleveland Cavs
MLB TEAM: Cincinnati Reds
SOCCER TEAM: Unwatchable Shenanigans
Recent Activity
Yeah, but "really tall dwarfs" only attract so many people...
Some.other reports of Burrow smelling of cabbage.......
Seeing them play Dayton earlier this year would have been great. Toppin vs. Wesson would have been a great matchup. Mikesell vs Young before Youngs bout of appendicitis would have been great. Landers vs . either Washington or Muhammad. That just would have been a great game earlier this season.
He had better watch out , Tom Brady said he would take that job for less money . Taking into account of deflation.....
Hope Harbaugh gets a raise soon. Hes earned it. With all the nothing hes done for 7.5 million a year, imagine how much of the same he could do for 10 million a year...
I bet Boudreax does Purdues taxes when hes not playing basketball.
The simple answer would be more points than the other teams opposing player....
Just lost Devin Bush Sr. from the coaching staff. Went to Old Miss. He went from one M school to another where they do everything the "honorable and right" way....
Hawaii Open AVP women's beach volleyball would be pretty cool just for the location. Would have to think Kickboxing Championships in Thailand would be pretty cool as well.
Have to echo this one. Having watched Jordan, Bird, Johnson, and the bad boy Piston teams in my formative years. Having everyone compare Kobe to Jordan was insane to me at the time ( just didn't see it). Probably guilty of putting Jordan on a super high pedestal that ,in my mind, no one could reach. The 81 game was a point where you just realized Kobe wasn't like Jordan...Kobe was just Kobe at that point. Which was still really damn good.
Absolutely shocking. Was the current generation of basketball (college and early pro) compass of being great. RIP Kobe.
Saying weird things. That's how a Nittany Lion do.
Western Reserve needs a beatdown. It's the only school in State with a winning record vs. the Buckeyes. 6-5-1. Playing Oberlin to get revenge for 1921 (a 7-6 loss) would be nice as well.
https://www.postandcourier.com/sports/clemson/how-dabo-swinney-s-christian-evangelism-boosts-clemson-recruiting/article_f37620ae-2029-11ea-a2ba-3b2a36e6fcf5.html Here is an interesting article. When you factor in churches tax exempt status. It would be extremely difficult to follow a paper trail. Think this is why so many players stay for senior seasons. Who's the biggest contributors to the NewSpring Church? Why none other than Dabo Swinney and Brent Venables.
NewSpring Church has a lot to do with that. I mean if a church gives your family money as a "gift" of good will. No one looks twice. Especially a church where the average pastor makes 96k a year.
Yeah but it was from the Browns.....It was probably just some Flying J rebate coupons....
If it was fake money. The more important question is ...Did they pass Go before recieving said money? If not then per the rules they should "Go to Jail" or hope to roll double digits wins next year to get out....(Without Burrow ...Good Luck)
Rutgers will be tougher with Schiano there. Nope TTUN will still be 3rd.
Cousins huh? Here I always thought Clemson and Clemdaughter slept together.
They are masters at baiting refs. Ref master baiters they are... Fuck Clemson.
"You look in the mirror.....then you look at your bank account.. then you say ehhhhhh f**k it"....
A warning with : May cause upset stomach, diarrhea, indigestion, ED, skin irritation, ear irritation, irreversible brain damage, and just a drop in overall IQ. Would have been nice.
"Sasquatch says If you don't believe in yourself, no one else will" -Mike Leach
This one has me shaking my head. Rhule just seems like a coach that was more made for the college game, not the NFL. Has a very Spurrier, Schiano, or Saban to the NFL type feel to it.
Now the woman with pubic hair on her face....can she get crabs? Or because it's on her face ,its just lice? 16 dead in a soccer match?! But no yellow cards were issued.