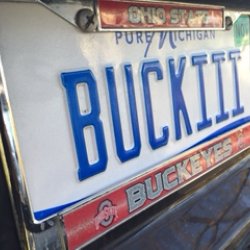 EMoThaGr8
Metro Detroit, Michigan (via Akron, OH)
MEMBER SINCE March 06, 2015
After an active duty military career I was given a special mission by the Buckeye faithful. I was dropped in under the cover of night into the heart of the *ichigan Whineverine epicenter. Masquerading as a Manufacturing/production area manager, I have been wreaking havoc on all Walmart Wolverines; guerilla warfare I call it. I have been able to link up with other Ohio transplants to establish various splinter cells to conduct covert operations on behalf of the Scarlet and Gray: setting booby traps and landmines, rigging explosives and committing sabotage, and above all, trolling Wishagain fans at any given time. I am...The Buckeye Behind Enemy Lines!!!
Favorites
SPORTS MOMENT: 2003 BCS Championship, 2015 CFB Playoff Championship, all 6 Steeler Super Bowls, Eddie George and Troy Smith Heismans
COLLEGE FOOTBALL PLAYER: Eddie George
NFL TEAM: Pittsburgh Steelers
NBA TEAM: Cleveland Cavaliers
MLB TEAM: Detroit Tigers
Recent Activity
Here is the official denial
Yeah, but unofficially tho...
I remember about 10 years ago I was in Camp 2. Been happily residing in Camp 1 ever since.
Great post.
One of my buddies from high school is a coach (assistant maybe?) for Hoban
have been giving each other tip son
Here's a tip son: Come to Ohio State. Bofuhyall...
Wow...what a pleasant surprise!
I don't comment as much as before either, but it's good to see you back, Phi. I always enjoyed your pleasant demeanor and insight. Here's hoping all has been well with you and yours.
on an invite-only basis
...and I wasn't invited?
Hurt. My. Feelings.
This article and the Chipotle I ate have me needing to go drop a Hogan.
Perhaps they're exclusive of each other...
I'll take the under, Over...
Rakim is the greatest MC of all time.
Put this on my tombstone
Logging out just so I won't downvote this...
I'm sure it's been asked before, but where did the term "redshirt" originate from?
Getting manhandled by Wisconsin for the second straight year will make a man do funny things.
"Turnover chain m.f.a."
--Paul Chryst (redux)
Not only another school, but two other schools.
If I remember correctly, he originally flipped from Iowa State to Michigan State, then from MSU to OSU, now from OSU to UGA. The only thing left for him to do is transfer lol
Paid for a bus to the 'Bus and it paid off
who now goes by Terrell Davis
He goes by Terrell Lewis now.
Wore #68, won a championship in '68, and went on to Scarlet and Glory at the coincidental age of...68.
RIP Big Guy.
The lady I knew was named Janice or Janeece. She was Ms. Ohio 1984 but I don't know if it was the Miss America or Miss USA pageant. Don't know where she went with it after that.