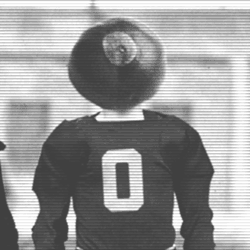 elloyd1681
San Francisco
Member since 03 June 2011 | Blog
Favorites
SPORTS MOMENT: Snyder dribble drive to the hoop puts it up, SCORE! SNYDER SCORES!
COLLEGE FOOTBALL PLAYER: Garcia Lane
NFL TEAM: Browns
NHL TEAM: N/A
NBA TEAM: Cavs
MLB TEAM: Indians
Recent Activity
He probably should have stuck with basketball. A couple of years in the NBA will set you up for life.
Well said, Johnny. Total support from this Buckeye fan.
I rarely post comments, but I check 11W at least five times a day.
Keep on reporting the Buckeye news, brother!
Ohio State 65
Duke 63
Go Bucks!
I enjoyed reading this article, Ramzy. I, too, was moved by the film. I saw it back to back with the recent 30 for 30, "Benji". It made me wonder if Ben Wilson was overly thrilled by his 'good fortune' to grow up in the North. Something tells me he wasn't.
But, I really, really wanted to know if your parents bought the house and/or stayed in Oxford.
Oh I am enjoying it. Thanks for your well wishes!
I'm from Ohio. I graduated from high school in 1985. At that time, everyone in the state was a Buckeye fan. I certainly was. But, in those days Ohio State had a pretty poor undergraduate reputation, deserved or otherwise. Miami had a stellar one with difficult admissions, to boot. So, being accepted to Miami, I went there while maintaining my love of the Buckeyes. I often came across people that said mean and spiteful things about Miami and people who went there. I've never understood the need to brush such wide strokes. It seems so childish. As a card carrying liberal democrat, I didn't agree with a lot of the conservative politics at Miami. But, I knew a heck of a lot of really good and decent people who went there. I left Ohio for California in 1990. It's interesting to see that some of that same silliness still exists. Oh well, Go Bucks!
I wonder what Butt's whole approach to recruiting will be.
I have to be reminded of that guy every November. Thanks for getting it out of the way early this year, M Man.
I'm no Bollman fan but I really don't blame him for the bad snaps...I mean, come on Brew. And JB's false starts are not Bollman's fault. What, he taught Mewhort not to move early but forgot to tell JB? Nah, that's on that kid.
We beat Michigan next week, hire Urban the following week and this nightmare ends.
OSU 20
MSU 17
I wear a large.
Elika, I love your sign off response. Perfect!
Go Bucks.
I've been a Fickell supporter but I cannot understand the timeout debacle. How do people not understand that you have to call the timeouts when the OTHER team has the ball. It saves you 25-30 seconds. When YOU have the ball you get first downs, run out of bounds, hurry up, etc. Having three timeouts left with 30 seconds is useless. Having zero timeouts with 2 minutes left gives you a fighting chance.

I would have much preferred him to have said, "we were giving up and knew we couldn't win".
Are there classes football coaches can take to help them with math????
Ohio State - 24
Miami - 23
My thoughts exactly, Brutus.
Just another fawning note of gratitude to you, Ramzy.
And thanks for making us all aware of Kris' story. Obviously, there are many other stories like his from that day. And, I have always felt an odd sense of duty to find out a little bit about the lives of at least some of those lost on 9/11. Clearly, Kris is a particularly poignant figure to all of us on this board. I appreciate you making his story known to me.
Boy would he have loved the last ten years.
Go Bucks.
And how do you prevent the endorsement deals from being de facto pay to play contracts? I can see Oregon doing really well under this system. "We've got Nike in our backyard!"
Thanks Ramzy and Jake. If nothing else this is good entertainment.
So, I'm to understand that Buckeye Vodka does not ship to California!?!
Oh well, I'm due for a trip home. I'll pick up a bottle and bury it in my suitcase.
Go Bucks!
Dohrmann. Is that two n's?
And, isn't there a children's book about a monkey named George?
It's all ball bearings nowadays.
Have fun. If you just graduated from college two years ago, then you are REALLY young. You won't know how young you are until about ten years from now when you will STILL be young but not realize it again. You'll say, 'man I was younger than I thought when I went on that pub crawl'. But, I'm old now. And then the whole thing will start over again ten years later. Trust me. I'm there.