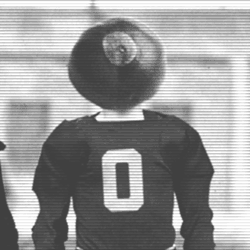 ELJTSA76
---
MEMBER SINCE June 12, 2014
Recent Activity
2020 is going to be the year of the TE!
I can feel it.
Or maybe it helps land a top 3 RB in next years class...?
I was just going to keep scrolling until you unleashed that last sentence. Smh... you are committed to your opinion though, I'll give you that.
They should trade picks in next year's draft to get one of the first round LTs in this years draft.
He is from Arizona though. I think it seems that, in assuming that Texas is going to rebound to a national power, Bijan wanted to get a big share of the credit for that. At OSU, in his own words, he would be a piece of an already great pie. He wants a greater share of the attention, so he chose Texas. That is according to his words, so we can each decide whether we believe that explanation or not, but it doesn't really matter to us anymore.
Why does 11W want to further publicize a private conversation with a recruit that appears to identify our OC bashing another school and negatively recruiting? This story is pandering to our UM hating fan base, which is great for clicks, but the celebration of these remarks really just makes OSU look bad - regardless of the comments' truthfulness.
It's great the Wade is returning - it means we may have a shot at winning a game in the playoff next year, if everything falls into place. But none of these guys are going to be close to as good as Okudah, and they probably won't be as good as Arnette and Fuller, so realistically, the DB will take a noticeable step back next year. That is what happens when you can't replace that high level talent in recruiting these past couple of years. OSU had their best opportunity this season, and couldn't get it done. It's going to be another few years before they can get the top level talent at CB to match what they have at almost every other position. Then the Bucks will have their shot at the trophy again. The big recruiting misses at this critical position group will be felt for some time, and will probably cost the team a realistic chance at a title next season. We are loaded pretty much everywhere else, but we won't be able to stop Clemson with lesser DBs next year.
Did he graduate already? Isn't he just a sophomore?
Moral victories are for losers, by definition. We never cared or agreed with what everyone else thinks anyway. The CFB season is over, and I'm hoping That fields is a lot better next year, along with the OL, and that we see some incredibly late blooming game changers in the DB. We will have 7 long months to wait and see...
Well... that was a very well written ramble about... several things. Thanks for posting.
That is exactly the thing though - it is not about intent. The rule looks only at whether there is helmet contact. I don't think Wade was malicious, and I don't think it was bad tackling form, and I do think the contact was exacerbated by Lawrence ducking to protect himself. But, the rule only accounts for the observation of what kind of contact occurred. And unfortunately, this tackle fits the description of targeting exactly as the refs are being asked to enforce it. It was a huge blow to the OSU defense because of the opposing WR talent that day, and I feel like our Bucks would have been able to hang onto the lead if Wade has played the second half.
It does suck, and as Buckeye fans we can debate the call based on what we think about intent, but both calls were textbook. Wade would have been a difference maker if he had been allowed to play the second half. But there were a lot of difference making players and plays that went against OSU. Several missed tackles in defense, along with Fields' two INTs and several sacks didn't help either. Also, Lawrence showed why he is the best QB in CFB. That kid got shook up, and I thought he was out of the game, but he stepped up and took the hits and the pressure and just made plays anyway.
That is pretty cool for your son. Trevor probably is a nice guy, and we don't need to call names or make up reasons to dislike him. We just want our Buckeyes to beat him up on the field this weekend. Then we can all be friends again.
I think we said similar things the last two years. At some point, you just have to develop multiple relationships with top CBs and close the deal on a couple.
I'm not sure Gardiner the example I would have used there. He will probably never get off the sideline outside of ST.
I see conference symmetry in the table overlays. Nice touch. OSU in good position, just left of center. You may remember that "B" and "D" are the most common answers in multiple choice questions - and we all know he is t going to tsun.
I think you are giving him too much credit. Jarret isn't outsmarting anyone. He's just immature, and flaky. I wouldn't be surprised if he just decided that he wanted to stay home to be near his HS friends, or that his mom decided he was going to stay home so she could keep an eye on him.
Ignorance of the law is not an acceptable defense. You don't get out of a speeding ticket or any other offense by claiming you didn't know the law.
Is there anything else to do in Oklahoma? I think that's the issue right there.
Solidarity has broken. I'm not completely pessimistic about Martinez, but this step by him makes it that much easier for Phillips to flip. He wouldn't be the only one that is questioning things here.
You like to argue, don't you?

LOL
I'll pass, thanks.
My wife recently bought an antique bedroom set from a family that lives behind Elliot's property. He told me that the cat killed his neigjbor's dog, and that is had been loose for a few days. He told me that his young son told him he had seen a "leopard" in the woods at the back of their yard a day or two before. The cat was out there hunting, which is it's instinct, and it's lucky that it didn't kill a child. I believe it was seen stalking a child from the tree line of someone's back yard when the call to police was made. It wasn't the first time the cat had escaped.

This just what the guy told me while I was carrying out the furniture. He said that Elliot has all kinds of exotic animals over there, including the "wolf dogs" mentioned in the article. He said that he can hear them howling some nights. I'm glad the police finally were tipped (or forced to act) about this. People shouldn't have animals like that without licenses and appropriate facilities - and I think that it should never happen in/near residential neighborhoods. It is crazy that someone would do this.
I am getting the impression that you believe I am a Steelers fan. I am not. I don't think it is a stretch to say that the helmet was use as a weapon that could have been deadly.

Also, I am not a lawyer, so I'm not going to debate, but I do know that non-traditional "things" have been considered as weapons in court. For instance, a person who commits assault with a brick, would be be committing felony assault. There are many examples.

I understand that fandom distorts all of our opinions - and that is how things like this become so polarizing. There is an "us vs. them" mentality. In reality, we should all be able to agree that Garrets actions are far outside of anything that could be construed as "part of the game." And it is simple luck that serious injury was not inflicted with that helmet. It doesn't matter who he plays for or whether he has always been a good person. What he did is objectively criminal, and it is shocking to me (my opinion) that there are no charges. It is all on video, so there is nothing left to interpretation. I know this is a slippery slope that no football fan wants to go down, because it could lead to the end of the game even in its current sanitized version. But if this isn't legally punishable, what is? Can an athlete do anything he wants in between the lines on the field, and the worst he can expect is a lengthy suspension? That doesn't seem right to me.

in the end, this is just people giving their opinions on a message board, and that is mine.
Garrett committed felony assault on national television. I can't believe he's not awaiting trial. I would trade him just because I would not want someone like him on my team. But I wouldn't have traded for that running back either. I think we already know where the Browns stand on issues like that. So, without consideration to real life criminal activity and how character affects and reflects on the team and franchise and city, I would probably keep him. You can not usually find a good return for a player with plus talent at a premium position.
They have been saying that all along if they are smart. That's their only angle, beside a relatively shorter plane ride.