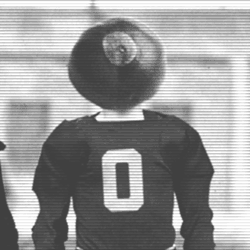 ELJTSA76
---
MEMBER SINCE June 12, 2014
Recent Activity
Or " you will be by morning."
No divisional changes. That is reactionary and stupid. The purpose of this discussion is to get the attention of the decision makers, the committee. This leads me to the next point. CPFC members should have to commit to longer, overlapping terms, and be directed to follow the stated selection criteria. Lastly, win the games you are supposed to win, if you want to be invited to the party.
Of course it is taunting. Why else would anyone throw the horns down sign? And I don't see anything wrong with it, as long as it's just a simple gesture, and then carry on with the next play. There is always a line that gets crossed, but a little taunting (never over an injured player) is fine by me.
Too long. I stopped after the barber shop scene started. Nobody wants to watch a video of a teenage athlete reflecting on life. I need an eye rolling emoji. Lol. All I care about is the final answer, and I'm happy he chose OSU. Go Bucks!
Kourt is bluffing. He knows where he is going, but wants to keep everyone guessing I think we are in a good spot, and I think a lot of insiders and recruits already know he is coming to OSU, but are staying quiet so he can "surprise" everyone. It's cool, that's what they should do. But, I think the curt answers and the misdirection is for show - it's all a smoke screen.
Get a one month subscription to Consumer Reports, or another reputable testing company, and do some research. Don't just take the words of a bunch of anonymous members of a football fan site. Your family is too important to be so casual about this, even though you probably have not received bad advice here. It's not a lot of work to do some research and confirm opinions and recommendations.
Good luck!
You're right. My mistake, I was sure that SB was CST, but only parts of IN are CST. Most is in EST, which seems odd with the state being so far from the East coast, and states to its South being on CST.
So Ransom tweeted that he is announcing at 5:00 EST... as if we didn't already feel good about his commitment today. The kid lives in in AZ, and is framing the announcement in terms of EST. He is talking to a specific audience here. The biggest competition for his commitment, TX and ND, are the central time zone. I think OSU is the only team being considered in the eastern time zone.
Don't the member institutions of the NCAA have to vote on rules changes? It isn't a dictatorship, technically. There is representation in governance here. Therefore, it would be odd that nobody seems to know what will change. It makes me think that nothing is coming, honestly. Furthermore, I seriously doubt that any changes affecting recruiting class sizes would be enacted at such a late date in the recruiting calendar. We are half way between February and December already. That wouldn't be reasonable. Any change adopted this summer would have to be enacted at the start of the following academic year, not immediately before classes start and just four months before signing day. Plans have been laid out for every school and are being executed. The rumors about this immediate and surprise rule change being reported by the "media" are just not practical. I don't believe it will happen like that at all.
We've always done this. When GA was weak, we recruited Georgia well. When TX was (is) down, we have recruited that state well. When UMD joined the B1G (and has always been bad) and we hired LJ, we recruited the DMV well. Same with Rutgers and Schiano in NJ. Play to your strengths, but also to the weakness of the competition. No sense in investing the resources in recruiting places like LA and AL for top players when we can more easily get top players in another region. FL is really a different animal, though, and I really can't see any staff abandoning efforts in such wide-open and talent rich state. That would be foolish. But I can completely understand if Day and Hafley feel confident in recruiting the best out West. They have ties there, and there the coast is in a relative power vacuum.
Paul isnt as good as he once was, but I wouldn't say he's washed up. He's still a pretty good PG. I'm interested to watch Houston implode as Westbrook and Amish beard man fight over the ball every game.
Current recruit news is sparse, I'm guessing. I suppose he could write up something that we all know already happened, and regurgitate old quotes, but that's probably not as popular. I know I hate that, personally. Sometimes you have to endure some periods without instant gratification. It can be tough... ;)
I wonder if OSU's outstanding quartet of WRs this year will hurt the chances of landing Crowdus? It seems like it would look like a log jam, and that's before considering Wilson and Williams... he may have to wait for those kids to jump to the league or transfer before he sees much more than PR/KR duty. I'd love to have him, obviously, but he's going to want to play
Also, Roll Wave!
So, where did the watts thing come from? I haven't heard his name mentioned around here recently, if ever. He's been committed to OK since April. Is this speculation based upon their employment of Grinch?
True, and while that is encouraging, Ricks also wasn't coming to OSU for the school. He would have come to play for a legendary coach.
I used to live in LA - and I loved it there, aside from the oppressive heat and humidity between May and October, of course. Anyway, it's a great place to be, but I can't imagine that, after deciding to move an entire family for your kid's senior year, that you would choose some football school in Baton Rouge or NOLA over an opportunity to play at IMG. That seems crazy. I'm pretty sure they wouldn't have to pay tuition if it is a hardship. Scholarships are always available for the cream of the crop talent.
My younger brother passed a few years ago at 37, and the loss was immeasurable for us. 38 is so young... too young. I feel for his family.
Speak softly and carry a big stick.
They said that the best WR in the country is a TE?
i can't really make a judgement, as I'm not seeing what they're seeing, but that comment is interesting.
Um, no, it didn't. He wanted to go home almost as soon as he got to Columbus.
Good to see a Revere Minuteman commit to the S&G!!!
I wonder if OSU is in contact with Parks?