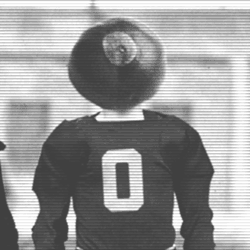 ELJTSA76
---
Member since 12 June 2014 | Blog
Recent Activity
Tulane was an SEC member school in 1946.
Stronger than stainless too
Those column bases always end up wobbling. It won't blow away, but it will sway, which I would find undesireable.
Expansion anchors. But make sure your slab is at least 4" thick first.
I won't disagree with your point, but how does knowing them make any difference?
I love St. Brown. If you think Babb is a better Wr, then he must be something truly special. I'd go after Amon-Ra St. Brown as hard as I could, regardless of the distance, because his film is that good.
It's a great choice for Nance. I wish him the best at NW
The one featuring Pace and Stringer would be pretty tough to beat in my mind.
We have plenty of guards. Jones is needed on the DL. Maybe it won't make much difference until the playoff, but what is the goal at OSU every year?
They say that every year.
Pope has mentioned the RLW program very highly in interviews for some time now, and recently stated he felt it set OSU apart from other schools. I am fairly certain Urban was referring to him.
I hope he's the one on the left.
It is a voluntary decision, sir.
If you cant find something great to do in Seattle, I don't know what to say...
This really isn't fair, is it?
Now, that may actually be the best selling point for OSU - its the best of both worlds . . . or, the best of the NCAAF world with a guarantee on dodging the worst of the NFL world. I'd be in like Flynn.
The grinch GIF means he's going to Maryland. I'm happy to not see it. On the other hand, if he's just a two down LB at the next level, I'm not sure anymore if we really would miss him all that much. I would rather have Peters.
As an alum of Revere HS, I had to comment on this. I was a huge fan of Larry, the player, but I can tell you that he and his family (what I have heard about them and know from my 3-4 random encounters and brief conversations at some of his kids' games) are also just good people. Larry is quiet, even shy perhaps, humble, and very family oriented. He goes to every game, I believe, supporting and cheering with his wife, just like any other father - but He is so soft spoken that you wouldn't even know he is there. Larry let a the kids play, the coaches coach, and his kids enjoy their own spotlight. He never yells about calls or criticizes officials aloud, and never seeks out players or coaches with opinions or advice - though he certainly could without being questioned. I don't know much about Nance's kids except that his sons also exhibit largely quiet personalities, like their dad. His daughter was a good player too, but I think tended toward her mother. Anyway, aside from their physical talents and NBA pedigree, expectedly solid fundamentals and focus, Larry's appear to be great kids who work hard, receive coaching readily, prefer to pass on the sideshow circus environment that is typical with high level HS basketball now, and shun the superstar attention and atttide.
I would love to see Peter play for OSU, but I will wish him luck wherever he decides to enroll. The school that receives his commitment will be just as happy with Nance off the court as on it.
I won't be crowded. I went last year on Memorial Day, and there were only short lines. Most people are spending time with family.
To be fair, you always came back for more... give the people what they want?
Without reading any of the story yet, I'd guess that she spoke to a lawyer first, and he advised her to refuse an interview with police, so as to avoid inadvertently damaging a potential claim. We can make assumptions about that, but those choices certainly do lead to speculation, in the absence of any real information, I think.