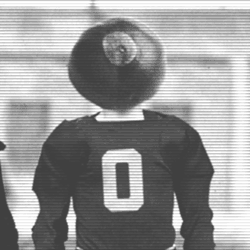 elitesmithie
---
Raleigh, NC (via Smithville)
Member since 22 August 2013 | Blog
Favorites
SPORTS MOMENT: 2002 NC and the Lebron 28 pt barrage Detroit Game in 2007
COLLEGE FOOTBALL PLAYER: JT Barrett
COLLEGE BASKETBALL PLAYER: Evan Turner
NFL TEAM: Browns
NBA TEAM: Cavs
MLB TEAM: Indians
Recent Activity
I thought we agreed Hugh Freeze was calling the escorts for his players/recruits not for him?
IT is 30 and also 5'9......If we thought Kyrie was bad on defense well then IT is a whole nother level. The celtics played better against us without him.
For me its not so much an activity; its a month and that month for me is August. Growing up you would have 2 a days, getting ready for school and school = football season.
ESPN= Kyrie did not want to be stuck playing second fiddle to Lebron and therefore does not want to play in Cleveland
Also ESPN : Lebron is for sure going to LA
Sign Rose, trade Kyrie for a wing and backup big. Winner winner chicken atleast we got one ship dinner
Why? The article says he wants to be the focal point of the team. If Lebron leaves he is the man. Sounds like if anything he thinks Lebron wants to stay.
This is a pleasant reminder that most Cavs fans are mad we fired Griffin but also mad we have no resources.
Make it so they don't use likenesses of players so we can actually have the game. I do franchise everytime and the "real" players are cycled out out a few years anyways and my enjoyment level was not deterred at all. I just loved recruiting and playing in a wide variety of offenses and defenses.
Also, make it harder to switch conferences. Instead of moving Ohio to the Big Ten, make them earn it by winning a title of two etc. I agree with the others on compliance points, training etc. Suspesions, transfers and injuries. It would piss me off but having de-commits as well if you dont keep putting points in them or your season tanks etc.
Cats come pre potty trained, dogs crap everywhere. Team Cat here
But didn't those all have an Ohio team involved? It sounds like Michigan is having two out of state teams play each other which is questionable. I guess if you wanted to do something like the Herbie Challenge it will have to be at Paul Brown or First Energy.
I have to admit. I was glad when Michigan beat Florida a few years back in the bowl game. Don't shoot me, 2006 hurt worse than anything Michigan has done to me since the mid 90's when I was a young pup.
I would totally sign up for us illegally oversigning every year if we could get away with it and going as far as telling under performing players to seek a transfer to somewhere they can play.
Eh most coaches hate to see other coaches get fired etc
Reduce OOC by one game so we don't have to play Florida AT&T 3 times a year. Make everyone have 9 conference games and a conference championship. 8 team play off. 1st Round is at the higher seeds stadium a week after Conference championship week. Then a rest and do the normal final four we have been doing.
Mostly true however we gave up a 1st to dumb Andys contract to Portland if I remember. We gave up 2 1sts for Mozgov. We overpaid for TT's contract. We cut Liggins(who mostly sucks) and signed Dante Jones(who completely sucks). We didn't have a back up PG last year until we signed Deron Williams.
So people are mad we let Griff go but also mad we have no assets, picks, or cap room. Was he a good GM or not?
Also, we can't make Indiana trade George to us, Boston tried as well. And its dumb to trade Love for Melo.
They can because they are offered excusive rights to most areas so there is little to zero competition. This is granted by the govt. Which goes back to the original problem. If Blackberry's were given exclusive rights to Ohio we would be getting awful service as well. Luckily we have the choice of several options.
Businesses should be able to do what they want, businesses should also not have govt mandated monopolies in areas. I would hope people take their money and give it to providers who offer us the best product and this would solve the situation.
False, Floyd wouldn't be able to read the script.
As someone who doesn't follow college baseball all that much. I get the South would have most of the premier teams but can someone explain a program like Oregon St winning a gazillion games the last few years and making deep runs when they are as far from the southeast as you can imagine?
Everyone has to pay the troll toll to have the boys soul?
I hope he keeps at it if for nothing else to piss off the Stephen A's of the world.
We could really use Salazar being back to being productive to help the strain of our bullpen.
Conspiracy time:
Gilbert consults Lebron on everything. The value of his team worth merits it. Lebron can't be the bad guy and say " Yea I wanted him fired, or this guy traded etc" so he always says he didn't know x y and z. Gilbert agrees to be the bad guy so Lebron can be the good guy and keep him happy. There is no way Gilbert didn't run this past Lebron just like he ran it past him when they traded Wiggns for Love or firing Blatt. Lebron didn't know about that either...Yea right
Don't want a situation like New York knee capping their team to get Carmelo even though they could have waited 6 months to sign him outright.