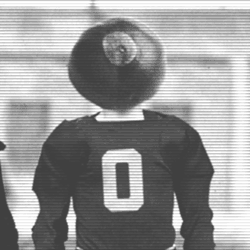 elitesmithie
---
Raleigh, NC (via Smithville)
Member since 22 August 2013 | Blog
Favorites
SPORTS MOMENT: 2002 NC and the Lebron 28 pt barrage Detroit Game in 2007
COLLEGE FOOTBALL PLAYER: JT Barrett
COLLEGE BASKETBALL PLAYER: Evan Turner
NFL TEAM: Browns
NBA TEAM: Cavs
MLB TEAM: Indians
Recent Activity
But he's only 18; he can't be held accountable to common decency /s
I think in general people overestimate the amount of times someone gets injured and it truly hurts their draft stock. Especially on the lines they typically can't play themselves out of draft position like QB's can(See Matt Barkley)
So maybe I am a bit crazy but I am not sure how you can blame your defense or their coach when A. The offense sucks in general, and B. There were 5 turnovers in the half
Im pretty sure LSU through the ball like 8 yards on a 4th and 15. Sometimes it just means more...
UCF has had some good years. They are in a great spot in terms of being able to recruit out of Florida and Florida and Florida St being slightly down.
Crazy UCF has 5 first half sacks, got to love that SEC line play
I hope Clemson and Oklahoma win by a combined 50 points. Screw the SEC. I am dumbfounded ESPN's fake FPI or whatever has Alabama as a 60% chance to win.
He can run, block, pass catches, return kicks etc. He is a stud. Hope the Browns get him at 4.
Our game against USC was essentially like us vs Clemson last year. Top defense stuffed the other offense and the offense was on the field so much that they eventually scored.
I like how people think even if he did get injured he would not get drafted. We had a corner accused of sexual assault get drafted in the first round last year. So far there has been one person(Butt) who significantly lowered his position and this is assuming a tight end was going to go high anyways. I guess he better not drive the next couple months; he could get in an accident.
Before he came he said he wanted to be one and done to the pros
I missed it, why is Falk out?
Generally speaking I think you are getting a scholarship for the WHOLE season not just parts of it.
Also, if the college system is so bad and exploititive then don't participate.
What are we Stanford and Notre Dame now?
If we are going to throw shade at misses we should stick to Carman allegedly being moved around to guard earlier this year due to "issues"
If we are worried about O Line depth we should send a spy to Wisconsin and see how they manage to find random guys from D3 schools who end up being all conference etc
Bet ole Dabo is thrilled his new recruit threw him under the bus on day 1. Also, I bet this had about zero to do with him not coming here. He is just immature and blamed something Dabo said. Yea yea, he's only 18....
Good points on Georgia and USC doing well again, or more so than lately. Hopefully Texas and A&M continue to struggle and allow us to pull in talent from Texas. We will always have a nice Florida pipeline but I would imagine between Georgia and Clemson that the South Carolina/Georgia area is tough to penetrate.
Its two fold with Carman, lack of him coming here plus the lack of much depth of O line coming in. It wouldn't be so bad if we had 3-5 guys coming in.
Interesting to see if Woodbey is a future All American if he signs with us or if he actually is kinda slow and Im not sure why we recruited him to begin with if he signs with FSU or USC
To this day I still think he didnt want film of him vs Sammy Watkins. Worked out for him. Drafted in 1st round and won a title.
Ohio St has had some good luck with unheralded QB recruits in the last 15 years IE Troy Smith and 12 Guage
I would totally sign up for unlimited cheese, brats, and beer if I was 18...or any other age.