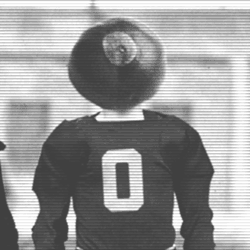 elitesmithie
---
Raleigh, NC (via Smithville)
MEMBER SINCE August 22, 2013
Favorites
SPORTS MOMENT: 2002 NC and the Lebron 28 pt barrage Detroit Game in 2007
COLLEGE FOOTBALL PLAYER: Troy Smith
COLLEGE BASKETBALL PLAYER: Greg Oden
NFL TEAM: Browns
NHL TEAM: Blue Jackets
NBA TEAM: Cavs
MLB TEAM: Indians
Recent Activity
"Former coaches relative with two generic names" was a good follow up title
Dude for the Browns on Hard Knocks was a damn rock star. Granted he said he didnt believe in stretching but....
Wasnt to me in the sense he overhauled the defensive staff and probably wanted some continuity and felt that he could better offset any offensive deficiencies vs on the defensive side of the ball. I would expect the movement on the offensive coaching staff to take place after this year.
Sounds like Miltons situation would be if his grandparents were in Dayton and flew into Columbus to see him. I am sure they are huge UGA fans and its a double bonus of seeing campus, coaches etc while also seeing family.
Very odd to have this many decommits in a short time period with no other event, like a coaching change etc
Its so dumb because the majority of us play Dynasty mode and its all fake players anyways. I could care less about playing the "real players". 99% of the time I don't play as OSU anyways because its too easy. I always end up playing as like North Texas. Just want to recruit and build a team from 1 star to National Champion. / end rant
Georgia, the Michigan of the SEC
So cops didn't charge him but the University found enough evidence to dismiss him? Maybe the cops can teach next year and the school can arrest people. Seems odd.
Jalin was a starter and fairly productive(especially vs IU). I think his issue was leaving a year early.
Parsons acts like he wasnt leaning towards us leading up to the gameday snafu
Losing to Northwestern isn't a disgrace. Losing to them by 4+ TD's would be. If we lost to Purdue by 3pts last year we are in the playoffs.
Stanford is a very quality opponent for Northwestern should they finish near the top in the West. Purdue has some good chances to make an impression as well.
I think its more that skill position players typically are the ones to leave early while O-lineman typically play 4-5 years and therefore are getting their degrees so its more important. I don't hear many lineman quotes in HS about leaving early as the goal.
Good luck to you as well.
Dude just needs to stay in his house and play fortnite for 4-5 years(outside of football activities) and he'll set his family up for generations wealth wise. WTF is wrong with people.
Can vouch for IT as I started after a few months of Keto.
Chris Mullin imfamously hated doing things like recruiting and teaching. Not sure why he went the college route.
Anyone wonder if some of Varys' letters got out pre execution? Heavily implied when he talked to the girl he was going to die but be worth it.
Part 2 - where were they sent? The north already follows Jon so somewhere else?
Reminds me of a line from the cinematic classic Mission Impossible " They're dead!, they're all dead!"
Urban is young relatively speaking. He could rest for 4-5 years and still coach somewhere else for 5-7 years easily.
Wifes family goes there every other year. They like to go to the turtle hospital especially when they release them back to the ocean.
Sansa has the north and the vale should she choose to, plus the North North people.
Jon isn't family anymore?
I could see that. In her mind no matter what happens in KL she has an enemy. In her mind Cersei may be the easier one to defeat after the fact than Dany and her dragons. Plus this doesn't technically directly put Jon in danger since he wasnt there. I don't think the writers have the stones to do this though.
This sounds like when someone goes to a football thread and says "There are homeless people in the world how can you be mad teenagers lost to teenagers from Michigan". Yea you are right but kind of misses the point.