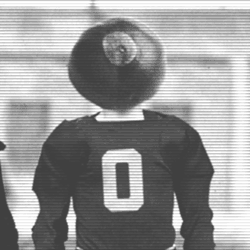 elaydin
---
Member since 30 August 2010 | Blog
Recent Activity
ahh, 1991... what a star studded class.
how dare you use Mustafa Kemal Ataturk's name in vain!!
Ataturk bears do not wrestle for you! You wrestle for Ataturk bears!
(also, those would be two handsome bears)
12 point game? I guess that makes PSU a little worse than Florida.
Not to be an ass, but I would be shocked if this was closer than 20.
Chris, I'm under going some Kenpom withdrawal. Do you guys subscribe? How many possessions were there in this game?
Out of curiousity... during most of Tatgate, you guys seemed to have sources independent of the scout.com guys. Is that also the fact in this case, or are some these just a rebroadcast of scout rumors?
Basically, many people saying the same thing independently is a lot more interesting than many people just passing on news from one person.
What makes this excisting is that there a lot of people who don't often agree on things saying the same thing (11W, Bucknuts, multiple BSB people)... everyone but Castel.
Introduced us to Robin Givens AND Timbuk3!!
" Tommy Craggs/Jason Whitlock have been running a train on Charles Robinson with a steady stream of facts and logic over Charles' piece on The U"
Not sure I understand this sentence. Did you mean to say "Charles Robinson, and his meticulously reasearched and documented piece on The U, has been bitch slapping Jason Whitlock six ways from Sunday"?
Was not expecting a Pixies reference. Well done.
Forgot to mention Ross Fulton in my survey. That guy is exactly what 11W needs. His breakdowns are absolutely epic. Heck, just take over Along the Olentangy. Make Ramzy pay the bill.
Still don't understand the stance on apps, but that's just me. Mobile themes are for dirty hippies who don't like monetization. Either way, you should do *something* for mobile.
BFD. It's not against NCAA rules to be at a tatoo parlor. I think only one player denied being there. I can't imagine what a still photo could capture that could cause trouble, short of someone holding up a sign saying "I'm trading this signature for a free tat!".
Heck, mgoblog even has an ipad app! Slackers *grin*
Too bad you couldn't wait few hours to post this. I think "LSU" autocorrects to "OSU" on ESPN computers.
Been known to...
It was more enjoyable when the shadenfreude went the other direction, but this too shall pass.
I'm guessing VegasJeff or Section1
M Man, out of curiosity, do you post on mgoblog? And if so, what's your name there?
So did anyone catch the big "nevermind" from the Dispatch w.r.t. Thad Gibson's car this morning?
Scout guys seem to think Bukibill is a bit of a flake, but I've learned not to discount any rumors these days.
Good post. This opinion seems to be shared by certain other "insiders".
I'm hoping it plays out like this. It just gets hard to keep the faith.
I'm interested to see if the NCAA already knew this. It almost came out in the press conference.
I keep holding on to the hope that Gene Smith has been working on this with the NCAA since February and they're really OK with the suspension originally handed down by OSU and "TheComplianceGroup".
He shreeks like a girl in the presence of flying graduation caps.
Word on the twitters is that he's fine.
AdamJardyBSB Just saw #OhioState guard Jon Diebler walk into the arena with absolutely no ice and/or brace on his right hand/forearm. #Buckeyes
Interesting box score. Kecman, Big Z, Simmons and PJ Hill all had double digit minutes. Titus had 5... and we still scored 110!