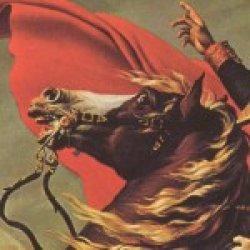 El Caballo de Sangre
---
Member since 30 August 2010 | Blog
Recent Activity
Yes, I am talking about the "huge physical advantage, such as a male 135er would have". The way you say it, you make it sound unfair, but I don't see it that way if we are discussing who is a great MMA fighter. If anybody wants to say that she's the best female MMA fighter ever, so far, I'm not going to argue with them. I'm a fan of MMA fighting; I hope the version of it that she competes in gets a lot better someday.
When I say that she is not one of the best MMA fighters, I mean exactly that - she is an MMA fighter, & there are lots & lots of other MMA fighters who can beat her, right now. I am applying an objective standard for judging a particular athlete against the other athletes who also compete in that sport. What's strange about that?
yes, you're correct :) in that case, the list goes like this: 1. Serena Williams 2. Mike Tyson 3. Michael Phelps
All that said, here are the 3 *Greatest* athletes I ever saw:
1.Bo Jackson. I was born in 1969 (I saw Archie play in Ohio Stadium in person, y'all), & there is just no question that Bo is the best athlete the world has seen in my lifetime. If track & field were a bigger deal in this country than football & baseball, Bo Jackson would undoubtedly have become the best decathlete the world had ever seen.
2. Usain Bolt. An unorthodox body type/running style for his event, which means that he is *even faster* than he appears.
3. Beau Havens. I am cheating a bit here, but he is a guy I went to high school with, & was a very, very good basketball player & track & field athlete. He had some personal issues that threw up more than a few obstacles in his life, & he has sadly passed on, far too young & lost. However, those of us who knew him are in agreement that if you tweak the course of his life somewhat, he would have been a world-class decathlete. The reason he's on this list is because he is someone whose prowess I was able to witness up close, with my own eyes, & he really was an unbelievably talented athlete, as well as being appropriately sized - 6'4", 190 or so - to be able to take full advantage of that talent. We had an excellent track program, & his Senior year he was our fastest at every distance from 200M to 1600M, as well as our best at literally every field event other than the pole vault, & he would certainly have been our best at that if he had spent even a little bit of time on it.
I think Rousey is an amazing athlete, but it's hard to know exactly where she stacks up with the *Greatest* athletes of our times & the recent past because the "sport" she participates in is a joke. Not to mention that, as amazing as she is, she is nowhere near to being one of the *best* MMA fighters. There are literally thousands of MMA fighters in the world who can beat her, & tens of thousands - at least, probably more - of people in the world who could beat her in almost any kind of fight.
Apologies if this seems like kind of a Hot Take - it's just that when I think about who is the *Greatest* athlete, I tend to default to the Olympic standard: citius, altius, fortius - Faster, Higher, Stronger. The results of objectively applying that standard to athletes are pretty clear sometimes.
The explanations offered at your link are not at all satisfactory - the meaning of the lyric, as written & sung, is clearly a defense of George Wallace, & specifically of his tenure as the Governor of Alabama. If we can't take it as a given that George Wallace, when he was the Governor of Alabama, was a total racist in both word & deed, then I guess you're right that for some people the word "racist" is meaningless.
The handle comes from a short story - or I guess maybe you'd call it an essay since it's very short indeed - by Neal Pollack.
That's me :) I used to try to engage with rational Michigan fans every once in a while. Sometimes I succeeded, more or less. I think MGoBlog is great, & that Brian is a great writer, even if frequently a dick. I also used to be a regular at Vico's old blog Our Honor Defend.
I don't know if it's "trash", but it is pretty racist - although you'd have to know what Governor they're singing about to pick up on that, I guess.
Holy shit, I remember Jimmy Ratliff. Didn't Gerald Eaker shoot at Killer's car or something like that?
This sounds right to me, though it seems there should be quote marks around a lot of it, maybe even a link :) My 1st thought was, well, that's just creating a pain in the ass for somebody else someday, but that's just like me to be thinking of my own lazy needs 1st, ha ha.
On the other hand, I don't know BuckeyeGroove, so I guess it's possible he's got a few acres somewhere, & he/his wife are very knowledgeable & conscientious people, & that they will have done what's needed to ensure that these animals are cared for properly.
My sense of it is that if an animal could *generally* be called *exotic*, & you are just a regular person, then in the vast majority of cases you don't need that animal.
Charles "Killer" Macon, among others...
Ha ha, Jack, well done :)
I cannot, in truth - at least not with certainty.
Oh, I'm relaxed - like I said, I love you :)
Also, there's nothing at all that bothers me about "off-color" language; I use it all the time. Lots of my comments here include it. I'm also not worried about some kind of reign of terror where users get banned for *unpopular* opinions, or anything like that. I just thought, & think, that you were out of line in the 2 specific instances I mentioned. Like I said, ugly. Not impolite.
Sometimes people get called idiots because they've done something idiotic - like using their ownership of an online forum to say that another person has a half-inch penis, or to call another person a "miserable pig fucker", over a disagreement about the use of that forum. You made a bad choice when you "chose the latter". I'd be interested to know if any staff member here has ever used words like that towards a user of this site.
Sorry, I love you, Ramzy - & I know I'm risking getting burned by the hotness of this #take - but I couldn't not weigh in. It's ugly.
This is, quite literally, the kind of thing that keeps my wife not just on board but engaged in the whole "being a Buckeye fan" project.
Olbermann was right in the 1st place. While $13M is indeed a whole bunch of money - especially free of context - philanthropy is just one of the things that gets done at colleges. PSU & its students deserve no *special* credit.
http://en.wikipedia.org/wiki/Lesson_of_the_widow%27s_mite
Did you watch the Film Room version of the game yet? Good lord, what a time-suck.
The beauty of it is that, aside from teams with the Buckeyes' level of talent, & notwithstanding the randomness of college kids' performances on a given day (both individually & collectively), it doesn't *matter* how much or what kind of work the opposing teams do. Urban & Co. have an adjustment ready for the adjustments you make, & they can do it seamlessly most of the time because all of the adjustments are already part of their *identity*.
right on this is bullshit :)
My own opinion about our QBs notwithstanding, I don't like - not one little bit - George Whitfield lobbying for his client Braxton as the starter. His interests would obviously be better served by, say, a Braxton-led Buckeye team that loses in the playoff than they would be by a Cardale/JT-led one that repeats.
Which makes me glad that George Whitfield has exactly zero influence on who starts at QB for the Buckeyes this fall :)
I think you both are right about Sam here, actually.