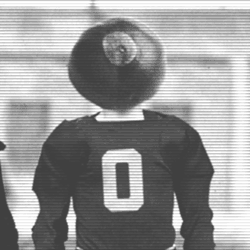 ek68
---
Member since 20 December 2011 | Blog
Favorites
SPORTS MOMENT: All wins over TTUN. 2002 OSU National CHAMPS!! Dale Earnhardts' win @ Daytona. Lots more.
COLLEGE FOOTBALL PLAYER: Chris Spieman, Archie Griffen. & I could go on!!
COLLEGE BASKETBALL PLAYER: Evan Turner.
NFL TEAM: Green Bay Packers, Root for Browns still care.
NHL TEAM: N/A
NBA TEAM: N/A
MLB TEAM: Cleveland Indians
SOCCER TEAM: N/A
Recent Activity
Two really great programs. Buckeyes with a lot of new starters. OU @ home with returning starters and experience. Barrett must take charge. Mayfield and his offense will score points. Very concerned on how well both "O" & "D" lines will perform. Meyer and staff will control this and JT & offense will outplay Mayfield and his offense. Buckeyes 27 OU 24. Go Bucks!!
I have my views on both religion and politics, but not here and for those who are abusive I just use my DV. Go Bucks!
Tim, thanks for the explanation. I believe Thad will right the ship. Go Bucks!!
What the HELL is going on!!!
Birm, just want to say Thank You!! To all posters (so far) You say it all.
My thoughts and prayers go out to you and your family. God Bless you and all who served and are serving this great nation.
As a Buckeye fan who gives a shit what other fan bases think, and you can throw in the so called experts as well. Coach Meyer will handle this.
Now that was true comedy and entertainment!! I thank you for reminding me. Sooooo funny!
Man, this is getting old. Urban chose Cardale. Stop!!
Offense played offensive, and yet Bucks Win. I expected more and yet final score 38 to 0. Gosh, I must be spoiled. Go Bucks!!
So much discussion on this topic and I've enjoyed reading the opinions. My take is JT will start and will take the majority of snaps. By no means is this to say Cardale is the less of the two. I expect to see Cardale in serious game situations an not just in mop up duty. All the best & GO BUCKS!!
My heart goes out to his family and all who knew him. May we continue the fight to battle cancer. God bless you Zach.
I agree. Let the man enjoy the process. Then BOOM!!
Great post! Once again you make me laugh and yes, even a few tears. MY REGRET. To all the people in my life I HURT. I am truly SORRY.
I believe people have the right to their opinion and we can respond positive or negative. EDDIE27Z, We can agree to disagree.
​I was 20 yrs. old I will never forget the events of the late 60's & 70's. I was drafted in May of 69. Had to be at the city courthouse where the bus picked us up and drove us to Columbus to the draft center. Can't remember where so long ago, but there were 100's of guys in a single line and as you moved forward some to the right (Army) & some to the left (Marines) I went to the left (Marines) & during the last minute physical & heading to a desk where reps for Marines and 2 Drs. were sitting you gave them your paperwork (involved in car accident in 68 where I had a serious skull fracture) Drs.determined not fit & reclassified 1D. To some this forum borders on the line of political & perhaps your right. To me people over the years were watching (tv) nightly news & most all of coverage was about the war. All of news (mostly bad) showed the horror of war. Our soldiers being carried off both dead & wounded. Reading about war & actually seeing it made people feel much different and to see the innocent women and children being killed changed the Nations view. I know it's a lot deeper but sides were drawn. I lost several friends and relation during that war & others. I feel for the families of all and hope they all find their peace. We all must remember those who were killed that day were young and innocent as well of the National Guards who fired those shots were. I will never forget the MEN & WOMEN who serve & have served THANK YOU & GOD BLESS.
IMO, missed free throws, and Wisconsins' lack of scoring in final minutes (14-0 run by Duke) hurt big time. Officiating was disappointing. I agree calls were questionable. If you make a few bad calls early (1st half) you have a better chance to overcome because of time to recover. When time is winding down and you take the ball out of the hands of a team by making or not making the correct call it hurt Wisconsin.
By the way, regular gas @ 19.9 cents a gallon, Sunoco 260 @ 24.9 cents. Wow!! $5.00 and tank was full!! Loan was for 3 years!!
I was 18 & just graduated from high school. I worked at a popular restaurant for 2 yrs. & was promoted to assistant manager. I wanted a New car (walked to work everyday) so my dad (had to go with) because he was going to cosign on the loan. Went to the ford dealer & I had my heart set on a 1969 mustang with a 429 cobra jet engine!! Salesman took my dad and me for a test drive. Dad gets behind the wheel and really likes it but is concerned with the amount of power, but was content to let me drive it. I get behind the wheel & take off!! Long story short, I gave it way to much gas & peeled OUT!! Scared both dad & salesman. No mustang fo Ed. Left & went to the Pontiac dealer & in the showroom floor a Brand New 1969 GTO (metallic silver) 400 Mark IV Ram Air engine automatic. Just a beautiful car!! Test drove (learning from my previous mistake) took off real slow. Dad cosigned and drove off the same day!! Price $3679.00, monthly payment of $96.00. What a car & fast!!! Thank you for bringing back a great memory!!
True Champions & Buckeyes Forever!! All the Best!!
Ramzy & 11W staff, I first want to personally thank you for providing GREAT Articles & information. I live in WI. and found your site. It's hard for me to express how many times you have brought tears of joy & sadness to my eyes. I respect all opinions, even the ones I disagree with. If for some reason, someone decides to not to follow the established policies (mman) "C Ya" . End of Story!!!
Yes, Urban will address this with Weber & his family (probably already has). IMO Urban should make some kind of statement. If he decides not to, then I'm ok with it. Urban and entire staff will look at the big picture and that is why he will do what's right for OSU and future recruiting. Urban will continue to recruit and sign top quality players from all the top areas & schools.
LOVE YOU GUYS! You make me laugh!!