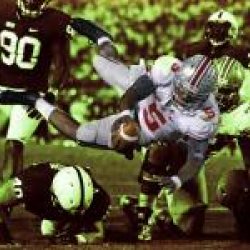 ejoceans
---
Member since 22 July 2013 | Blog
Recent Activity
Being sacked a million times can have that same effect. Lol
I really hope next year we really focus on online like we are on db this year. We need a 5* line to go with all the skilled guys we are pulling in.
He needs more time to pass against good defenses and then we need to take more shots down field
I don't believe JT is the best ever but I do agree the line sucks. He would look so much better if he had a little time or if we could run against a good d line. O line first and foremost
Did anyone question why we had (on multiple occasions) #12 db on their best receiver???? How did that keep happening URBS??? I question YOU as well. And price is no gift coming back. Urbs must focus more on lineman in next years recruiting class for sure
31-0 nothing? No one should be safe. Not even Urbs. Not even urbs
Did none of you watch this season???? It's the line sucking against Every good D they face. You must all be blind bastards . Tonight was dropped passes and poooooor line play. Point blank!!! Wake up!!
It's the players not the coaches. Most of the time. You guys kill me. So excited to have these OK lineman stick around. Recruiting better lineman is the key! Urds is too much about the position player instead of the most important part of the game... The line. The fucking line. Sucked most of the year. We just now played a good team. Oh shit, our li e is OK? Could have filled the world tonight.
What the hell are you talking about? Beat Indy? Smoke another. Sam is gone! He too should be 1St round material. They need to spend more time on recruiting O lineman. That's what the good teams do. All I hear about are the qb's and wr's coming in. Well they don't mean shit if you can't block!! Suckeyes tonight. A month to plan and the best you could do is 31-0? Suckeyes tonight
Nothing good for the last 4 games. This team is pathetic. You have great tallent but that's where it all ends. Suck
They did. But if they could catch it might work
WTF are you talking about ?? Did watch the same game? Online sucks, WR suck, running backs suck. Everyone but JT and the D sucked. Coaches and all. Field goal kicker. They all did. Urban is to blame %100. When I can call osu plays from my couch, that the end. Happy fucking new year everyone. Hope you have a great off season
You know, this guy has a point. F Urban! F the o line and f the receivers!! Drop another one fuck face! You guys suck! Hope the kids coming in don't change their mind now
Suckeeeddddddddd
They just sucked tonight..... Bad
I love the buckeyes but this was pathetic tonight! The worst offense I've seen from any team in years. They did not look like a offense that belonged in this game at all. They sucked bad. Real bad. It's going g to take time to get this taste out of my mouth.
A few turnovers
One at a time friend.
Exactly my point
That doesn't sound good at all right? This sounds like we are about to get lit up! I wouldn't be bragging about our 3rd stringer killing our starting D. Wish I hadn't read that now.
I have a hard time seeing all these QBs staying here. If JT stays (like he should cause hes not ready for the pros) at least one will leave. Martell looks like the perfect fit for us but I couldn't say cause I haven't seen much of the others yet. I hope I'm wrong!
Qb run all day. I miss the team that passed on first down all the time.
That means we will run the QB draw 50 more times this week too. 3rd and long? Run that sh*t
Sadly I don't know if even that would get us back in the top four. It would be closer than last year
Did Boss just jump offsides again??? 3rd and long you son of a bitch!! Those 3 plays had a huge part in us losing too. I think two kept scoring drives alive. Other than that he was invisible