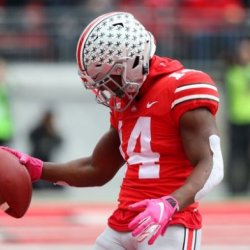 EightyDeuce
---
Powell, OH (via Ottawa, OH)
MEMBER SINCE December 20, 2017
Went to OGHS and kept the bench nice and warm throughout our 03-04 basketball state run. After that I joined the 82nd ABN and learned A LOT about life. Now I'm a family man and I enjoy playing with my kids, college/professional sports, and a nice cold beer.
Favorites
SPORTS MOMENT: When I got a double in my second year of tee-ball
COLLEGE FOOTBALL PLAYER: Eddie George
COLLEGE BASKETBALL PLAYER: Jimmy Jackson
NFL TEAM: Brownies
NHL TEAM: CBJ
NBA TEAM: Calfs
MLB TEAM: Indians
SOCCER TEAM: Crew
Recent Activity
Everyone on OSU's side looked sooooo slow.
I thought his statements were positive. He essentially believes that he has 3 RB's that can go in at anytime. It's huge that Teague feels 100% and I love that Serman never doubted his choice to come to OSU.
She sure is easy on the eyes!
He easily beats almost his entire team back after that interception (something like 8 plays in to the video). Kid doesn't quite........ and I love it!
Good god! We have the defensive God's looking out for us right now! Heck of a stat line for them.
This kid is a complete beast! I love how he doesn't take a play off and finishes EVERY block.
That BIA flag right at the end of Shaun Wade's Twitter video is SICK!!!! I need in that in a t-shirt or hat!
I could get down with this! Anything for college football on Saturday's.
Did you watch the game? If you did there's no way your not saying that about the first goal. The second goal was some puck luck mixed with Nick being slow to cover his man.
Thats what i was thinking as well Johnny. Smart move to make that $$$$. He knows he will/should step right in to the starting roll in a year or two.
Awesome story! A movie producer should hear about this.
I would say that I'm a small prepper. I have the typical dry goods, medicine, and household supplies to last me for a few months. I will happily help out family if needed, but it is difficult when they whine and aren't thankful.
Prepare for the worst and hope for the best.
Of course this is all depending if they sign Wednesday. Please feel free to add other possible transactions that you have seen below.
That twitter video of Leigh was awesome. I don't know how good the other kid is, but he just tossed him to the ground and made sure he didn't get up quickly. Love it!
I'm thinking the same as Lew and yourself. It likely provides contrast so that the players on the field can see the play calls more easily.
I see the good guys winning by 3 scores. As I posted in another thread though, the QB Jaime Newman from Wake Forest looks like he may be transferring to Oregon. If this does in fact happen, this may be a little closer.
https://collegefootballtalk.nbcsports.com/2020/01/01/oregon-jamie-newman-wake-forest/
Only 16lbs. I guess if you weigh 300lbs, 16lbs may not be much. But for a rb that is quite a bit, especially when that weight is muscle.
I didn't see Lawrence at the Heisman ceremony. Last I checked JK finished a few spots ahead of Etienne as well.
Let them believe that. We'll see what they have to say on the 29th.
Anthony Richardson doing flips like nothing at 6'4'' 225lbs is pretty amazing at the 3:14 mark. But yea I feel comfortable that we will have an excellent backup QB with either Stroud or Miller. They're both studs!
I think she must be Borland's ex or something. All this person does is hate hate hate RME