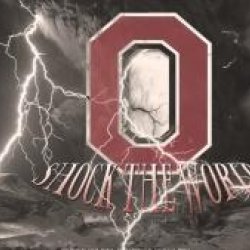 Edincostarica
---
Costa Rica (via Wadsworth, Ohio)
Member since 09 June 2013 | Blog
Live in Costa Rica and loving it. I've been a Buckeye fan since the mid 60's and played football for the Zips.
Favorites
SPORTS MOMENT: It's been a few years but I would have to say when the Buckeyes won the National Championship. My wife and I were in a sports bar in Costa Rica which was full of Miami fans. Need I say more?
COLLEGE FOOTBALL PLAYER: Bosa! This young man is going to be something else.
NFL TEAM: Cleveland Browns
NHL TEAM: Nah!!!
NBA TEAM: Cavs
MLB TEAM: Indians
SOCCER TEAM: what????
Recent Activity
Welcome! Welcome! Welcome! :-)
Disagree! Did you ever play high school or college football? Have you ever been a coach? Most good coaches are perfectionists, at least the ones I had including Jim Tressel. That's why you practice, practice & practice. You don't think the Michigan St game is still eating at Urban & a lot of the players like Zeke? The key is not to dwell on it & move on but it's always there & when ever you think about you can't help but cringe a little. I know people at work who makes a mistake & they say "oh well". I also know people at work who make a mistake & they are harder on themselves than the boss is. Why? Because they are the ones who strive for perfection.
"Usually" is the key word here. It's hard to replace a guy like Herman. I think the Michigan ST game still sticks in a lot of peoples crawl as well as the back & forth with the QB's which in my opinion never led to the chemistry the team had last year. At least not until the Michigan game. With that being said we learn from our mistakes & move forward. I'm glad Urban is at the helm for 2016 & hopefully for many more years to come.

Actually their next man up is pretty good. But we'll have to wait & see.
I have been thinking along those lines as well. This has been some long term planning. I don't think Meyer is worried about style points. He does want teams guessing & preparing for more than 1 QB. He'll keep doing this juggling act up until the Mich. ST game. Then watch what happens. Remember Braxton is still taking some snaps. I know we're going to have a pretty exciting November, December & January.
I like these jerseys better than the scarlet numbers. A much better look as a whole.
These aren't bad. I could live with these.
These would look better if they had some more color on the sleeves/the stripes.
SHAUN! WELCOME TO THE WONDERFUL WORLD OF BUCKEYES. :)
Born in Akron, grew up in Norton then moved to Wadsworth. Played a year for the Zips. Been in Costa Rica for 14 years & still an avid Buckeye fan. :) There's a few of us Buckeyes down here.
I agree. I do not think a successful, smart coach will make the promise of a player starting right away. He may say he has a 50% chance of starting or 70% for example but it is ultimately up to the player and his progression within the system versus other talented players.
A lot of guys do this. Remember Eze's recruitment last year?
Congrats to our friends up north. They played an exceptional game. Best of luck in the final game for the U.S. and the Canadians. I'm sure glad not to see Russia competing any longer. They'll be watching the game from the gulag, if they are lucky.
Bearcats are "normally quite shy, they can be aggressive when harassed."
I think the Trustee's made a great decision and hope President Drake has a long & productive relationship with tOSU. Welcome President Drake to the Buckeye Nation.
WOW! What a blow in so many different ways. It feels like a hard punch to the stomach. I'm sure Mike feels the same way if not worse. I know I would do the same in his situation. I just hope everything eventually turns out well for his father and the family as well as Mike's football future and his future in general. You have our heart felt prayers and best wishes.

"Marcelys Jones from Glenville High School is a behemoth with a ton (no pun intended) of upside. He's a work in progress, but he could become a valuable Buckeye in years to come."

I believe the key words here are, "work in progress" and you can bet the coaching staff will get him in shape and go from there. Obviously U.M. sees potential in the "behemoth" young man.
Looks great! Very professional indeed. Stylish and easy to read/navigate.
CONGRATULATIONS to these young men and their families for joining the Buckeye Nation. And our "THANKS" to the awesome coaching staff.
I agree! Do we want the NFL to become the WWF? I personally do not care for it and respect players who have some class. IMO leave it on the field if one feels the need to "trash talk". I also believe what LB did was "trash talk" to his own team, rather getting them pumped up. "Action speaks louder than words." Again, it is just my opinion.
Like those 3 as well but it probably wouldn't happen until mid Oct or Nov. if at all. The coaches will want some experience in the mix. We'll wait and see.
Congratulations, Raekwon and welcome to the Buckeye Nation.
Buckeye Nation is definitely ecstatic today. Welcome Raekwon!
Wish him the best and truly glad he is a Buckeye.