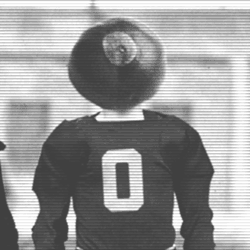 EastSide
---
Member since 09 January 2012 | Blog
Recent Activity
Good Luck to Brian Bobek. Great kid!
I like the "alleged" part as well as the rivalry pic of course. I think these threats are TTUN fans posing as tOSU fans just to create a negative media blitz. It's prolly a prank that some IT students came up with to see how far they can go. They can not even tell if it is other kids, other teams, their own players, boys, girls, men or women, dogs or cats, but one thing for sure we know that those wanting to bring guns to their house and those burning opposing teams literature in effigy are from TTUN. Hoke is a Joke. I hope this clown does something to stop this before it gets out of hand. He is the only one that can put an end to it and by not doing anything he is condoning the violence perpetrated by his players and recruits. We have "blood" ,"fire" and "gun" references by TTUN players and recruits. WOW.
I just threw up in my mouth after watching Kasich shoot a basketball.
JT Barrett + Tom Herman = Nasty
Watching him on his highlight tape, I couldn't help but think that this kid could be the perfect match for Coach Herman's master plan. Excited about this kid.