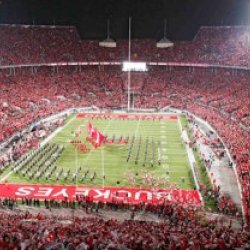 e135800
---
Member since 30 November 2011 | Blog
Favorites
SPORTS MOMENT: The day I became a Buckeye fan!
COLLEGE FOOTBALL PLAYER: Eddie G, The big Kat
NFL TEAM: I'll watch any team with Buckeyes playing
NHL TEAM: Red Wings
NBA TEAM: None
MLB TEAM: Tigers
SOCCER TEAM: What?
Recent Activity
All predictions are silly so I put my silly one in.
Yeah, I was on a cruise ship for the 2002 nc game and there was a dork in the bar that wouldn't let his wife cheer for the good guys because she wasn't an alum. Just to stir the pot a little, I lied to him about me not being an alum and yelled go bucks in his face. He almost stroked out telling me I'm not allowed to be a fan. pffft. Like alums own the athletics or something.
One last one for me. After going to The Shoe 60+ times, I'd rather sit in front of my 80" LED, my own private bathroom, a remote with pause and rewind, $2 beers and 20 cent hot dogs than drive 2 hours, walk 10 miles, and stand in line for everything to see a game. This excludes 8:00 pm games however.
I hate the playoff system. I long for the old days when cfb was finished on New Years Day and only had meaningful bowl games. Don't care if there were a split AP and Coaches poll champ, and I don't get upset if Bama or whomever wins the natty except for TTUN which hopefully I'll never see.
I confess that I am all for Zeke getting suspended, fined or even worse if he keeps acting like a spoiled brat.
The Hamptons Episode 21 Season 5 topless scene
Rainbow in 80. Blackmore was so f'd up he had to lean against his stacks and couldn't play any of his badass riffs.
Pretty much a tie between Tom Brady and Lebron James for me.
Hmmm. Insecurity issues? Sounds like the OP has no issue with the trip and even if he did, he has no say over what she does. I certainly wouldn't be sitting around worried about it if I were at home while she was there.
Wet Willies on South Beach was cool for NYE one year. Spring break of 80 was not a fun one in Miami. Got stuck in the middle of a race riot. South beach, hot hot girls, topless and the like. Lots of parties and clubs. She'll dig it there.
I've been using PIA for about 3 years now. It encrypts all searches so that even my ISP can't see them. At least that's what they say. I'm happy with it. Cheap too. Private Internet Access. https://www.privateinternetaccess.com/
Yeah man. Just picked some up from Grampa's cheese barn in Ashland. Best bologna ever.
I don't remember playing Green Bay
I'm not sure how this affects anyone other than the lady involved and Zeke. I'm not going to worry about what anyone does but myself. I personally don't have an issue with it. He's living the life right now and only he can answer for it so it's a big *shrug* from me.
Why does TMZ always screw things up by using the black out strip?
I dunno, let me think about the band one......
CB > LBJ As far as listening factor. I'd much rather listen to CB.
I'm thinking Dunn, Schutt, and Kyle Dotson. All from the 2012 class.
I still have a sealed, unopened first cut US version vinyl record of this. . The one I listen too is the first cut UK version.
We go through these guys for cabin rentals when we go there. Not sure if they have any left that didn't burn down.
https://www.auntiebelhams.com/
The Cinci game in 2019 is going to be an interesting one.
It's hard to throw when you're laughing at a sportscasting hipster.
Yep. The same Jo Jos. Good stuff. Half off Mondays and Wednesdays. So much for the new diet