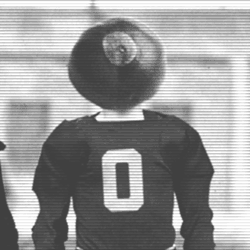 dvo45
Member since 29 June 2012 | Blog
...born and raised in the shadow of The Shoe...now living in Nascar Country.
Favorites
SPORTS MOMENT: 2003 Fiesta Bowl
Recent Activity
I would do it for a 1/4 of what these guys are making...
Let me add...for even additional front and coverage you add to your base defense you have to learn and practice lining up to every offensive formation/play you have scouted...so that means less reps for your base
Here is what Chris Ash told me...
The more you add, the more you do, is just another "snake in the grass" as he calls it...it is just waiting to bite you.
Goes back to the old cliche'..."jack of all trades, master of none."
Ohio State wants to be a Master of their defense
Most importantly...Meyer has never been a 34 guy
You see elements of an odd front with the pressure packages but that is about it
Nothing to do with coaching...all about a splashy name for Vegas
Good for him...this is a guy a would like to have seen Ohio State go after as a DC
I know I am not the first one to say this but there are a whole bunch of high school coaches who are just as good that would do it at 1/4 of the price
Interesting to hear how Ohio State's defense counts the RB in pass distribution...
Curious if that is a game-plan adjustment or specific to their scheme
Search for Jones, Kyle...indulge yourself
https://www.youtube.com/watch?v=tWFaP1tkGgM&list=PLrboc50bpIZv_hbwbPj8O7AWDYNtL3RLI&index=1
Watching the video a 2nd time through, it appeared as if Grinch had his ILB on "auto blitz"...meaning, the say a certain stimulus, they had an automatic response...
Created a bunch of negative plays, but got them burnt a few times too
But when your Head Coach is Mike Leach, who just assumes win 99-98...you can get away with that
"not as much pressure on me at Clemson"
Read your own signature line...
Dabo took a call from him during his press conference and came back and said "this is going to make Clemson really, really happy"
My guess is he is being brought in as a replacement for Schiano...maybe not in 2018 but in 2019...
I would wager he is Co-DC...but 3 secondary coaches?
Do you want them to play man-to-man or do want them to have their eyes on the QB?
AJ Alexander...
He should be back...
Move Berry back to DE...he could/should be the 4th guy...
IF Ohio State feels as if they have a decided advantage over USC upfront I you could play all sorts of games with the DL that allow your OLB play pass first and eliminate their run/pass conflict
1/4i to short side
3/5 to wide wide
Did this against Oregon in the NC Game allowed the 2nd and 3rd Level to play pass 1st and shut down their option game with it
Slightly off-topic
But as you read Jones breakdowns, do not forgot about the other Joe playing QB...he keeps the playbook wide open at QB...
you see the same blocking schemes that Woody Hayes ran...for real...not for play...it is just out of the gun and no the "T" or the "I"
You have actually seen some H-Back package with lead zone (or iso) implemented as the season went on
its easier to equate numbers, core principle of the spread, than it is in pro style...just go to throw it enough to make defenses respect it...(those bubble screens that drive everybody nuts)
Like, the offense, for example, at its core is still tight zone and gap scheme...but what Wilson and Day added is how to "protect it" as well as so simple passing concepts like Mesh and Y-Cross
they didn't come in and do a whole sale change
When Schiano came in, he kept all the same verbage and terminology that Ash and Fickell had already implemented...just implemented more Cover 1 to compliment the Quarters Coverage instead of Cover 3 that Ash preferred
That is a great question...
It is a series of core values that are at the foundation of the 3 phases of football for Ohio State...
For example, guys like Steele and Diaz are huge zone-blitz guys...kind of 'live by the blitz die by the blitz' and have built a reputation as such
Meyer has never really been that style of defense...for example...Ash describe the Ohio State defense to me as "simple sh--"
MIke Elko...that would be a great hire...dude had a top 30 defense at WF for crying out loud
Plus spent time in Ohio when he was at BGSU
Very, very smart football guy...
Meyer likes to take coaches from ND...so that would not be a first...
Very important point...Meyer is going to want a guy that can run the Ohio State Defense...not "their defense" a lot of these guys have built a brand on "their" defense...Steele, Aranda, Diaz for example...