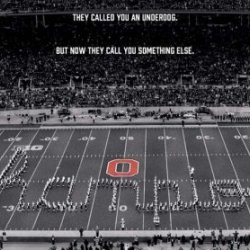 dustinccc
---
MEMBER SINCE November 24, 2013
Recent Activity
Yes, I survived the Cooper years and am permanently mentally scarred.
Thanks for sharing this. It made me take a look at this from a different point of view. It makes you appreciate what you have and understand the little joys in life, like building a sandcastle for the first time.
The Cardinals won't draft him #1 that is smoke and mirrors to get some team to sell the farm to trade up.
As of now Alford and Stud are still with OSU. There is enough smoke and rumors to believe that Davis is out and Taver might be out. Keep hitting refresh
slight difference between a college head coach being fired then hired in the nfl vs. a college assistant being fired and then finding a job in the nfl.
They didn't even need a airsoft gun or a frying pan
to be specific the blonde
As a Buckeye transplant up here in MN I feel I need to set the record straight. Here is how Ski-U-Mah came about and why Canoeing has more to do with U of Minnesota Football that Mr. Fleck
From Wikipedia:
U of M Rugby captain John Adams had heard Sioux boys yell "ski-yoo!" when they won canoe races on Lake Pepin. He incorrectly interpreted that phrase as the Sioux word for victory, or exultation and suggested it as a cheer for the University rugby team. A co-captain added the "mah" to make it rhyme with "rah" and created "Ski-U-Mah!" The slogan has been used to cheer on the Minnesota Golden Gophers athletics teams, and was written into the lyrics of University songs including the "Minnesota Rouser", "Go Gopher Victory", "Minnesota Fight" and "Minnesota March".
Dakota–Lakota specialists state that the word "Ski-U" or "Ski-yoo" or "Ski-oo" are not Sioux victory cries or the Sioux word for winning. What Adams heard on Lake Pepin, "sky-yoo," may have just been an interjection, similar to "woo hoo."[1]
I kind of agree with him. I think with Sam what you see is what you are going to get...a solid, hardworking, technically sound DE. You are not getting a twitchy, high potential but raw, boom or bust DE that teams love to take a chance on. It's kind of like the Raiders passing up sound choices at WR to get the fastest WR they could. They did this for years.
dont forget Schiano announcing he was staying
He is a kid leave him out of it. Poke fun at his father all you want.
They know they have good academics, we know it too. The difference is that they just assume people knowing they have good academics is enough. Urbs has put together programs (real-life weds and the athletics job fair) that make what good academics can do you for you much more tangible to an 18 yo and their family. Where ttun is just relying on a reputation, much less tangible.
Lind hit on this last night in the podcast. Michigan has not developed a culture like tOSU and Clemson. Ttun is still living on a "_ichigan Man" culture from at the most recent 20-30 years ago (great academics, national championships, nfl success, all-time wins/%). They just assume everyone knows why you should go there, it's an arrogance. Until they change that culture they will be a dumpster fire.
See Peter principle
Who's Head Coaching search has gone worse? U of Tenn or the Colts?
Galloway is one of my fav's but true football speed, not track, Teddy Ballgame wins it
This 100%. In my volleyball coaching days this is what I would always tell my players when they were getting recruited. I don't have an issue with this if it is before a player plays in a game for a coach (see Rich Rod's early signing period recruits this year.)
So he "fled" to go play vs. Saban??????
He is rated higher than 2 ttun commits. BOOOOOOOM!