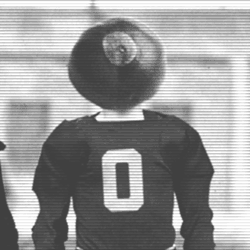 Duccivespucci
---
MEMBER SINCE December 05, 2013
Recent Activity
That absolutely was a dig at TSUN, I like it!
What about the bars on St. Patrick's Day?
I feel like gouging my eyes out after that first half...but we're in the lead and I'll take that.
Our offensive abilities are severely limited. I wish we'd push it more. We walk everything up so slowly. I'm especially disappointed in Muhammad's offensive development. He was never going to be a three point specialist but I thought he'd be more of a slasher, an athlete in space but he has sloppy ball handling at times as does this team in general. They are a bunch of great kids and have time to develop yet but as of right now they have a long way to go offensively. I think if we pushed it more their natural athleticism would help them take over.
For those worried about his recruiting abilities.... he did recruit Urban's daughter! Imagine he'd be intimidating.
The whole game changed without Wade
16 to 14 at half and they get the ball. Missed opportunities, and the targeting call.
You know, the BCS was knocked but 6 years in it apparently was more accurate than we thought. I say that because other than our 2014 game vs Alabama these semifinals have sucked. Hopefully tonight will be a blowout in our favor.
I see why everybody wanted to be number 1 this year. Hot garbage. Another semifinal blowout. Gotta be a better team somewhere. Can we get a redo?
Long way to go but Oklahoma doesn't do well in the playoffs. I hope next year they don't get in. Although that means Georgia would likely get in no matter how many loses they have.
We really miss Washington's offensive abilities. The one guy in the starting lineup that can get his own.
What's with this committee love affair with Georgia? Oh my God, they've had no offense at all this year. Wisconsin with out a doubt would beat Georgia in a head to head matchup.
They want it more and we're cele all our awards and not focused on this game.
Seems like we don't care. Is this our yearly dud of a game? Guys look checked out.
What a great gameplan by Wisconsin. Creative, and got us playing on our heels. Fields isn't seeing things clearly. It feels maybe we bought into the hype to much. Three quarters to go, plenty of time to get it together.
I don't understand what Georgia is doing with their game plan on both sides of the ball. Defensively rushing only three down lineman on most plays giving Burrow all day in the pocket. That's a recipe for disaster. Offensively, where has Swift been all day? He's played just a few plays, the first play this drive which he got a 13 yard run then he was out.
Kirby Smart just isn't a championship coach.... I may have answered my own question.
He's not a good quarterback at all. Last year his receivers bailed him out time and again. Whatever NFL team drafts him, then that's a bad on them.
Well, this is a weird game for me. I can't lose. I'm a giant Ohio State fan since birth but also an alum of Kent State. I was a student during that elite 8 run in 2002, man that was fun time period in my life.
I wonder if Day is playing that LL Cool J song on a loop throughout the Woody like Meyer did? I would, why mess with success.
Why do we always do this against Penn State? We dominate yet always keep them around then we started doing stupid stupid stuff...
I agree. We were rolling, then went back to this line up.
Ok, this year's starting 5 should be.
Kaleb Wesson
Kyle Young
DJ Carton
Dwayne Washington
Andre Wesson....just because he's a senior and versatile. Or you can go with whomever.
The 5 that started tonight is just no offense only defense. I prefer to have a balance of both. Thoughts? Who's your starting 5?
What does Luther Muhammad give us offensively?