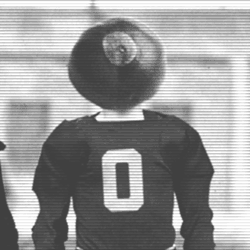 Duccivespucci
---
Member since 05 December 2013 | Blog
Recent Activity
Good for Tate. Got to keep him engaged.
I hope Tate gets to play some. Gotta keep him engaged as well.
I'd like to thank Tom Herman for taking Beck off our hands.
This offense has been fixed! It will be fierce!
Yes. I get why they're doing it.
What upgrades in Wilson and Day. It's very apparent. Very.
Offense look a lot better. More organized but it's hard to play defense when you can't hit.
This is a close game but definitely not a well played game. Ugly.
These damn fouls! Killing the flow.
Do the refs think they're the main attraction? Oh my god they are calling it tight. I hate that, let them play! Although this isn't a well played game.
I love how North Carolina plays ball. How they push it up the court fast, get across the half court line in two or three seconds. Thus allowing the offense to have most of the shot clock to run good plays and work to get open shots. It drives me crazy when teams walk the ball up the court using 8 seconds of the clock just to get across half court.
They just don't quit. It's fun to see.
Aren't we really a synchronized swimming school anyway? ;)
It's not going to change next year either. It's just not, sorry. Can they move him to an administrative role? That's a win win.
As a tax payer don't we have some say in the coach? Lol
They don't deserve to wear the colors.
So it's official, Ohio State is the worse team in the Big Ten. They earned it.
The NIT ain't taken this last place team. Maybe the CBI? I hope no post season.
They are just STUPID. Low low basketball IQ.
Why was he smiling and laughing?
Hey, we got a kick ass wrestling team. They earn it everyday. They care, they work hard.
Put your n all the walk ons, they will try
This effort is bull shit. Please turn down any post season. These guys don't want to be here.
What do we hang our hat on? Maybe st teams have something...defense, rebounding, three point shooting, etc. when games aren't going their way good teams have that one thing to fall back on. It use to be defense under Matta, but that's not happening anymore.