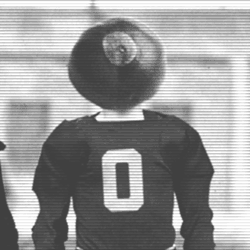 Duccivespucci
---
MEMBER SINCE December 05, 2013
Recent Activity
I agree. We were rolling, then went back to this line up.
Ok, this year's starting 5 should be.
Kaleb Wesson
Kyle Young
DJ Carton
Dwayne Washington
Andre Wesson....just because he's a senior and versatile. Or you can go with whomever.
The 5 that started tonight is just no offense only defense. I prefer to have a balance of both. Thoughts? Who's your starting 5?
What does Luther Muhammad give us offensively?
Kaleb looks bad, clearly has to figure his new body. He's tripping and stumbling over his feet.
I'm always concerned about the unintended consequences of things. I'll have to wait and see,
That's what I'm wondering.
How long before the national media starts banging on the drum for the loser of Alabama/LSU, when they play, will also deserve a playoff spot over various other teams with conference titles? Even though said loser won't even win their division. I'm pretty sure that's coming around the bend.
Schiano's as well, it was his defense his scheme not Grinch's. Really it just boils down to a bad mix of personalities and egos in my opinion. It is the first quarter of the first game but I expect them to be way better on D under Grinch.
Rutgers isn't good at anything! Talk about getting a golden ticket, sheesh. Location, location, location I guess. I wish we could kick them out. Should've taken Syracuse.
We're Neat! And hard to beat!
I guess I'm more biased then I thought. I must be blinded by my Ohio State love when looking at Haskins. That's the only thing that makes sense since he's dropping in the NFL eyes. They know more football than I do I guess.
I feel Haskins is in for a wait. I'm just baffles I guess.
It's a whole new world in college football for the QB position.
I feel like we need to lean on the run game early in the year until whomever the QB is. It'll be a different offense this year more Barrett style, can be very successful.
Wint looks completely different in a good way
First thing I noticed is the linebackers are in the correct position! Hallelujah!
The scouts are questioning his accuracy of all things. Saying that his receivers were so good and always wide open. I'm amazed by this, even if they were wide open his ball placement was as good as I've ever seen as a Buckeye. Those crossing routes were always in stride so they could get yards after catch. Haskins is far from polished but he's young. They are overlooking his mental compacity for the game. What it boils down too is now the nfl is in love with the athletic guy, Maholmes, Mayfield, Wilson...etc. he's old school. I don't get it. He's the type of qb that has won in the league the past 30 years, but they want the new splashy guy.
I like the conversation about Gant and Mitchell. I'm encouraged.
How can they be this bad at offense!!! Are these division 1 players? Seriously... are you telling me that Kaleb Wesson is the most important player in the history of basketball? Apparently so since we can't function at all without him.
With Wesson out I feel they should be pushing the pace more, getting out and run... only problem with that is we don't have a pure point guard or elite ball handlers.