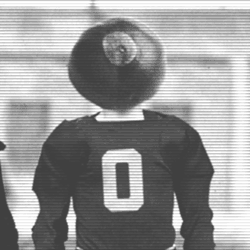 Duccivespucci
---
MEMBER SINCE December 05, 2013
Recent Activity
It's a whole new world in college football for the QB position.
I feel like we need to lean on the run game early in the year until whomever the QB is. It'll be a different offense this year more Barrett style, can be very successful.
Wint looks completely different in a good way
First thing I noticed is the linebackers are in the correct position! Hallelujah!
The scouts are questioning his accuracy of all things. Saying that his receivers were so good and always wide open. I'm amazed by this, even if they were wide open his ball placement was as good as I've ever seen as a Buckeye. Those crossing routes were always in stride so they could get yards after catch. Haskins is far from polished but he's young. They are overlooking his mental compacity for the game. What it boils down too is now the nfl is in love with the athletic guy, Maholmes, Mayfield, Wilson...etc. he's old school. I don't get it. He's the type of qb that has won in the league the past 30 years, but they want the new splashy guy.
I like the conversation about Gant and Mitchell. I'm encouraged.
How can they be this bad at offense!!! Are these division 1 players? Seriously... are you telling me that Kaleb Wesson is the most important player in the history of basketball? Apparently so since we can't function at all without him.
With Wesson out I feel they should be pushing the pace more, getting out and run... only problem with that is we don't have a pure point guard or elite ball handlers.
If I'm not a Buckeye fan, this team would be hard to watch. They don't play a fun style of basketball but I feel it's the only way theycan play considering the talent level on this years team.
I love Holtmann and I think he's the right coach going forward. We have all roll players as of now, just quality guys but limited in talent. That being said, Holtmann is showing he has weaknesses as we all do and the one glaring one is how he uses his lineups and rotation. It baffles me how some players dcan not play for games at a time then all the sudden they lay every minute. He has work to do in the regard.
Some of these line ups I just don't understand. Right now we have no guys out there with offensive abilities. We continue to be a dumb basketball team. Low, low basketball IQ. Why doesn't Washington and Ahrens play more? The two guys that can occasionally hit shots.
Thank god this is on CBS this year. It's how it should be revealed not that mess from TBS last year, yuck.
I like the Minnesota vs Louisville match up. Patino vs the school that fired his dad as they should've though that family feels wronged. Fun stuff.
Are these really two NCAA tournament teams? My eye test says no but I'll take it as a Buckeye fan.
Punt returns were especially frustrating for me. Poor KJ was all by himself catching the ball surrounded by seven guys from the other team. My dad always said it was like as soon as it was kicked the other 10 Ohio State guys ran off the field leaving KJ to go 11 against 1. There were never any blockers even close to him. Frustrating at times for sure.
How long before this is somehow Urban's fault?
Talk about they can dish it out but can't take it. Sheesh, they make me laugh.
I can't even anymore with these refs. Tom Brady got that call because he's Tom Brady. Mahomes didn't get that call.
Clearly, the NFL wanted that Los Angeles market for the super bowl ratings. Wow. The Rams don't deserve to be in the Super Bowl.
It is amazing when an SEC team loses in a bowl game, all you hear is they didn't want to be there... When a Big Ten team loses its because they suck and are slow. The media really can drive a narrative.
I hope our onside kick team can do a good job.
This is how not to coach.