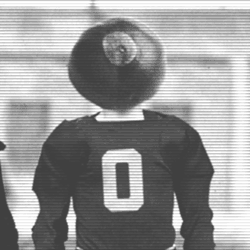 Dstacify
---
Kettering, OH (via Kettering, OH)
MEMBER SINCE October 12, 2017
Grew up watching the John Cooper Buckeyes so needless to say all of these recent wins over scUM have been quite refreshing.
Favorites
SPORTS MOMENT: Holy Buckeye
COLLEGE FOOTBALL PLAYER: Ted Ginn Jr.
COLLEGE BASKETBALL PLAYER: Tyler Hansbrough
NFL TEAM: Cincinnati Bengals
NHL TEAM: Anaheim Ducks
NBA TEAM: Cleveland Cavaliers
MLB TEAM: Cincinnati Reds
SOCCER TEAM: Columbus Crew/Everton
Recent Activity
Any word on if Teague is good to go tonight?
The NFL is obsessed with bringing their brand to London so they can have a stronger presence in the UK (hence the annual forays to Wembley). The problem is why would the UK want them? Premier League soccer reigns supreme in the UK in terms of sports interest and always will. The NFL would barely scratch a dent in that. JAX's owner has business interests in London and wants to get out of Jacksonville due to it being one of the worst current markets in the NFL.
And that mantra might actually matter if we played them early in the season during our growing pains stages but we don't. We play them at the end of the year when Stroud will likely be more settled into the offense and quite possibly might be playing like a Heisman candidate.
The JAX owner wants to move the team to London. That's been kind of an open secret for years (and I guarantee many players and coaches would hate having to do that given the different tax brackets they would have to pay as UK residents). But yes, the Spanos family, they're all notorious for being assholes (the ugly way the move to LA from SD was handled along with Joey Bosa's holdout are just a few examples of that).
Hartline is loyal to OSU, not UFM. He likely sticks around.
Marotti going to the NFL as a S&C Coach would be a demotion for him in comparison to his current role. In the NFL he's nothing more than a S&C Coach and they're not all that important since NFL players are adults and are more often than not expected to work out on their own. Compare that to his current Director of Athletic Performance role at OSU that makes up the core of the OSU football program and why would he go to the NFL at all? Little chance he makes that move just because of Meyer. It wouldn't be a smart career move for him.
A week ago everyone hated Fields and saw him as a fool's gold NFL prospect.
And what if Herbert has a sophomore slump? Then what are you suddenly stuck with? Most coaches would take the opportunity to coach Trevor Lawrence over Justin Herbert probably 9 times out of 10 based on talent alone. It's not really much of a comparison. The opportunity to draft Lawrence is 90% of the reason JAX is even an attractive job at all right now.
They used him as one of their cardboard fan cutouts this year and actually had him at games. I'm not joking. I remember seeing him in the stands in the Wisconsin game lol.
Maybe his brother is throwing him a bone. Mike MacDonald is hardly one of the more prominent coaches on BAL's staff.
See Hitler (who also shares Napoleon's mistake of being one of those fools who attempted to invade Russia which basically flipped the script of WWII against him).
Could you imagine how enraged the JAX fans would be if Meyer were to actually start J.T. Barrett over Trevor Lawrence next year lol?
There is no need for Mark Pantoni's role in the NFL. Plus Meyer reportedly wasn't considering taking him or any of the other core 4 guys if he took the Texas job. He's definitely not taking him for an NFL job. Meyer I think understands that taking the core 4 would be akin to cutting the legs out from under Day's program at OSU. I don't think even Meyer is spiteful enough to do that to somebody he admires and cares for like Ryan Day.
As they're set up currently sure (especially compared to JAX). That being said Trevor Lawrence. That's the selling point above all selling points right now.
Jeff Hafley=not a Michigan Man.
If he doesn't play due to a false positive test that is some Bush League nonsense right there. They have the information that it was a false positive, why would he still be expected to sit?
Hopefully Teague is back from his concussion this week.
Right after OSU wins the NC lol. Just so they can double whammy themselves.
If it is a false positive then it's time to open the floodgates for Togiai to come out and feast on some Mac Daddy Jones this Monday.
1. I also think Herbstreit was right and I also don't trust Michigan not to try it again next year.
2. Despite all the hiccups with the season itself this year's team has been a major blessing. I can't believe we're in position to play for a NC at the end of all of this.
3. Let's go kick some Tide ass.
Will be interesting to see how he recruits against Al Washington.
My guess is not very well (Washington is one of the best recruitors in the country currently so he clearly knows how to win recruiting battles). Michigan is so far behind Ohio State in recruiting right now that it's going to take a lot more than just one coach who MIGHT know what he's doing to close the gap.
And that's supposed to be a benefit to him given his track record? Good luck JJ lol.
This isn't quite true. They were a bad team in 2001 when Bledsoe was starting (lost their first two games with him under center).