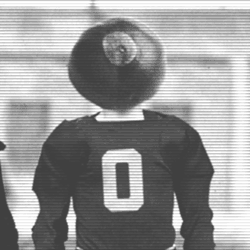 dshepster
---
Member since 05 August 2013 | Blog
Recent Activity
Bout the same number of people that are usually at their spring game !
Parris Campbell looked Ginn fast to me. When he ran, everybody else looked in slow motion.
And talking about speed at WR...can't forget this guy...attended The Opening in Oregon in Summer 2013 and was among the fastest players at the camp, making the three-man final in the 40-yard dash ... outstanding on a track, powered SVSM to the 2013 Ohio State outdoor track and field championship by anchoring victorious 4x100 and 4x200-meter relays and taking second in the 100 ... set personal bests of 10.77 in the 100 and 22.09 in the 200 (meters) during the 2013 outdoor season ...broke Ohio state record in the 60-meter dash at 2014 indoor state championships (6.85) Parris Campbell
The redshirt freshman are gonna make an impact!
You're correct bucknut. rule 4.7.a When a free kick untouched by Team B touches the ground on
or behind Team B's goal line, the ball becomes dead and belongs to Team B.
b. If the result of the free kick is a touchback (Rule 8-6) for Team B, they will
put the ball in play at their 25-yard line.
However since the bama player did touch the ball it was live
Wasn't/isn't shane morris the savior??
scoring offense bucks 4th,45.6 sparty 5th, 45.5
scoring defense bucks 17th, 19.9 sparty 22nd, 20.3
rushing offense bucks 13th, 259.3 sparty 15th, 254.9
rushing defense bucks 18th 118.6 sparty 6th , 95.4 ....
On paper, very close game.
They are going to stack the los and blitz. I'ts what they do. Herman needs to have a gameplan that includes quick throws to boost JT's confidence and run at a very high tempo. The oline needs to have MUCH better pass protection to give JT time to get some passes off or this is going to be a long day.
Pass rush is key. I have not been impressed with our defensive line. And those Vtech third downs were against our blitz packages. I was screaming at the tv to STOP blitzing. Let's hope our D line puts it all together and make gunner look like a deer in headlights
or worst case...d) all of the above. Sounds like it might be a consistency issue, Somebody needs to step up and TAKE the spot
Yep...that sucks....was really hoping this would be settled by now.
I'm hoping we have settled on a starting 5 for the Oline. Tough to make progress in communication skills when the players are changing. I trust in warinner and hope guys have stepped up and taken those spots over the bye week.
Agreed. Need to harass all game long. Maybe we see some stunts this week? Something other than blitzing LB up the middle.
Agreed. No way he goes mid season. Could easily happen after 11/29 though, bowl game or not.
A good assessment. His loyalty to the Oline coach is gonna get him fired. How could that guy NOT lose his job after last year? Doesn;t appear any better this year either.
Couldn't of said it better! Hopefully we improve weekly, especially in the trenches.
If you watched the show, the key was talent wise, as in 4 and 5 star recruits. If the coaches due their job the line could be very good. Talent wise, their Oline was up there last year, just no coaching.
I hope he is in cali to work with GW. The blog report above is from a week ago and the workout was in columbus. Regardless, what's the old saying? Nothing good happens after midnight?
OK, wimbush IS disappointing. And who cares about the top 15 list. But I am starting to get a little nervous. Spring and summer recruiting is huge. If we still have 2 recruits in 30-45 days, I will be officially nervous. Many kids want this over with before fall. Many have said we have 9 mos. left, which we do. But how many do you really think we are gonna flip. And class leadership IS important. We need some commits to make us all feel a little better. Bring on the camps and let's get some kids in this class already!
Bring it on! Anyone that wants to make it to the college level is probably doing work arounds already. Going to camps, etc. My grandaughter plays in club volleyball, which is available pretty much year round, to better her skills. No good reason not to have spring football.
The mothership link goes to 2013. Startled me when i read braxton took a pop