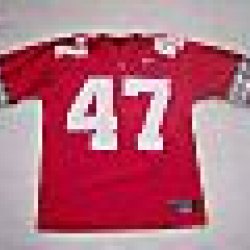 DS117
---
Delaware (via Parkersburg, WV)
MEMBER SINCE September 16, 2014
Buckeyes fan since '68; retired; 2 granddaughters. Grew up WVU fan; West, Huff, Willie Mays childhood heros.
Favorites
COLLEGE FOOTBALL PLAYER: Keith Byers, Raymont Harris or Joe Montgomery. Toss-up.
COLLEGE BASKETBALL PLAYER: Jerry West, Clark Kellogg, Dennis Hopson
NFL TEAM: NY Giants
NBA TEAM: LA Lakers
MLB TEAM: SF Giants
Recent Activity
Detroit Cass Tech would give Rutgers a decent game.
"Don't let it go to your head, Gary".
Right, #1 or #4 doesn't matter to making the Playoffs. It's not like they're playing for home field advantage. I guess #1 gets their choice of which Bowl they play in, but even that doesn't matter much.
Nah! He was nuts when he was in college.
No, fans are always free agents.
This is low hanging fruit, but, "michigan fans are revolting"
Though I grew up in WVa in the time of Sam Huff , when I was 8 or 9, I had a kids helmet, white with red stripe and Hopalong's autograph on the side. One of my prized childhood possessions and forever locked me in as a dual fan of WVU and OSU. Rest easy, Hop.
Careful. Rossi, you're going to burn your redshirt.
Frankie Avalon must be very proud.
Driving through Indiana ia the only state to make western Ohio look interesting.
If BangBrothers.com gets naming rights for the Miami stadium, would the Hurricanes ' new motto be " Da U, More Bang for Your Buck!"?
Rumor has it that he was a little stiff after last game
Yeah? Try Orgeron.
I'm in, but it has to be the good stuff, Quilted Northern 4 ply. Sturdier so it flies farther.
Question 11: What songs will the DJ be playing in the 3rd quarter?
Good news is that all the LBs are back. Bad news is that all the LBs are back. Still, I think more good news than bad.
I miss the absolute lack of acoustics. Now that's home court advantage!
I don't see the Playoff committee choosing Ohio State with 2 losses. They really have not shown any inclination to do that with the Buckeyes. One loss? Yes, probably.
I heard Pat Forde talked to a former coworker of mine from 10 years ago who said I, at 71, would come out of retirement and go back to a 6am factory job due to the fact I was an energetic workaholic and that I missed it. It's possible that I miss watching and sports that I want and not missing granddaughters birthdays. Yeah, I don't think so. As for Meyer, I have no idea.
I'm with you AZ. When I was at a game, I always feel a little off when I watch the game from the opposite stands.
He should feel at home. He won't hear a cannon here and didn't hear it at Rutgers.
Smith's coin flip came out heads, Baldwin tails. Other than that, I have no idea.
Sponge Bob Khaki Pants. Somehow it fits.
Wow, there was about 14 people in the stands in Borders' highlights. Was he playing an away game in Miami?
Baker will be fine unless the other team has 3 ex- policemen at LB.