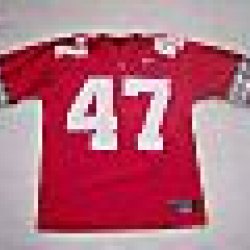 DS117
---
Delaware (via Parkersburg, WV)
MEMBER SINCE September 16, 2014
Buckeyes fan since '68; retired; 2 granddaughters. Grew up WVU fan; West, Huff, Willie Mays childhood heros.
Favorites
COLLEGE FOOTBALL PLAYER: Keith Byers, Raymont Harris or Joe Montgomery. Toss-up.
COLLEGE BASKETBALL PLAYER: Jerry West, Clark Kellogg, Dennis Hopson
NFL TEAM: NY Giants
NBA TEAM: LA Lakers
MLB TEAM: SF Giants
Recent Activity
I miss the absolute lack of acoustics. Now that's home court advantage!
I don't see the Playoff committee choosing Ohio State with 2 losses. They really have not shown any inclination to do that with the Buckeyes. One loss? Yes, probably.
I heard Pat Forde talked to a former coworker of mine from 10 years ago who said I, at 71, would come out of retirement and go back to a 6am factory job due to the fact I was an energetic workaholic and that I missed it. It's possible that I miss watching and sports that I want and not missing granddaughters birthdays. Yeah, I don't think so. As for Meyer, I have no idea.
I'm with you AZ. When I was at a game, I always feel a little off when I watch the game from the opposite stands.
He should feel at home. He won't hear a cannon here and didn't hear it at Rutgers.
Smith's coin flip came out heads, Baldwin tails. Other than that, I have no idea.
Sponge Bob Khaki Pants. Somehow it fits.
Wow, there was about 14 people in the stands in Borders' highlights. Was he playing an away game in Miami?
Baker will be fine unless the other team has 3 ex- policemen at LB.
Bottom line, some people just don't know when to shut up.
If what you say is true, why would it be different with a 5*?a lot depends on the player.
Are you Snake84's twin brother? I think, though unable to prove, that with OL, there have been more over achieving 3* than 5* who have achieved greatness. OL are a different animal.
Don't forget The Library.
Pieces IN cups! Man, we're killing it over here!
Anyone coming in wearing blue, gets 10% added to their bill. Asked to leave, you say? Nah, it's still a business.
My favorite Dangerfield quote was (and I paraphrase) when he said he was propositioned by a hooker on the way to the show. She told him she'd do anything for $10. He said "Great! Clean my garage!"
He's not fat, he's fluffy.
Also a fan of nooners. That leaves plenty of time for football at 3:30.
Vandy will keep throwing low outside sliders until they are forced to change. Lay off or learn to hit them. OSU did better the last two games.
Good Lord! Those guys up there start yapping as recruits and don't stop until their last loss. It must be a requirement.
I never call them the "Fab Five". I call them "The best team in the history of the world never to win a damn thing" TBTITHOTWNTWADT. No Big Ten, no national. Well, Howard sure knows how to get great player$ to come there.
Let me guess: She wrote and produced that song and video all by herself. Isn't that special?
Yes, but Howard knows how to get players like Roy Tarpley, Chri$ Webber and Jalen Ro$e to come ro the program.
Good luck, Mathew. Next.
I just thought, OK, now what?