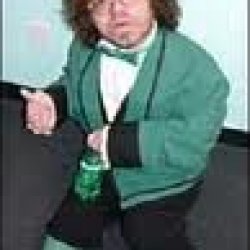 Drunkendwarf
---
Northeast Ohio
MEMBER SINCE June 18, 2016
Favorites
SPORTS MOMENT: June 19, 2016
NFL TEAM: Browns
NBA TEAM: Cavs
MLB TEAM: Tribe
Recent Activity
Michigan up 7-3, top of 8....
will always be St. Joe's in my mind...played their home games at Euclid's stadium on Saturday nights. Went to quite a few with my Dad as a kid. Unfortunately, had a bit of a pipeline to UM back then....Cannavino, T. Jackson, Grbac, Howard, etc....
Was nice to see Clark start a bit of a run on the bball players heading to OSU.....Treg Lee along with Lighty...probably forgetting someone.
by the book...probably the right decision. All things considered, the congestion/traffic created by a 19 horse field, off track, leg weary fatigue setting in down the stretch, etc....tough to lose the Derby in that fashion.
What is that in the bottom right corner of all the Thanksgiving Day games?
Pretty big Stern fan back in the late 90's. Was commuting to a new job in NE Ohio over an hour each way for about 8 months before finally moving back....Stern & friends made that morning trip somewhat bearable. RIP Hank
the trouble with the "Free Agency" comparison, is in other sports, the player earns his Free Agency by fulfilling a contract, so a much smaller population of players in this FA pool. With the liberal Transfer Portal rules now, it could turn into the Wild West and that population/pool of players would/could be unlimited.
I see they did postpone the Kent/WMU game tomorrow night.
1 free throw combined in first half.....crazy. Corn only 5 pts last 9:30
I have theScore app on my phone....great source for scores and news. The live chat section during the games can sometimes be pretty entertaining. A couple of good handicapping news sites are VegasInsider and Ultimatecapper.
Well if you are a Spectrum customer....you are F'd as they are still blacking out Fox
253
This might knock the Buckeyes out of next year's CFP.....wtf.
Went to Ford Field when Kent played in the MAC championship...nice venue for a dome.
Go Browns!!!! Hoping they give Hue a welcome back curb-stomp next Sunday.
446
21-6 Kenston, start of Q3....
Just up the road in Novelty.....have a few friends in Canyon Lakes and almost bought in Lake Lucerne. Very small world.
Not sure what's in the water in Kirtland.....but they seem to be in the mix for that trophy every year.
Congrats Kirtland!! Now let's move a little further south down Rt. 306 and into Kenston territory and bring home another title to NE Ohio.....
Agree.....would think that 7-1 bowl record from last year, would still be a committee discussion point this year.
394
Regarding the line movement in the MSU game from 5.5 to 3.5......imagine the pounding Vegas took on the OSU/NB game, seeing that line went from like 21.5 down to 17