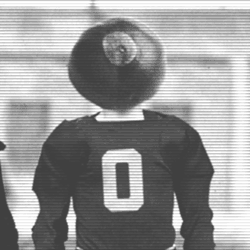 DroneBuck
---
MEMBER SINCE August 14, 2015
Recent Activity
It's the games that are played along the way that shape the field.
Eddie Money, one of the all-time greats!
"I think I'm in love"
"Shakin'"
just too many classics to list. RIP Eddie!
OU gets invited to every dance because they make a good bridesmaid. It works out nice for them as they get to do their hair & nails, put on their makeup and wear their best dress without really threatening to take anyone's crown. Nobody expects them to really compete & win anything BIG... ever. The Sooners are perfectly content being just another pretty face in the background.
Ohio State, on the other hand, is a threat to throne. Love em or hate em, the Buckeyes are legitimate contenders in any arena they enter. What was Coach Meyer's record against top10 teams? What was his record as an underdog? Startling numbers to crunch and process. tOSU doesn't play nice and sit quietly in the background, politely making way for the 2 chosen darlings to shine (Bama & Clemson) while those 2 take center stage to receive all the praise and adulation. Instead, Ohio St steals the show during any contest, any venue, anywhere... the mainstream media (ESPN) does not like this. They own the SEC Network & the ACC Network and they don't want Buckeye Nation shining brighter than their 2 pre-ordained entries: Alabama & Clemson. So they stuff the remainder of the pageant with patsies like Miss Oklahoma, who knows her place in the back row, perfectly happy to be overshadowed by the alphas, while waving and smiling robotically as an also-ran.
Who is that smokeshow sitting next to Dave Biddle?... Wowzers!
What's our problem at corner? I'd venture to say it could be one of the deepest positions on our team and would have shown to be had Arnette left.
Okudah & Wade should be the starters outside, with Marcus Williamson in the slot. Cameron Brown, Sevyn Banks & Tyreke Johnson should all be getting quality time as backups.
It still bothers me that #3 came back. Definitely the weak link in our defense, irritating that he's getting the most snaps & shouldn't even be here. He's disrupted the whole synergy of our DB room and changed the course of playing time & development for many young players in the secondary.
You mean like in 2015? When we were defending National Champs... lose on a last second FG to a playoff team (Sparty) and finish the ranked 7th with 1 loss?!? SEVENTH!!! (Behind a 2-loss Stanford team amongst other bums... Iowa also I think LOL!)
A quality loss just like that? That's what it takes huh, dude? GTFOH!!! Open your damn eyes!
All I know is if we win the Big10 again, and have a resume with 1 or less losses... and don't make the playoffs. I'm going to lose it!
The Big10 champ has now been left out of the playoffs 3 years in a row! THREE!!!
Can you imagine the SEC champ being left out 3 years in a row… even 1 year in a row?!?!?
Bigger, Stronger, Faster... some refs just don't what to do when they see an inferior athlete getting pummeled by a superior specimen. It looks brutal, it feels like a shower rape scene from a prison movie. It must be a penalty they tell themselves in their primitive minds. Hence they yank out a yellow flag and throw it high as they can to stop the bludgeoning. Sad.
Welcome to the new age. Time has finally come for a newbie who has contributed zilch nada nothing to the program or the rivalry to show it zero respect and provide TTUN bulletin board material for The Game.
Haha love that recruiting vid!
"Zook was once a good recruiter"... and i was once a good 5k runner.
You may want to consider downloading grammarly. TBH I'm not even sure what it is exactly, but I can't go more than 2 clicks without a pop-up advertising it as the best thing that could ever happen to a writer's life... that is unless you believe typos convey a level of realness & are part of your charm ;)
This is precautionary and he'll be just fine. No need for Bosa and the organization to put his body on the line for a few weeks of free exhibition when the real season starts a month from now.
Very proud of the Scarlet & Gray alumni finishing the job and winning the tournament! My one gripe is Evan Turner, as an assistant coach, taking a full cut of the prize pool ($140,000).
The guy has earned Tens of Millions in NBA dollars... did he really need a full stake of the prize money these guys worked so hard for?
How is it anywhere near equal? Okudah has been given AMPLE opportunity to shine... thrust into the CB rotation from the moment he stepped on campus. The only thing keeping him from shining full blast is his own play.
Wade, on the other hand, has never had Alpha corner reps granted him, not once in his time here has he had proper outside CB work. He's had to scrap as a nickelback, take on almost impossible duty and ball out against tough odds in the slot, and create his own niche role as a utility guy in the secondary with no real home to hang his hat.
i think Wade is the best DB on the roster (and I don't think 2nd best is even really close honestly). I didn't mean for my original take to be disparaging towards Okudah, just to point out how Okudah & Arnette get lion's share CB reps, while Wade has had to fight for scraps, despite being the most natural baller in the secondary.
Amazing to me how Okudah received, receives, and will continue to receive unlimited praise for his cornerback skills wayyy before he stepped on campus, from the moment he signed, throughout his ups & downs during his time in the 'Shoe, and his unquestioned hype will last undoubtedly long after he's gone (whether he ever catches an INT or not).. Okudah, the prototype, just permanently glossed as dat dude! Guy is Deion Sanders mixed with Charles Woodson & Champ Bailey!!... I'm just shocked Ryan Day hasn't implemented him into our offensive plans up to this point. Clearly the guy is a playmaker who would be scoring TD's left & right over there.
Meanwhile, Shaun Wade (in limited action, mind you) led our team in interceptions last season... but somehow he's always ridden back seat to a guy who's played ample reps for 2 years now & has yet to force a turnover? Some ppl are just anointed I guess..
I'd prefer more 3 man defensive fronts, especially with the evolution of offensive football. As more and more teams are employing spread concepts, and the game continues to evolve into a more pass-heavy version than in previous eras. While stout against the run, Defensive Tackles are notoriously ineffective in pass-rushing roles. I see a lot of benefit pulling off a DT and inserting a fast-twitch athlete to either add some pass rush off the edge or enhance the coverage scheme in the secondary. Instead of a Back 7 you now have a Back 8 to confuse QB's and lockdown receiving targets. As the game evolves with more and more prolific and sophisticated passing attacks, it makes sense to remove a plugger along the line and replace him with a fleet-footed athlete who provides flexibility and versatility on the backend.
We've been WRU for a long time... Are you just now tuning in?
You have to understand that Ryan Day is installing a pro-style offense. NFL teams do not run the read-option. So nothing about your post is imperative.
tOSU pumping the zombie juice into the 'Shoe. Perpetuating the mind-control signals for the mindless masses.
Thing that stands out to me is Urban had better individual players on defense, but Tressel fielded better units. It's a tough call given the high-end potential of some of Urban's players, vs the cohesion and synchronicity of Tressel's silver bullets.
Not if the other corner is getting picked on and keeping drives alive with weak PI penalties.
Unless this is hyperbole, your sons are sloths. I don't care what the circumstances are, baby sister shouldn't smoke 2 college age brothers (who also ran track) in a 100m dash. It's not chauvinism, it's science. Boys are faster and stronger than girls in these age ranges. Unless there's something abnormal going on, both your sons should leave lil sis in the dust in an unbiased competition.
"The best player plays"... this is one of the most tired, lazy and inaccurate statements that circulates on the message boards. Right up there with "I think i'll trust the coaches..." like all football coaches are infallible geniuses, incapable of making mistakes or errors of judgement.