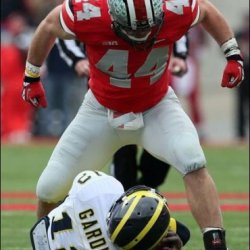 DRAKE008
---
Columbus (via Grove City)
Member since 31 December 2013 | Blog
Favorites
SPORTS MOMENT: Guiton, Purdue, 4th Quarter
COLLEGE FOOTBALL PLAYER: Eddie George
COLLEGE BASKETBALL PLAYER: Mike Conley
NFL TEAM: Browns
NHL TEAM: Blue Jackets
MLB TEAM: Indians
Recent Activity
Especially since no one knows what sanctions they're going to get.
Prosecutor: William Davies
Judge: Richard Frye
For those of you that are curious: the prosecutor from the 2010 case was William Davies and the judge was Richard Frye. It appears there was a plea deal of sorts. However, based on the charges from that incident, I cannot comprehend why such a light sentence was given and agreed to.
After reading the report, there is no way the administration was going to cave. At best school rules were violated.
The rumor floating around is that he took a picture (had permission) of his hookup. He didn't want to have an actual relationship. Hookup got pissed and turned him in to the university. This may hold some water as Meyer said he disagrees with the suspension.
Yeah, but the University doesn't make any $$$ from the Mirror Lake Jump
Meyer's air attack seems to be dependent on the read option. So while I don't think it's so much Cardale's fault, it's just that this offense could be so much better when JT is in because he is better running the read option.
One could argue they did gain an advantage by keeping this quiet. Had Sandusky's actions been uncovered sooner it could have had a negative impact on recruiting and potentially on-field results.
Yea, you can't just undo history, but I think it's bs that the winningest D1 coach did the absolute minimum he needed to do to cover his ass when it came to the abuse of children.
Mind blown! Can't complain though just got a lot of air time on NFL live. Also, amazed by how mature he sounded.
Agree with the vast majority of this. However, IMHO the OSU admin is bloated (can't remember the article, but our admin is huge). I don't think they actually deal with underlying causes. I think they find the first, most useful scapegoat they can and throw him/her to the wolves in order to avoid a PR catastrophe, while giving the appearance of being effective.
Was meant in response to a different comment.
In regards to research revenue, depending on the funding source and the department a significant portion actually goes straight to OSU admin
The other thing I'm picking up over there about Brandon is that they will not be able to replace Hoke (making the relatively safe assumption that he's done) with a decent coach if Brandon is still the AD. This makes a good bit of sense particularly after last nights statement that effectively threw Hoke under the bus.
It isn't even schadenfreude for me anymore. It's genuine pity and I grew up during the Cooper era, so that's saying something. I really miss hating them.
I absolutely love this poster particularly since I literally live a corn field away from this sign. Gives it a whole new meaning.
Ouch! I hope I never hear anything that remotely resembles any of what Taylor said coming from former OSU players.
Upvote for "the rotund one"
Actually, this is what helped me get over it. We certainly do not have it as bad as the other teams that made it (as things stand currently). And if you can't laugh at yourself, or at times your team... well for me it just makes it easier
Last I heard and this was sometime ago, when Gee came back, he more or less asked CPD to get vice off campus (that was a Holbrooke initiative). So basically, in a red solo cup and you're fine as uniformed officers don't really don't worry about such trivia.
As I understand it (perhaps I'm wrong but I thought cutblocking was only allowed at certain distances from the snap) and live from my point of view it seemed as though some chop blocks by Navy, particularly when they pitched to the outside weren't called.
Great Lakes Dortmunder Gold
I wouldn't say they're world beaters but that's one game I probably won't forget for the next 48 years.
In all honesty I can't answer that question. I watch espn for highlights, not OSU news. Personally, I am of the belief they cater to their primary audience, which in regard to CFB, is the SE, and from a financial standpoint makes sense. Also, IMHO, OSU gets way more air time from them than any other B1G team, whether it's negative or positive means something.