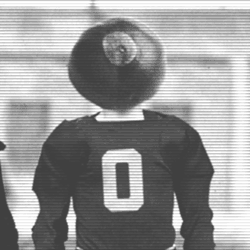 Drackett84
---
MEMBER SINCE March 22, 2014
Recent Activity
I wonder if they have SCMODS
Haskins got rid of the ball so quickly that defenses had few opportunities to hit him. The OL was bailed out by Haskins.
Fields does not get rid of it.fast. Our OL is exposed.
buckle up.
As true as any sports legends can be.....
Jack Nicklaus
Jessie Owens
They don't get any better than these two....anywhere
I hate to break it to you, Deuce, but everyone on our roster is a winner.....has dominated games since they were in P.E. You dumbass.
the first time he drops back, Harrison will decapitate him....bank on it
Pickerington recruits heavily in Central Ohio. It actively engages kids early on to persuade them to move into the district to attend either North or South. Meanwhile, Olentangy Schools don't actively recruit .
Florida will overtake UGa over the next year or two and be the perennial favorite of the SEC East
Harrison committed to Ohio State....which was transparently a couple weeks away from passing the torch from Meyer to Day
Just think . Brendon White would never have started a game this season had it not been for a targeting call.
Coaches were clinging to their old depth chart while White was wasting away on the bench. I wonder how many other deserving players are wasting away on the bench.....linebacker comes to mind
Of course the players are going to say they were ok with his quitting the team. There is nothing to gain by saying otherwise.
But Bosa quit the team amd the program. I don't have him for it. But I don't consider him a true Buckeye now. Never will.
Because the Pac12 is full of crappy football teams
We lost by 29....not 30. You've said this several times. Get it right.
if you are going to count near losses against us then count a few against ND as well.
By the way....there would have been a penalty on Maryland for their right Off Tackle being downfield and blocking Brendon White on that play. It's a reviewable play too.
Wouldn't it be funny if Washington ended up in Columbus as LB coach ?
Michigan faced a hobbled McSorley and a hobbled Martinez
as Indiana showed last week, Michigan still doesn't fare well against mobile QBs
Pantone usually tweets with a "booooooom" when he gets a verbal........that doesn't violate the rules as long as he doesn't mention the recruit directly
The absence of a Pantoni tweet suggests to me he is either undecided or told the coaches he was heading north to play. Either way.....not looking good for OSU.
1. Drake is destroying the James Cancer Research Center by removing funds they've generated and diverting them to other medical areas. So please don't tell me he's "killing it", Mrs. Drake
2. Florida State actually is getting more research dollars than ever from Federal grants after the Jameis Winston scandal......the one in which a player was accused of rape by a current student......dna samples were taken .....police actively sought to damage the case
3. The university completely kicked the entire issue over to the police which they said was all the had to do
FSU flipped the media the bird and was rewarded for it
OSU shows weakness and gets crucified
if it drags on further, I'd resign and go coach ND or anywhere else
I always thought Maryland's stadium was Byrd Stadium.
Byars was a good basketball player but not Power 5 good. He and Cris Carter did dominate the intramural circuit in 83 and 84. Carter was definitely big time in hoops. Louisville offered him a full ride to play BB.
I played intramural against Byars and had to guard him. He pushed me all over the place with his huge butt and thighs. Amazing strength down low. He could easily dunk it as well. Good ball handler. His hands were just so huge too. Palmed the ball like Jordan.
The good ole days of playing in Larkins Hall and Jesse Owens North I played with Tupa , Clift, Hoak, and Greg Anderson. Tupa was a helluva player as well.
Perry went to Olentangy, not Orange, I believe
Haskins has been a Buckeye for life since he was 8 years old. Arguably, he's more Buckeye than Burrow.
The NFL values big arms over all else
In one of burrows TD throws above, he under throws the WR.. luckily, the WR was so wide open it didn't cost him a TD
Joe made more than 1 throw vs Michigan. He hit RBs in stride twice....allowing them to get big yards. We didn't get that consistently before him.
both Haskins and burrow are good.....but Haskins looked good in a real and tough game
I still shake my head at Delany wanting MSG that much. It really isn't that big of a deal to play there in my opinion
You're glad Urban put the feelings of JTB and his family over those of 100 other players? There was a clear need to try a true throwing QB at times thes last 3 years. But JTB got the nod with nearly zero consideration for competition
yay.....we get to watch the true leaders of CFB.....Bama
Where is all that high end offensive talent Harbaugh was supposed to bring in?