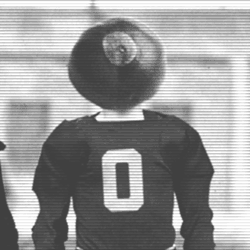 Dr Scarlet and Mr Gray
---
MEMBER SINCE July 23, 2014
Recent Activity
Go to Walmart and then tell me about staying away from a large group of people.
As an Ohio track coach, I LOVE this post. Thank you! Also, can you imagine the outrage of many football coaches if I wanted to take my sprinters for 5 days during football season? Let the kids be. The year round push for constant weightroom and training is going to make many orthopedic surgeons very wealthy in the future.
My oh my!. My Buckeye brothers on video. I call you my brothers since, just like my real brothers, your embarrassing as hell sometimes. Drink more, talk less.
How dare you write a journalism integrity article with facts and journalistic integrity!!! Damn you for speaking truth. Well done and a great read.
First Tiger Woods and now these coaches. Does no one but terrorists understand the use of a burner phone?
Maybe they are confused, now that they are a baseball school, that this was going to be the final score in the College World Series next year? 12-1
TRAY A NUMber higher than 32 because that's as high as his new team will ever be ranked. Best of luck.
This is the coaching change I'm most excited about. Lack of production from punt return in recent years will change with a coach focused on it. Looking forward to exciting results.
You are watching tape of him playing a 2-8 division VII team. I live in Norwalk and have seen this young man since grade school. He is massive and a good kid BUT he is NOT mobile. Kid got destroyed by quick lineman from Sandusky in league and playoffs. This was based on size alone and he is a BIG project. In the playoffs they did not run behind him on 4th and 1. I was shocked by the offer. I wish him the best but Mick will need to get those feet moving. Downvoters, this is not bashing the kid, this is truth. Watch last years playoff film.
Trey is the 320 pound lineman in Norwalk, Ohio later in article.
I live in Norwalk. Trey is a massive human being and a good kid BUT he is a statue. Slow first step and limited mobility. Shocked by this offer. Not an OSU athlete. Sorry, but this is true.
Any ideas for who the 'Champions' are? I holding my breath.
Went with friends to Austin, Texas and Oklahoma. Both were the best I have ever been to. Go to Oklahoma. Stay in OKC. Lots to do and great people and city. Drive 30 minutes to campus gameday and have a blast. Go to Oklahoma tailgait run by a guy named John. Big inflatable helmet near student union. He will take great care of you and lots of awesome places to eat.
This is one of the few problems of recruiting at our current level. There will be kids with great talent that will need to go elsewhere to get a chance on the field.
McMurphy got any eligibility left? I wouldn't mind him getting hurt. Let Fuller get that over the middle.
Wow. Stories like these are just make me shake my head. I guess that's why my wife seems to still love me even though I have 50 year old 'Dad abs'. Our time in life is so short, we need to make it better for each other.
JC. So your sorry you got us all into this situation? Is your apology sincere? Now you know what Urban is dealing with. A no win situation of of your control. Not fun huh?
If the kid is motivated enough to show up at lifting, practice and willing to be taught by a coach, shouldn't we expect this same child to be motivated by life to show up to class, do homework and be taught by a teacher? Stop watering down the expectations of America's future.
The kid who got a 4.0 in high school and is NOT being kicked out of college.
OSU 992. Heroin and fentanyl are a real problem in your county too?
Just got back from the game. FT shooting again killed this team. Why did Harris sit most of the second half? Also, after seeing multiple practices and games this season, please believe me that Greg Paulus coached this team as much as Thad or any other assistant. It is amazing how much this young man is doing. Hope he doesn't leave anytime soon.