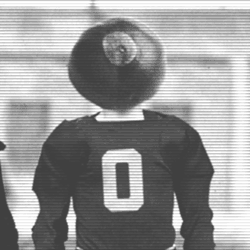 DP71
---
MEMBER SINCE January 08, 2017
Recent Activity
How about Greg Oden? They still need another assistant Coach.
Is there any chance that Giddens also joins us next season?
Welcome to Buckeye Nation!
This means that it is critically important for us to get both Giddens and Diallo.
As a Giants fan, I would love to see Haskins as their QB of the future. He clearly needs a year to mature and the Giants seem committed to Eli for one more year. But, I am afraid the Giants won't pull the trigger. As a longtime Patriots hater, I find it hard to say this but Haskins would be a premier backup to Brady until Brady retires. I could see The Pats moving up to take him. But I also could see the Dolphins doing the same thing.
Why did he not take a medical redshirt last season? If he did, can he take a redshirt this season to fully recover if he plays in no more than four games?
We are now playing with House Money. Very proud of this team. Looking forward to the game tomorrow. Really excited about next season. Holtman is a great coach.
Happy that we will have both Fields and Baldwin Nd Miller en route. We are fortunate but we also have great coaches led by Day.
I wish him the best of luck unless we play against him.
For the first yime in a very long time, I am actually excited about next basketball season as well as next football season. Go Bucks! O-H-I-O!!!!!
Agree with all comments above. Looking forward to the NCAAs with no expectations or pressure. Also, really looking forward to next season.
I trust Holtman and his staff to make the correct decision.
I will just be happy if they make it to the dance. Don't care where or against whom.
First, I think Holtman is not only a great coach but also a real miracle worker. But, let's not forget that Matta was also a great coach. He took a team led by three freshmen to the NCAA finals.
Back to Holtman, he has taken another OSU team, without NCAA level talent, to the dance once again. And this team is almost entirely freshmen and sophomores. Our biggest need this year was a point guard who can take the ball to the hoop. Next season we will have two young guys who can do all of that. We also need forwards besides Kaleb who can score and rebound. Next year we will have two guys who can do that and more. I can't wait to see what heights Holtman will take us tone t season.
BTW, what happened with the 7 footer from Senegal?
Congratulations young man. Welcome to Buckeye Nation!
It seems as if Jake Wray has little interest in OSU. So, we should waste little time recruiting him. We have numerous offers outstanding for OL and we have commitments from perhaps the best OT. Wray should go where he feels comfortable and we should go only with guys who want to be Buckeyes. Jake's older brother is here and will be a star.
We need to give Kaleb a Mulligan. Undoubtedly he screwed up. None of our business what he did or failed to do. But, he earned the right to be reinstated and to return to his starting position because he did what was required; accompanied the team through all three games; and basically carried this team through the season until three games ago. With him, we would have won two of the last three games and would certainly not have lost by such a lopsided margin to Purdue. The silver lining is that we still have a chance and during the past four games, we have learned who, besides Kaleb, can play and should be part of the core of this team. Washington, Young, Ahrens, Jallow, CJ, Muhammad, Andre, Woods and even Ledee deserve to play major minutes every game from now on. Washington was the one guard who drove to the hoop at the beginning of the Wisconsin game. Ahrens and Jallow played very tough and very aggressively. And Young, even on an injured leg, has simply been our MVP while Kaleb was out. He neutralized Happ and got crucial rebounds. We now can confidently rest Kaleb and protect him from foul trouble. This team will not win the NCAA, but it could make it to the NCAA and maybe win a game or two. And, next year, with the four guys who will be eligible and possibly a fifth guy, we should be in the hunt in the B1G.
To have any chance at all, Buckeyes have to drive the ball to the hoop on offense and score, dish and/or get fouled. And they need offensive rebounds and no turnovers. Pretty tall order but it's the only way. Once that happens, if it does, the three point shooters will have a little more room. Washington and Ahrens must have huge offensive games.
I do not understand why we would fail to develop the four and five star guys we recruited. Put Meyers at Center; Davis and Bowen at Guards and Munford and NFP at Tackles. Alabi, Jacoby and Wray are your backups at both Tackle spots. Jackson and Jones back up the Guards and and Miller backs up at Center. The first three games will make both of those OLs experienced and we'll have lots of depth for this year and beyond.
This Team still needs guards who can go to the hoop and score, dish and get fouled. Even without that they have managed to win 17 and remain on the bubble for the NCAAs. Holtman really is a great coach and the Wesson brother are great players. It should be very enjoyable next year when we have two good young point guards and two more bigs to help Kaleb and Young. And Muhammad, Jallow, Washington and Ahrens will have a year of experience. We should be contenders.
I recognize that it is nice to have experience in your OL. However, let's not forget that we have several 5 and 4 star former recruits waiting in the wings to start and gain experience. Meyers, Davis and NFP are all 5 start guys. Alabi and Bowen have started and performed well. Jones, Jacoby and Miller are very high level recruits and both have bodies ready to play right now. Cupp seems more than ready. Vihami [sp?] is not coming here from Hawaii to sit on the bench for three years. These high level guys would easily, along with Munford, compose two very good offensive lines if given a chance, and perhaps part of a third. Why do we recruit high level guys only to have them transfer or never play? And, since these guys are here, why are we looking for graduate transfers from schools with losing traditions and records to play ahead of them?
Day needs to lock down Ohio. I hope we get everyone o the top 12 or 13 Ohio kids every year. Our classes of 22 -25 should be at least half filled with guys from Ohio.
Holtman continues to amaze me. How he has won 41 games over two seasons, with more to come this year, is unbelievable. It will be great to see how next year's team performs as well with two good point guards playing and two more big athletic forwards. And the rest of this terrific but very young talent returning. Thank goodness Andre Wesson will be back next season.