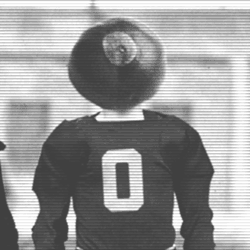 DowntownBuck
---
MEMBER SINCE July 28, 2017
Recent Activity
Don't forget we have 3 new O-lineman in the game
35-0...get Fields out of there
MSU is not good at football
Wait, last game most of you bitched on this board that we try and go deep too much...now you're complaining we are not throwing deep SMH
Silly...yes. But those 4 teams would legit arguments over us for the playoffs, regardless if it's 2 conferences.
Not sure. I thought tonight's test was the last
Tennessee is so bad, I just can't see it...but that would be HUGE for us.
Our nightmare scenario is:
Clemson barely beats ND in a tight one.
Florida upsets Bama in SEC CG
Unfortunately I think that scenario would be ND, Clemson, Bama & Florida in the Playoffs
You are probably right, however a "0" on the board against an average offense would make a lot of people feel better
If that happens, I want nothing to do with the playoffs. Lawrence, Jones and/or Book would dismantle our D
Nope, not a chance. We haven't looked for 4 quarter's yet like a Top 4 team. We win 3-2 and I can guarantee we get jumped
Again fool...if they had played last week...the next 2 weeks would have been put in serious doubt...they did the right thing. The B10 pushing the season back...the wrong thing and will be the reason OSU gets screwed
About 40 straight years I've watched THE GAME (I'm sure there are guys on this board with much longer)
But it's going to be really really weird if that game is not played...
STHU...the B10 screwed us...we did not screw ourselves. Nobody knows if we had played things would have gotten worse and we might have had to skip MSU game
How?
Don't they have games to play?
Clemson v Bama Part 5
Do it...save time, money, effort....
Move on to 2021

I believe BYU is better than Indians and you saw what happened then...just sayin
Be careful what you wish for. If Penix can throw for 490...Zach Wilson will throw for 600
That's what I stated in the original post. But if you don't think they are influenced by the chatter...you're dead wrong. That's just human nature
Burying your head in the sand wont make it go away. They are presenting facts AND opinions...that's their job. It's hard to disagree with what they are saying. We don't get in on Name and Paper
My fear is we will get in based on the brand and paper. We have not played like a Top 4 team (for a full game) this year and stop kidding yourself if you think we have. If we play Bama in round 1...we lose by 20+. We didn't have an answer for Penix and Fryfogle...you think this defense has any shot at stopping Mac Jones, Harris and DeVonta Smith???
The narrative the country will run with if we get in on name alone and then get blasted....oh boy
I disagree. As we are currently playing, not sure we are one of the 4 best. On paper yes...