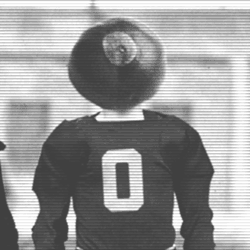 DowntheSideline12
---
MEMBER SINCE July 23, 2011
Favorites
SPORTS MOMENT: Anything related to The Ohio State University
COLLEGE FOOTBALL PLAYER: Bruxton Miller
COLLEGE BASKETBALL PLAYER: Greg Oden
NFL TEAM: Cleveland Browns
NHL TEAM: Cleveland Lumberjacks
NBA TEAM: Cleveland Cavaliers
MLB TEAM: Cleveland Indians
SOCCER TEAM: Wayne Rooney
Recent Activity
Don't worry guys, He thought he was calling Malik, wrong Hooker.
It'll all blow over
I have an Ohio State megaphone signed by Lebron James (from the Penn State night game we lost when TP fumbled) and the only two-time Heisman trophy winner Archie Griffin.
Banners and main forums page look great. Pretty cool changes. That being said, is there any option to view the site with the old layout?
A common trend here seems be Matta's lack of adjusting the offense with the tools at his disposal. How much of this falls on Matta? I said before that it seems like we're not the greatest at making in game adjustments. Great recruiter, definitely a good coach, but great? I don't really think so.
He definitely posts a great winning percentage, however I sometimes wonder about his ability to make in game adjustments. Recruiting and general gameplan Thad seems to excel at, but if things aren't working in the game you have to adjust. We always seem to keep plugging away.
How have we gone from the clear cut favorite on signing day (everyone saying this was a done deal) to being a complete underdog roughly a week later? What happened between then and now? Does our decision with Neal (I know there were other factors) have anything to do with us thinking Diggs was a lock?
Bad joke but great post!
Bad joke guess you can't troll a bunch of trolls
I have a feeling Laporta is going to have a pretty clutch year
Looking like it's a done deal...
I'm sure the options would be limitless for a QB coach. Why not take advantage of our position being Ohio State and bring someone in with proven experience. We're starting to talk up a coaching staff that equates to the hype generated by the Miami Heat or Philadelphia Eagles. I know it's not directly the same, but still bringing in all these high profile names, not really sure that's a given formula for success. I'd take proven quality any day than a possible distraction.
I'm not really Shurmur, but I think that rumor is false
I'm not really sure we'd even want him as a QB coach.
Jim Tressel actually is being brought on on as a special replay consultant. He's leaving his current position with the Indianapolis Colts to return to the Shoe.
I also heard that John Cooper's daughter would be coming on as the team's new athletic trainer. Any truth to this?
Finally my first post on 11W.
- I agree the pay for play isn't necessary, however a change does need to be made. The players receive a monthly stipend that more than covers their rent and miscellaneous expenses. With the assumption being made that a majority of meals are covered through scholarship (meal plan) /team meals, and supplements being covered by the program, those costs should not be deducted from the stipend. This leaves a significant amount of money that is left which is not managed well by the player himself. The problem there lies within the fact that most players attempt to live beyond their means. By enrolling the players in a basic financial management class, or bringing in a third party to do this could be beneficial especially with everything that has gone down recently. I think money management is a huge factor in dealing with the issue, however recognize greed brought on by all the temptations of being a division I athlete the major problem.
On the other hand, I do believe the players should be allowed to sell their autographs, time, and memorabilia if they so choose. The harm brought by signing autographs for cash is minimal. While it might bring unwanted outsiders around the program, if it were facilitated by the University through organized events, maybe that could work. I think a full fledged salary is unecessary and would take away from the allure of the NFL and kill everything college athletics, especially football stand for. The value of a degree coupled with the opportunity for an NFL career are huge. This also does not take into account the amount of one-in-a-lifetime opportunities DI athletics provide its athletes. I hope some sort of payment system is established, however it is going to be one that takes a lot of thought and effort to bring to fruition.