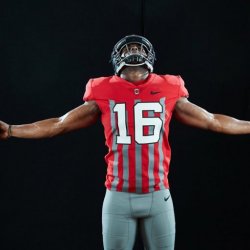 DownEastBuck
---
Wilmington, NC (via Coal Grove, Ohio)
MEMBER SINCE March 09, 2017
Favorites
SPORTS MOMENT: Attending #1 Bucks vs. #2 ttun in 2006
COLLEGE FOOTBALL PLAYER: John Simon, Cardale Jones and Ted Ginn Jr
NFL TEAM: Bengals
NBA TEAM: Cavaliers
MLB TEAM: Reds
Recent Activity
Why would you count fake money before you hand it out
I don't think anyone can truly say with certainty what the secondary will be like with the new guys without breaking down game film and watching practice. But I haven't seen anything that makes me think that all of these guys have potential to be good. They appear to have all the physical traits and the rest will come with experience
Ohio State is truly the last best hope for football above the Mason Dixon line.
This all day. I have watched SEC games that have absolute blatant targeting and it is not called.
The difference between the two interviews is really amazing. That was a rational and respectful breakdown by Mr Hope.
Just get a little bit better each day is all that should be expected of Justin Fields. If he does that the sky is the limit because he is pretty damn special right now.
CBSSports released one earlier today I didn't get a chance to read the whole thing but it had Chase and JK as first team AA
I think the return of Cooper this week is huge it will be nice to have a veteran end who is not going to be caught up field and will know to keep contain and turn Clifford into the middle and backside pursuit
I think you are more likely to see the same plays but out of some new formations just to make TTUN spend time on them. Also just because you see something new doesn't mean it hasn't been practiced since the spring it just might not have been needed.
I was planning on going to Muskingum then my senior year on the last play of the last game I tore my ACL and MCL. I had surgery scheduled for the following Tuesday, Monday I got a call from a low level coordinator from Muskingum I thought to wish me luck, I was then told I was no longer going to be a member of the football team and that if I happened to receive a playbook by accident could I return it unopened on my dime. I didn't know what to say so I just hung up and sat there shocked and angry.
I believe the hires on the defensive side of the ball have been nothing short of spectacular.
Penn State is a big game not a rival. If PSU becomes a middle of the pack 4 or 5 loss team for an extended amount of time the excitement of beating them will fade and it will be just another game. The Buckeyes have been dominant since Tressel took over with our actual rival, anyone on here except that to be just another game this year or ever?
I mean if you are asking are they building actual traps in Piscataway? Like to kidnap the players? I would at least consider it if I were them
I am just glad I am around to enjoy this dominant Buckeye era and to witness TTUN trying to catch up with Northwestern for conference championship game appearances.
I have to admit I was wrong about Fleck, his coaching style would not be for me and I thought it was a gimmick but I was wrong. He might not be my kind of coach but he is a solid coach that seems to care about his players and has been a winner everywhere he has been so far
With the way this team is winning and getting so many young guys on the field it can't help but boost recruiting at every position. I am starting to think this Day experiment might work out
Fields goes for a little over 250 strictly because of big plays. I am calling for 4 100 yard rushers and one of those will not be Fields. I said Rutgers would score over 7 but I forgot about the travel roster limitation and so the Buckeyes are not going to be able to play as many as last week so that will probably be enough to hold Rutgers to a field goal at best.
Is it wrong that I have such a negative view on basketball recruiting that I would rather see the Buckeyes stay out of the muck and more of recruiting the top of these rankings. I don't mean this to disparage any recruit or the coaches just a general statement
If I would have been talented enough to receive an offer from Ohio State when I was in high school it would have been a no brainer but if I would have released a top 10 and had an Alabama offer I would have listed them for family reasons and then probably would have listed the 8 schools that looked the most impressive or the ones that I had the best relationships with.
The fact that Hafley is on this list primarily for turning around the defense from last year's dumpster fire with basically the same players should disqualify Grinch for any best coach award
I honestly think he was looking for a flag, not that the hit warranted one but because he just hit the QB harder than a NFL QB has been hit in almost a decade
Reading some of the recent replies to that tweet as in last 5 minutes saying Chase Young might be ineligible for the rest of the year.
Which is wonderful news coming off the bye week