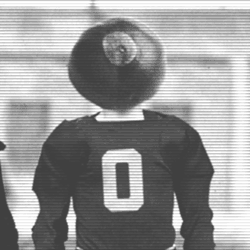 Dougger
---
MEMBER SINCE June 08, 2012
Bucks alum from Toledo, Ohio. Starting loving the bucks in high school, and don't care about too much else. maybe NASCAR.
Favorites
SPORTS MOMENT: Rooting for the buckeyes to win the 2003 national title
COLLEGE FOOTBALL PLAYER: Troy Smith. god he was awesome
COLLEGE BASKETBALL PLAYER: David Lighty
NFL TEAM: Brownies by default
NHL TEAM: Root for the jackets
NBA TEAM: meh
MLB TEAM: Originally Detroit Tigers. Rooting more for Ohio t
SOCCER TEAM: USA
Recent Activity
We're gonna have a pissed off team come Saturday 3:30.
Calling it right now. Braxton's getting at least 175 total yards in his last game in the shoe.
Not too worried about this game. Urban and company are going to bring the juice, and Farris will be just fine.
Kirk isn't totally wrong, and everyone piles on him for saying what he did; I think he's purposely giving the slobs extra motivation for this weekend.
Shoutout to Corey Smith for coming in and trying to blast #33 for Alabama. I loved watching him head hunt.
This article is getting me jacked for Saturday. Woo
Logged in to upvote this. Excellent reasoning.
I remember working during the Purdue game during that 2011 year, and catching a glimpse of Braxton dancing over dudes to get OSU down one in La Fayette. I biked home and turned on the tv expecting to see some overtime. It wasn't meant to be as we missed our extra point. But Ramzy it's hard to comprehend how bad that '11 team would have been without him. He's a special guy, and I think he deserves to hoist that trophy more than anybody else come January. Really hope he gets a chance to.
Also one of my hopes this year is that he scores the game winning touchdown in the Natty.
They didn't allow a sack last game. They're not getting destroyed, they're just not making room
DJ I cannot stand Guy Fieri. That's why I laughed really hard when you said this
"But the Bucks duck us in your own house!" Bearcats cry. Yeah, no shit, idiots. It's kinda like how you'll never see Guy Fieri inside a four-star-or-below restaurant. Shenanigans like that would torpedo his brand.
well done.
Really excited and will definitely be watching. Go Bucks!!
Looks like Christian Bryant out there. Go bucks!
Three things happen when you pass the ball and two of them are bad.
I'm really bummed that we won't be singing the praises of the Grants and Devin Smith come this Saturday... those guys deserve a great sendoff. EDIT: Who the hell is gonna sing CARMEN OHIO!?!?!?!?!?
"With your first pick in the 2016 NFL draft, the Jaguars select Iron King Cardale Jones, The Ohio State University" "With your second pick in the 2016 NFL draft, the Raiders select Joey Bosa, The Ohio State University"
Why does Arkansas have camo behind it?
it's like the skies in this picture are trying to do it for us.
Please football gods
His nickname should be Scooter Pie
Great photos. Corey Smith laying the boom on special teams when bama was doing the same.
Bravo DJ. This game had all the emotions. I'll neveer forget it.
That game was so hard hitting. Hope our players rest up and are ready on the 12th.
I believe in you king Cardale!!!
This is the same guy who cried to the refs that the fans were too loud when he played here right? Can't wait for him to see and hear the new additions to the shoe in two years.
GO BUCKS
Watching his play overall is impressive. When he's on it and flying to the ball I've said "whoa!" out loud a couple different times to myself. I'm excited to see what they all bring to the table in a couple weeks!
This is one of the best Skully's I've seen in a while. Great #takes this morning DJ.
How amped must Doran and Vonn be to cover Amari Cooper? I think if they shut him down we'll find a way to win!
Ole miss - TCU.
I Hope TCU tries to put up 80!
The media is absolutely loving Gordon and everyone is picking against Ohio State (again). I think Wisconsin scores around 24 too - I hope we score more and as the week has progressed I'm feeling better and better about it.
Go Bucks
I usually try to stay reserved on here but holy shit. Best video all year. Curtis Grant stuck out. Have to bring it home