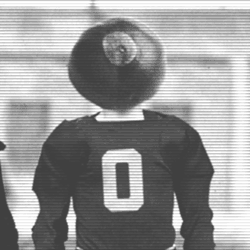 Doug James
---
MEMBER SINCE September 21, 2016
Favorites
SPORTS MOMENT: Big Red Machine, OSU football wins
COLLEGE FOOTBALL PLAYER: Chris Speilman
NHL TEAM: Columbus Blue Jackets
NBA TEAM: Larry Bird
MLB TEAM: Cincinnati Reds
Recent Activity
Chase, whoop his ass and um team's ass.
Chug is better than many qbs
Starting to conclude BigTen not overly good except for Ohio State.
That had Klatt and me laughing pretty good
Where was Baron is what I'm asking, too.
Some thoughts:
Where was Baron Browning?
Good to see Garret Wilson getting more punt return reps.
Wake Forrest has a chance
Perhaps but there would be a lot of discussion imo.
Who do you think gets in over OSU with 1 loss to penn state.
1. SEC winner
2. Clemson if they win out
3. Penn State
4.
It happened a few years ago. Then we got beat by Clemson. But, the eye test this year is really good.
I think we still have some kind of chance if we lose to penn state
I see him as a blocking tight end
Used to like the night games but getting older and kind of like the Noon games.
Minnesota has to play Penn State, at Iowa, and Wisconsin. The Minnesota vs Wisconsin will probably decide it.
OSU D.J. needs a name........
That's kinda what Fields said in post game interview.
And the second game is in a dome.
Heard Josh Myers say he likes blocking for someone like Dobbins. I'd assume all the online, tight ends, etc truly think the same.
Ya. I watch by myself. Can't deal with distractions
I put the dog out cause when I yell, he will come running into living room.
IIRC....they only have 1 tight end. Heard it earlier this year during one of their games.
When was last time there were 9 returning starters on Defense ?
If Wisconsin is a 1 loss Big Ten Champ, I'd be surprised if they make playoff. My guess 2 SEC teams in, a Big 12 team, Clemson, maybe Notre Dame.
Good news: my philosophy is hoping to discourage, deflate, lose hope, etc. for any team in the way of a Buckeye undefeated season. That's # 1.
UM can lose hope, etc. with their second loss tonight, thus no chance of winning Big Ten.