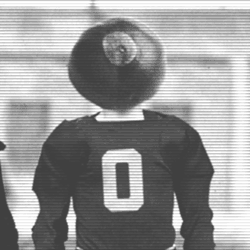 Doug James
---
MEMBER SINCE September 21, 2016
Favorites
SPORTS MOMENT: Big Red Machine, OSU football wins
COLLEGE FOOTBALL PLAYER: Chris Speilman
NHL TEAM: Columbus Blue Jackets
NBA TEAM: Larry Bird
MLB TEAM: Cincinnati Reds
Recent Activity
Comment removed for violating the site's commenting policy.
Dixon was very good at Ohio State--he just seemed to be very reliable and good. Good at kick off returns, also.
Will be rooting for Mack Brown the next few years.
I got a feeling this young man will (and is) work hard in life, including his English. I think he's going to love Ohio State and I think OSU gonna love him too.
They are getting ready for the draft -- too busy.
Who do you think Moneymike ?
Maybe Arnette? Maybe Wade? Maybe Werner? Maybe Browning ? My guess is Arnette.
Campbell was a lot of fun to watch.
And it's crunch time for the team and he's their most important player: idiot.
I haven't watched too many games this year, but there are a couple players that looked really BAD today.
I'm not very interested in Nick Bosa.
247 sports. ..." Google Tate martell buys"
Tony, it was in the news. I honestly don't remember what news but you can google and try to find. I will try to find it tonight.
He purchased followers a few years ago. That stinks.
I kinda like having a few old coaches.....experience.
I agree. But.....Wilson might be so talented that he plays.
He was asked about his players grabbing opponent's crotches and butts and he said, "it's no big deal."
kinda makes one conclude that winning is everything for Dabo.
Anybody but Dabo.
Victor, Mack, Olave, maybe Hill, Wilson, Ruckert, Farrel, Berry, McCall, Dobbins, etc...
We have receivers for next year
Love seeing Meyer recruiting even after he retired.
Maybe somebody can call him a cracker.
My guess is he contributes to the D Line day 1. Young, Cooper, Harrison and a few other experienced D linemen and a few younger guys like Tommy T, Vincent, etc.
Larry Johnson has to be excited and Ohio State fans should be too.
Go Bucks.