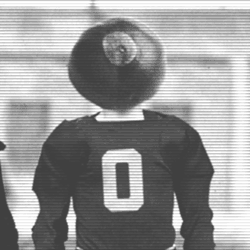 Doug James
---
MEMBER SINCE September 21, 2016
Favorites
SPORTS MOMENT: Big Red Machine, OSU football wins
COLLEGE FOOTBALL PLAYER: Chris Speilman
NHL TEAM: Columbus Blue Jackets
NBA TEAM: Larry Bird
MLB TEAM: Cincinnati Reds
Recent Activity
Watch last year's game against UM one more time.
He was really good last year. I was surprised he came back.
Watched Saints play and Michael Thomas, etc. were playing when game was over. Wow
To me, it seemed Ohio State's pass rush against Indiana, when Chase Young was not in, wasn't overly impressive at times. This kinda concerns me when thinking about playing Clemson.
On the other hand, Dobbins ability to catch the ball encourages me when I think about Clemson's pass rush. Be nice if another OSU back was really good at catching ball, also.
We haven't played anybody yet.
At Nebraska, Wisconsin, Penn State, and at Michigan ...... Ohio State has a freshman QB .......not all that easy IMO
I think we will really miss Campbell this year -- great weapon.
Dobbins is a captain.....Tim May and others have said he is a great leader.......and when I hear him speak, I believe it.
Wade looks really good. NFL good.
There's video. Try google.
Dabo said no big deal when asked about his players grabbing crotches of opposing players.
Comment removed for violating the site's commenting policy.
Dixon was very good at Ohio State--he just seemed to be very reliable and good. Good at kick off returns, also.
Will be rooting for Mack Brown the next few years.
I got a feeling this young man will (and is) work hard in life, including his English. I think he's going to love Ohio State and I think OSU gonna love him too.
They are getting ready for the draft -- too busy.
Who do you think Moneymike ?
Maybe Arnette? Maybe Wade? Maybe Werner? Maybe Browning ? My guess is Arnette.
Campbell was a lot of fun to watch.
And it's crunch time for the team and he's their most important player: idiot.