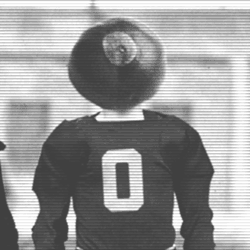 Double OH Seven
---
MEMBER SINCE January 09, 2019
Recent Activity
Big News Tomorrow @12PM EST! Stay Tuned...

— jordan hancock (@jordanhancock_7) July 18, 2020
ladies and gentleman, we got him.gif
I've watched that Parris jet sweep at least 1000 times. Talent/speed gap personified.
I'll nominate the Braxton not-quite-hail-mary v Wisconsin as a true freshman..only bright spot on that dire season but let us know Braxton was a bad man.
Shaun Wade will definitely go before 13. And I'm picturing a world where Baron Browning figures it all out at OLB and has 10 sacks and goes first round. A guy can dream.
Garrett is about to EAT in the slot.
Tuf Borland OR
Tom Herman - can't beat Maryland but he sure can kill an OSU recruiting forum
Yes it could be about a girl or anybody really, thats kinda the point of cryptic tweets.
JF retweeted it...these guys know what they're doing they're not dumb
I think I need help bc I suddenly feel OK with losing Bijan after one tweet from a 17 year old
Not every person you lose is a loss...

— Lej (@lejondaryy) July 31, 2019
Tough to spin this any which way. Bijan has Zeke/Saquon potential. He's a wayyy better prospect than Kareem Walker, Derrick Green, etc IMO.
And I hate to be that guy but as much as we all like Master Teague, He's not a game changer. He's a straight line bulldozer, which certainly can be very useful but not quite the kind of back that can single handedly beat Bama by dropping 240 on 'em. As far as I'm concerned, the balls in Crowley's court after JK
I've seen a lot of Zeke comparisons for Bijan but something about his shiftiness and his running gait really remind me of Saquon. Just a matter of time before he starts doing that weird arm swinging TD celebration. I will gladly take either though!
I like(d) Kyle too but now he's coming after our own AE on twitter. 11 WARRIORS ASSEMBLEEEEE
IMO Julian Fleming's commitment changed the trajectory of this class. Not saying we wouldn't have gotten most or even all of these next guys, but it really put the country on notice that we're not letting the loss of Urban cost us a "down" recruiting class.
Big time credit to Hartline and Agent Lejond.
I believe it's in this article-
https://rvls.co/2WXp7VP
I'm not a subscriber, just a twitter addict
Jack Sawyer is already well on his way to legend status
Great insight and I've seen it said before that Day preferred McCord, but which insider has backed this up? I prefer McCord myself so I'm not disagreeing (nor does my opinion matter), I'm just wondering if maybe McCord wanted to swoop in and take the spot before McCarthy could pull the trigger, with Day just taking the first to do so.
Anybody but Tyrion, please
Inject this content into my veins. Good stuff, Kyle.
I've seen a lot of differing opinions on here on this whole situation. IMO the right call by Day and Co. The kid can play.
Day and dem boys look like they just dropped the hottest mixtape of 2019
Teradja...NPF....Garrett Wilson...Jeremy Ruckert
Tony Alford: "Demario is going to play A LOT"
IIRC the WRs were saying Olave is a burner
Hungry, young HC and staff with all the talent in the world. We're coming to take back what is ours.