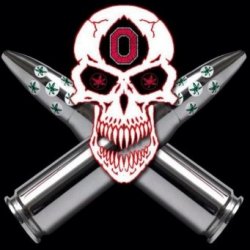 doodah_man
---
Montgomery, AL (via Whitehall, Ohio)
MEMBER SINCE September 08, 2010
Longtime resident of Columbus (born) and raised in Whitehall, Dad was a Columbus cop who worked the games every year. Attended tOSU 1969 - graduation in 1974, BS in Aero Studies. Joined the USAF, got an MA from Ball State in 1986, retired Lt Col, pilot. Now in Montgomery, AL. Retired bankruptcy attorney after 16 years as a partner at Memory & Day. Married my High School sweetheart (also from Whitehall) in 2016. Lifetime member of tOSU Alumni Association. Get back about once a year.
Favorites
SPORTS MOMENT: OSU v. Miami, 2003, OSU v. Arizona State - Rose Bowl 1997, Last three games of the 2014 season!
COLLEGE FOOTBALL PLAYER: Craig Krenzel
COLLEGE BASKETBALL PLAYER: Jerry Lucas
NFL TEAM: Cincy
NHL TEAM: Blue Jackets
NBA TEAM: Cleveland Cavs
MLB TEAM: Reds
SOCCER TEAM: Crew
Recent Activity
ESPN shows the film of "the Punch" in 5...4...3...2...
I wasn't told math was involved...
Greatest Buckeye of all time...RIP Hopalong.
the fire at the Bull semen facility...I keep thinking bukkake...
Ramzy, why they gotta describe bourbon with tastes like chocolate, vanilla and caramel notes, cherry, tobacco...? No, no, no. It tastes like whiskey.
Truly beautiful at the Shoe this past Saturday to once again hear "NUUUUUUUGGGGGGGEEEE".
I mean...jebus! What idiot came up with this? I mean if only we had a uniformed group of people who could LIVE play music that is traditional for college football. Right on Denniscolumbus!
Awesome, work on Firefox Home too.
Big question is, how do we properly pronounce this player's name? Looking forward to some awesome kicks this season.
How can ya'll be so glib after the untimely death of Grumpy Cat?
Ramzy, I was fine with the uniform issue but the peanut butter in bourbon was inexcusable. You are essentially what is wrong with...well...everything.
I agree. "Spending time with the family" while if true is commendable, it has become the PR codeword for "I got caught doing something I shouldn't have and it is going to take some work on the homefront to clean up".
Didn't they do this is Elizabethan England?
Who the hell eats shrimp with a fork? That's why they leave the tails on them!!!!
I heard he was pranking Jim Harbaugh's home phone.....
Ramzy - Have you tried the Four Roses Single Barrel? Great option for those who aren't willing to pay the premium of Blantons (which I have been known to do one in a while).
Christ, I hate social media....
Remember DJ, no matter how many Thai hookers are involved in the scandal, your exit from politics will be to "spend more time with the family",
I have it on three T-Shirts. SCUM....
No game this year. The sooner they dump Ticketmaster, the better.