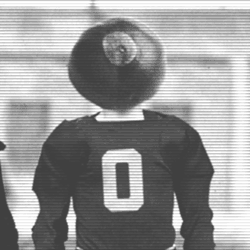 Donny T
---
Member since 21 August 2012 | Blog
Recent Activity
Kudos on the rope reference.
I was born in Columbus and come back every year, but I'm not sure that video would entice anyone who hasn't been there. Starts out okay with downtown and the river, but I mean what's with the fixation on freeways and abandoned factories? How about Short North, or the stadium, or something interesting, like actual people? Looks like somebody got a new drone to play with and this is the result.
So JT did not hit a pass over 10 yards?
Beat me to it. No need to spread rumors that Thad is dying. The stench is from the program circling the toilet bowl.
Theoretically, up tempo is the way to go against that D-Line. But it's rare that the Bucks really go up tempo. They just call it that. Most of the time, they get up to the line, look to the sidelines for 5 seconds, JT calls out some signals, then runs up to the line, changes the call, looks to the sidelines again, looks over the defense, says a prayer, somebody goes in motion, he drinks a gatorade, has a smoke and then hurriedly calls for the ball as the play clock runs out. So it's not like the defense is really getting gassed with 30 seconds between plays, and it has plenty of time to get in the correct defensive set. I thought that in addition to tiring guys out, the purpose of up tempo was to make the D vulnerable and make them make hurried, bad decisions, because you're running plays too fast for them to keep up. JT is far too cautious for that. Maybe if they scripted the plays and just ran them quickly, it might work.
Holding the ball too long is just one of the issues. Missing wide open receivers on short and medium passes is the main one. Lost count of the number of passes into the ground, or five yards high, or just behind a receiver. Throwing late into double coverage and missing open receivers downfield compounds that. Urban's philosophy is good enough to beat 95% of the teams they play. Will it be enough to win the CFP? We'll see. I think Urban is doing his coachspeak and being supportive and all, but if Bama (should they get that far) has eight in the box because they don't have to worry about JT's passing, it's going to be a long night. We saw what the offense could do when someone like Cardale could go deep and stretch out the D. That offense was practically unstoppable against the best in the country. This one, not so much.
Barrett is the Aaron Craft of OSU football. He plays hard and smart and we love the effort. But Aaron Craft was limited on offense and he was no Mike Conley. Likewise, Barrett can't pass consistently, and he will never be Troy Smith. Yeah, he's clutch, I'll give him that. But he's the main reason, (not the only one) that we've been in so many tight games. If he'd hit a few passes earlier in the game, or didn't have them knocked down at the line, or didn't wait so long to throw and get sacked, or wasn't bothered by wind, or didn't throw behind receivers, or throw five yards over their heads, or miss open receivers downfield by five yards, or throw into double coverage, those games might be blow outs. I'm tired of hearing excuses for his poor passing and how it's going to be fixed by the next game. It ain't been fixed, folks. He is what he is. Against 95% of teams, he'll be enough. Against the best, questionable. Maybe he'll turn into Superman in the practices leading up to the bowl game. But I doubt they're going to fire Beck and hire Jon Gruden.
I'm disappointed because I never thought Urban and Co. would turn into Tressel and Bollman. It's been happening slowly since the national championship. Urban gets more conservative instead of becoming more innovative. This team isn't even fun to watch any more. As someone said in a previous post, it seems like it's more about not losing than about kicking ass. For whatever reason, the swagger was gone after OK, and they're tentative, except for DBs. I don't think this is a good direction to be going in with Harbaugh at Michigan. Even Saban is getting with the program offensively. Heck, the team rarely uses misdirection any more. Are you telling me opponents game plan for misdirection? I know they don't want to admit the passing game sucks, so Urban and JT make up nutty excuses for not being able to throw short, medium OR long. And for not being able to run on top of it. How can that be? Fact is, JT's had several chances to connect on long throws. He just can't do it. In Urban's defense, I believe he knows Warriner and Beck don't make a Herman and one or both will be moving on next year. But he hired them. His staff recruited this crop of really fast receivers who can't seem to get open. I would agree that we need to keep in mind that this team is really young and may have peaked for this season already. I assume Urban is feeding us bs because he wants to preserve this team's fragile egos. But I'd still like to see them playing with a bit more vigor and passion and far fewer excuses. This business-like attitude goes only so far. If I hear another word about all the correctable mistakes they plan to correct after the next mediocre game, I'm gonna scream. There are only so many types of mistakes you can make in football. I think they've made them all by now. I'd be happy to eat my words after Nebraska. But not counting on it.
What's the pitch to the wide receivers these days since it's obvious we don't have much of a passing game? Come here, you're way better than what we got, and in two years, we'll actually have a passer playing QB?
Lots of problems to fix, but maybe the loss will take the pressure off. They can go all out, be as creative as possible, whatever it takes because they have nothing to lose at this point. If they don't correct the problems, they're not going to anything but a second-tier bowl anyway. Why not have fun, play as aggressively and fearlessly as possible and see what happens? That goes for coaches, especially. Play-calling since Oklahoma has been sub-par at best. Plus, how about a change-up now and then with Burrow? If JT can't hit the long ball, give someone else a shot. For all the talk of WRs not being able to get open, we forget the numerous times JT missed wide open receivers deep this year. Seems after this long at QB, he can either do it or not.
From D'Angelo Russell to 62nd ranked PG in two years? Looks like this program is running on fumes.
Not sure how JT gets a Buckeye leaf. Bounced a pitch off Weber's helmet for a fumble to start the game. Made some other questionable pitches. Seems to throw into traffic a lot. Overthrows, underthrows to wide open guys. He's been rescued this season by some great catches by the WRs. I'm no QB guru, but he doesn't look comfortable throwing the ball. Everything seems forced and often late. Pass to Wilson for TD was only really good pass of the day. (I'm sure this performance assured Donovan Peoples-Jones to Michigan.) Bucks are not headed to playoffs with JT running 26 times a game. As someone said after the game, give Weber or Samuel 26 touches and see what happens. Which goes to the putrid play-calling. Thought I was having an acid flashback to Jim Bollman. Compared to previous games, very little motion, no misdirection, not a single jet sweep that I recall, not enough Samuel, not enough Weber. How do you go into a shell like that against Indiana? Passing game needs to get straightened out quickly.
Plus, still not much of a pass rush and too many penalties. Love this team and its athleticism, and D will only get better. Can O keep up if they can't throw more than 10 yards downfield?
He just got knocked out, no concussion. Isn't getting knocked out the textbook definition of a concussion?
One other Florida parallel perhaps. James' game-saving block on Iguodala reminded me of Clarett's strip of Sean Taylor after the Krenzel interception in the 2002 Nat'l Championship game. Could have been a turning point, but all out effort and determination saved the day.
He's got the shooting part down. I hope he's developing some handles. Really needs to be able to create his own shot.
C'mon. OSU fans and nobody mentioned Ohio's own Guided by Voices?
"Blah, blah blah blah, blah -- blah blah -- blah blah....blah. Blah blah blah, blah, blah blah," said Dickerson.
Nothing to see here.
This definitely reflects badly on Meyer and OSU and I feel for Sibley. But then again, fans have such high expectations, you can't blame Meyer for trying to land the best in the country. His intensity and relentlessness is what we admire about him. Those aren't necessarily the attributes of a saint, which means unless they stop accepting commitments two years ahead of time, there will be more collateral damage like this. For better and worse, OSU has never had a recruiter like him. Meyer has more five-stars in play this year than Tressel did in his entire career. But I doubt this situation would have happened under Tressel. Most of us do not like what happened to Sibley, yet we're glad Meyer is playing footsie with the NFL players of tomorrow. We'd better get used to this cognitive dissonance.
Let's hope the big guys don't have to worry about cut blocks.
After this season, might as well let them all go. Not really excited about anybody who left, not really excited about the underachievers who stayed. And if he really de-recruited the guys who left, why not Loving? When your best player is a 6'4" power forward, you've got some serious problems.
Nothing to get excited about. Drama queen with a penchant for turnovers. Foul-prone and a streaky shooter. Dad (coach) is on hot seat, not well-liked and didn't help things by saying kid received death threats, although there is no evidence that ever happened.
I'd like to thank Hairball for bringing the hate back to the rivalry. Like many fans, I've found the ease with which OSU dominated the weasels in this century has led to complacency, and I must admit, indifference to the irrelevance that defines TTUN. But now, a 100-point ass-kicking would not be enough. Hairball reminds me of Monty Python's Black Knight. https://www.youtube.com/watch?v=zKhEw7nD9C4
Thad's last chance at keeping OSU basketball relevant ended when Russell left early for the draft. If he had stayed this year, they're pretty much a lock to make the tourney. Regardless, there was no one else on the team, or in the next recruiting class who will make a difference in the next few years, that is, get them to the Sweet Sixteen, let alone a Final Four. He's not even getting the top players in Ohio any more. The team has been painful to watch the last three years. Just seems like a constant struggle to achieve anything, and the players' overall lack of hustle and desire (with a couple of exceptions) is disconcerting. I agree his health issues, and the lack of talented assistants are a major problem, probably contributing to the lack of player development and the inability to come up with a coherent offensive plan. The contrast to Meyer makes Thad's situation look even worse. He's done a great job, and I wish his health problems on no one, but everyone reaches the end of the line. Can't imagine Smith keeps him on with another sixth place Big 10 finish next year.
Hey, can you guys ditch the gray type for something like bright blue? My eyesight is passable, but it's almost impossible to read.