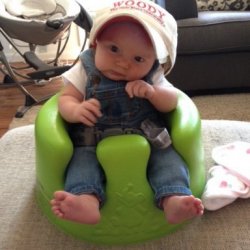 Dongbrake44
---
Member since 18 March 2013 | Blog
Born, raised and educated in Columbus, Ohio. Recently Married to a beautiful buckeye fan who knows more about sports than most guys I know.
Favorites
SPORTS MOMENT: OSU Nat'l title
COLLEGE FOOTBALL PLAYER: C'mon JT!!!
NFL TEAM: Browns
MLB TEAM: Reds
Recent Activity
Can someone confirm that it's free to attend games? I haven't seen tickets for sale anywhere.
Decent B1G matchups. I'll be watching Sparty at noon, and UM lose at 3:30.
Similar to Apack, I just threw some ribs on the smoker for a "quick" 3-2-1 smoke. I've been looking forward to today forever! Not just the Buckeyes opener, but my fantasy football draft after the big win!
I was in a somewhat similar situation 10 years ago. I went to Capital out of high school, with intentions of playing football, but never ended up doing so. Regardless, I went to Capital for a year, hated it, and got into OSU after one year. I'll echo other's statements that transferring in is much easier. I didn't apply out of high school, but most likely would have not gotten accepted. But, no issues getting accepted. Good luck!
If the penalty occurs in the endzone and the 2 yard line is more than 15 yards away, then the penalty is either 15 yards or half the distance. If the 2 yard line is less than 15 yards from the line of scrimmage, then the ball is place at the 2. Never is the penalty more than 15 yards in college.
My wife worked at NW Children's Hospital, and would come home with funny names from time to time, the was a La-a, but my favorite was 'La. She swears it's pronounced "High-Comma-La"
Yeah, but how can he explain his hair then?
Pretty crazy that Green Bay's connected on two Hail Marys this season. And a new development, possible coin-flip controversy. Haha
Lets hope for an exciting end to the game!
In-N-Out Burger, how I miss you!
Lived in PHX for 2 years, absolutely loved it. Have a blast, and stop off at LGO or Postino's for some good grub!
*Mickey became eligible for the UK game. Not sure if he got in tho...
Not bad, but looked like a Browns jersey at first glance.
Merry Christmas ya filthy animal!
So he'll be like 30 by the time he graduates???
Haha, pretty good. I'm guessing this is pre-SNL? Surprised he got such access into the locker room, onto the field. Good stuff
Can't go wrong with Bodhi
Lebron just stuffs his permanent locker with boxes of new Nikes. If the players just happen to "borrow" them, what's the big deal?!
If I've gotta choose just one: front, right.
I've only stayed at the Cosmo from those three choices, but have stayed twice. I thought it was great, very flashy/hip, seems to be for a younger crowd, but either way very cool (I was 26 the last time there).
Awesome pool that overlooks the strip, complete with outdoor ping pong/pool tables myself and wife enjoyed. It'll be too cold, probably, to get in the water, but nice either way.
Great buffet, I haven't been to many Vegas buffet's but it was the kind of place you take pictures of your food, and I'm not at all into that on a normal basis. Very diverse menu too, from classics, to bone marrow! Not that I liked it, but cool to try new food. The food was all very small portions as well, so you can try a ton of different items.
Great location, although you already know that.
Table game limits were higher than other casinos, granted I was mainly at Bill's, Flamingo, etc.
"Hidden" pizza place, well worth the find.
Unique rooms/decorations
All in all I was very happy with our stays there. But from reputation, I'm thinking any of your choices will be great!
Also, have you considered off the strip? I've stayed at the El Cortez cabana suites, cheap, but nice. Save more money for gambling/losing!
Have fun!!
I don't think others are as scrutinized as Johnny. I'm not going to lie, it doesn't look good for him to keep partying, but who cares. Others in the NFL are doing much worse things.
What are the fans supposed to do? Cheer for probably the worst offensive game I've ever seen?