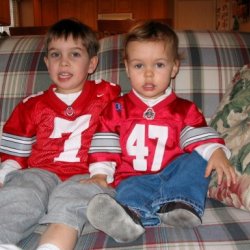 Doctorjsix
---
Member since 04 December 2012 | Blog
Favorites
SPORTS MOMENT: 1980 US Olympic hockey team over USSR
COLLEGE FOOTBALL PLAYER: Archie Griffin
NFL TEAM: Bengals
NHL TEAM: Blues
NBA TEAM: Cavs
MLB TEAM: Indians and Reds
SOCCER TEAM: USA men's national team
Recent Activity
Mack is a Xavier alum (and a St X HS alum). I don't see him leaving.
I read a comment recently that the Joebots are more interested in preserving Paterno's legacy than having a winning program today. Frankly, it will take 20 years for them to get over Paterno. It toolk us until 2002 to get over Woody. Took Bama about 20 years to get over Bear. Maybe by 2032 that can be a national contender again.
I was in Belize City last week and got an O-H from a local trying to sell me a snorkel tour!
While I respect MSU and Coach D, a win would potentially hurt our recruiting. That's the flaw in the "conference pride" BS.
The Goldberg entrance.
Imagine Cardale coming out of the lockeroom wearing a championship belt, flanked by police, cameras following him down to the end of the tunnel. Then fireworks go off and he breathes in the smoke and exhales it through his nose!
www.youtube.com/watch?v=t8do_wxlcq4
I thought that after the Sandusky scandal that they should go all Oregon with their uniforms. Logo on the helmet, infinite options of pants, jerseys, and helmets, etc.
Schlegel can be the new "Terry Tate, office linebacker!"
Dude, Baylor beat TCU. They deserved to be Big 12 champs over you. Take care of business by winning all your games and you don't need to worry about any committee, and you don't need to come whining here.
Signed,
The National Champions
Ted Ginn's punt return in 2004. That is the loudest I've ever heard the stadium.
Why are the Canes wearing blue?
I agree. Grey would have been awesome.