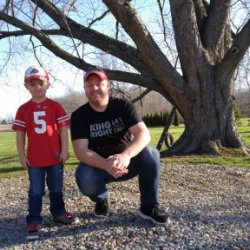 dmiller2345
North Eastern Ohio (via Cincinnati, Ohio)
MEMBER SINCE February 16, 2012
Husband, Father to 3, sports nut, political nut, and avid re-tweeter!
Favorites
SPORTS MOMENT: #1 was beating Alabama in the 2015 Sugar Bowl and #2 was Winning the 2015 CFP National Championship!
COLLEGE FOOTBALL PLAYER: The starters backup!
COLLEGE BASKETBALL PLAYER: Michael Jordan
NFL TEAM: Cincinnati Bengals
NHL TEAM: CBJ, I guess!
NBA TEAM: Chicago Bulls
MLB TEAM: Atlanta Braves
SOCCER TEAM: What's that?
Recent Activity
Canes or Chick-Fil-A?
Chick Fil A with Chick Fil A sauce!
No I don't, but I believe it happens! Officials, IMO, sometimes anticipate a call and blow the whistle when it reality there was nothing to call!!! Once they have blown the whistle they can't take it back!!!
I know what you are saying, however! :)
Interesting... Stoops will coach a team! Maybe Urban will coach the Columbus team! Maybe that is why he hasn't signed on with FOX Sports yet!
seven flagrant 2s committed by PSU that went uncalled...
LOL
I think refs sometimes - they are humans like the rest of us - make the mistake of blowing the whistle anticipating a foul in some situations. I have done that myself and unfortunately once the whistle blows you are "forced" to make a call.
What are your thoughts on calling a foul - tech or personal - for a perceived flop?
I agree that if someone hits the floor a foul needs to be called. Example: They called a F1 on the Penn State player late in the game when Wesson hit the floor! (I thought the refs were biased against Kaleb... if they were I am pretty sure they would have called a foul on Wesson instead of the F1 on Penn St)
Not sure what is "cringeworthy" about this!
1). It wasn't ttun
2). Clemson is on par with Alabama when it comes to football - some might say above Alabama - and at this point they are head and shoulders above Ohio State in football.
3). If my son couldn't attend Ohio State, for whatever reason, I wouldn't mind him playing for Dabo.
Thanks! That makes sense!
Gave a +1 for the non-sarcastic answer!
Haha, thank you for believing in me! No shots taken here!
I like Herbie and I have no problem with his boys going to Clemson. Ohio State isn't for everyone and IMO, I wonder if his boys going somewhere other than Ohio State had something to do with him being forced to move out of Columbus due to some idiot fans! My guess is if his sons had wanted to go go Ohio State as a walk-on they would have been there!
Great point Aphilly02! Just gave an upvote for the level headed #hottake!
If officials notice a game could get out of hand with rough fouls, they will try and nip that in the butt asap with quick whistles.
I definitely agree with this logic... I mention below that I have officiated some church league basketball and that was one of the easiest ways to get control back of a game that was getting chippy. Call a few quick, seemingly, ticky-tack fouls and guys would settle down real quick and usually the game would finish without any incident!
I'm fine with officials calling Wesson for his flop/charge attempts, he needs to cut that out, but his 5th foul was complete garbage and not even close. That was easily a play on. Wesson was jumping away from the ball handler and it was obvious to everyone in the building that the ball handler wasn't even looking at the rim but jumped backward into him, which is why he missed what should have been an easy layup.
This for sure... Wesson was bailing out and the offensive player threw his body into Wesson trying to draw a foul. I hate that that was called a foul. IMO, as a "professional" basketball referee for church league basketball, that is a play on and should be outlawed along with flopping when trying to draw a charge!
While I do complain a lot about officiating during games I do think the basketbucks are very sloppy in their defensive effort at times and so they are prone to picking up sloppy, dumb fouls.
Lastly, I cannot believe how lazy and careless we are with the ball on offense. CJ Jackson and Woods are the worst offenders. I can forgive guys like Luther and Dwayne since the are frosh, but there is no excuse for Woods and Jackson.
Just curious: What area of the field would it not be a good idea to turn and look for the ball?
Thanks!
I don't even want to imagine how bad that plane is gonna smell on the ride back.
Zonabuck, it is a great thing he did not serve White Castle or Taco Bell... Can you imagine if those had been on the menu?
If it is a politician anything they do - good or bad - will get spun, from each side.
Anyway, the topic was the fast food spread for the Clemson players... to be honest I might have been a little disappointed at the buffet even as a college student. I can go get pizza, KFC, Wendy's, McDonald's anytime I want as a student, however, it would be cool to visit the Whitehouse and don't think I would complain to much about whatever they decided to feed me! As a college student I was ready and willing to eat anything! HAHA, and I am now paying for it as an overweight 35 yr. old!
The only thing I would complain about is he did not server the greatest "fast food" ever... Where was the Spicy Deluxe sandwich from Chick Fil A? Or a platter of chicken fingers with Chick Fil A sauce? SMH!
Here is my "hot take": D.J. Byrnes is "gone" from 11W like Everett Withers, Tim Beck, and Ed Warriner are gone from Ohio State!
So, who are your top three Ohio State football coaches of all time, ranked? And why?
The Bucks will win.

38-35.
I am feeling a 38-24 win!
Don't get me wrong, I love that we recruit 5* talent from all over the country and I think we should continue to pursue the best player at any position, but I also think their is something to be said for a player with some talent, maybe a 3*, who has a solid work ethic and is willing to be coached! Cade seems like that type of player, obviously a 4* talent with a 5* work ethic!
I wonder if that is sometimes an issue with players we recruit... they are told all through HS how awesome they are and they don't feel the need to work as hard in college as they should and don't accept coaching like they need to...
Go Bucks!