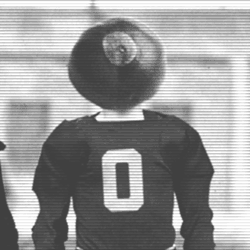 Dmac3212
---
MEMBER SINCE August 10, 2014
Recent Activity
I'm not sure I can stomach watching the game. I'm still in mourning
That was one of the toughest losses in recent memory. I feel bad for the seniors. But it was a heck of a season
That was such a laughable defense scheme. I still cant believe they didn't adjust.
He gave an opinion not a statement of fact. It's not a crazy opinion to think the defending champions Clemson might win a close game.
Half of Massachusetts doesn't even know BC football exists.
If those are the reasons he is a bad guy I would love love to hear what you consider Meyer.
Yup...Still want no pet of Clemson
I believe he will be acocmposite 4 star now with the rivals bump.
I need a pay for play scandal at the school. That is all I want for Christmas.
He should and will leave early.
Everything turning up buckeyes. This is madness.
I'm convinced its a close game. He was so explosive in college. He applied randy moss type pressure on a secondary.
I was unable to get on the site. The servers just couldn't handle it.
I was so confident after that Ted Ginn TD.
I read somewhere that he has a 4th round grade. It's really a guessing game until the senior bowl/olympics in underwear.
Eddie George also had 328 rushing attempts. JK currently has 250. If his average remained the same he would rush for 2165 yards on the same amount of carries.
Imagine the pure joy it would bring if Michigan football got caught up in a bag men scandal.
The only issue going forward for him I can see is the length of his delivery.
I was as wrong as you can be about this young man. What a season.
I thought he played well after the slow start. He threw the deep ball exceptionally well. He should of had another TD to Olave.
But ESPN control the selection committee and they hate us
WR really isn't that important in the NFL either. Who is the last top 5 WR to win a SB?
Same here. My first painful loss as a Buckeye fan I can remember is not even against TTUN. It is MSU.