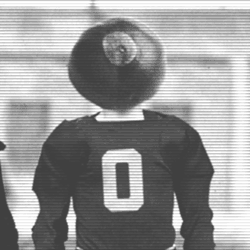 Dmac3212
---
Member since 10 August 2014 | Blog
Recent Activity
Do people actually think he would start at Texas?
No chance at stating in texas
This is a scary statement by Meyer. I take this as him not being able to control his emotion and not understanding what was happening offensively during the first half. All I know when bama struggles saban takes control goes to kiffin and demands him to run the ball.
The thing is they abandoned him before he fumbled. 1 rush for 5 yards. They did not let him get into a rythm.
This article actually says when Samuel couldnt handle a JT pass
I just don't understand how a head coach doesbt realize we passed the ball 21 out of 27 times. Sometimes I think he gets to emotional during the game and doesn't make adjustments. He is the 2nd best coach in the country but this game showed the gap. Saban goes to kiffin and tells him to run the ball
We don't win a championship if JT was the qb. I was saying that back then. He is a leader and a winner but his mechanics, anticipation, and arm talent are all underwhelming.
The offensive game plan was awful and I mean awful. We didn't attempt to run the ball. The coaching staff needs a change. With that being said we don't have a chance at winning a championship with JT under center. I've been saying that for 3 years now. I seriously think it's a completely different games if you switch the quarterbacks around even with the shitty play calling.
I have watched every Alabama game this year (unfortunately) and there is no possible way for Ohio state to blow them out. The reasons are ryan anderson, Tim williams, and Jonathan Allen. Do you honestly think Ihah prince can hold up against that. I'm not saying we can't win. But we would need to grind out a victory.
Against poor competition. The only impressive game he has played is against msu that year
Jt is great against bad competition. When he needs to push the ball down the field in tight windows he is bad
It's hard to be aggressive when your quarterback struggles to complete a pass over 10 yards
I wouldn't call in on the money but I'm just glad we got the completion. Hopefull it will give JT confidence
Still wouldn't be an NFL qb
I don't know why people say he has the brains to be an Nfl qb. I think that's one of his weaknesses. He reads defenses slow and doesn't anticipate
I don't think people are defending beck. But the fact is Meyer has most of the control over this offense. That's who I'm directing my aggregation at. The point about Herman is true as well. the comment section was littered with sarcastic Mensa jokes. Trust me I can't stand the play calling, but the fact is I haven't liked it for the past 4 years (besides a 3 game run). All I know is something needs to change. With that being said beck is not the guy to make those changes.
It's a tough combination on saturday of a line who was struggling, receivers who couldn't seperate, and most importantly a qb who can't throw receivers open. Typically QBs with lesser arm strength make up for it with anticipation. At this point in his career JT can't create separation for wr. He needs to wait on receivers to be open and this is why he under throws the deep ball. His little double pump hitch is grinding my gears.
The offensive line and lack of play makers on the outside obviously stuck out but I don't think we can win a championship with a quarterback who can't push the ball down the field. JT is an awesome leader but we don't beat Bama with him under center. He is not dynamic enough to create junk yardage. Granted we need to find a way to get our playmakers the ball. Even teams like Baylor do not run the best routes. They use nothing close to the full route tree. So there has to be ways to create big plays without nfl caliber route running. At this level team speed on the outside is enough to create plays.
I am grateful to have Urban as the head coach. But a lot of blame has to go on his shoulders for that debacle. Play calling was god awful all year, and nothing changed in that game. Urban either made a majority of those play calls, or he didn't step in to make in game adjustment. Either way it was terrible coaching. Not to mention his time management has been just as bad. In the Indiana game he almost blew it by snapping the ball with 20 seconds on the play clock multiple times. Last night he uses no time outs on the last drive to stop the clock. I understand they got the first down and it wouldn't matter, but that was inept time management.
Johnie Dixon opens up south Florida...the list is about impact on recruiting
It's clearly a list about recruitment impact not on field performance
Im a lot higher on this kid than most. i personally think he is the next Mike Vick. He is an athletic freak who throws an absolutely beautiful deep ball. He also has a cannon for an arm. He would be an absolute stud in this system.
This guys called it and got shit on for it.
i actually think thats why the offense was so efficient. Urban has a tendency t get to caught up with the read option and quarterback run game. The offense becomes so QB-centric and often can become stagnate in big games. With Cardale skill set it forced herman to get the ball into the play makers hands and push the ball down the field. CJ is the starter with similar plays being called.
Im not sure how you can say JT ran the offense most efficiently. CJ is the starter, JT time will come.