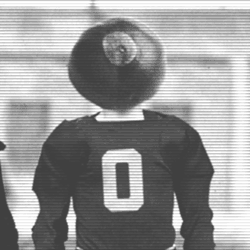 Dmac3212
---
Member since 10 August 2014 | Blog
Recent Activity
He was my introduction to Ohio State football
I've had enough ref controversy for a life time being a Buckeye and patriots fan.
You poor guys. Blessed to be from Boston.
I cant believe how bad danny fleeced the cavs.
Mike Tomlin is the issue with that team. The majority of NFL coaches would have the same success with that roster. The Steelers are terrible at situational football.
Thanks man. I just remember the double boom from the hillard/cornell announcement day. I was expecting big things but neither have really seen serious playing time. I guess we can attribute that to the amount of talent on the roster.
What happened to Cornell?
Yah i feel for you. Even with all the championships, the red sox have scarred me where I will be forever negative.
Stats are misleading in today's football. Malik Rosier is the single season record holder for TDs responsible for. He will probably get benched next year.
I honestly don't know if I would enjoy sports as much if I was in the first group. I enjoy the misery. Maybe that is just the Boston in me.
Did you know Rosier is the all time single season holder for TDS responsible. Must be the greatest Miami QB of all time?
The blessing of being a buckeyes and Patriots fan.
I'm a feen for football. I will watch any game its actually pretty pathetic. The gambling probably doesn't help.
I'm a feen for football. I will watch any game its actually pretty pathetic. The gambling probably doesn't help.
im glad your okay with not competing for National championships.
2 overtime games. If your impartial it was pretty good
Something urban refused to do
He is about to get lit up next week. Cant beat the Patriots playing zone.
The only way he can go to the Giants is if the Patriots trade him. I don't see that happening.
Not to be a complete hater but I don't see this high IQ football player that the media and coaches talk about. He might be great in film study and in practice but on the field I think he has average football IQ. I have seen him struggle with the play clock, slow decision making, and trouble reading the coverage/blitz.
Random question of the day. What happened to Justin Hillard?
I will remember it as a great season, but at the same time a season where the offense did not take a step forward. A season where they played some great games but put up some stinkers. A year where the offense had an incredible 4th quarter comeback against PSU but failed to score 20 points against Oklahoma.If you watched the Rose ball you know that is bad.
Next year will determine the future of the offense. I personally think its going to be a bounce back year where the offense is explosive against top talent.