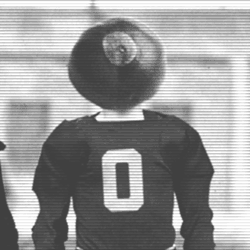 Dmac3212
---
MEMBER SINCE August 10, 2014
Recent Activity
Did you go to the dark side and become at Patriots fan?
Well looks like I'm losing my steelers to win the division bet.
Looks like we are doing this again. You conveniently left out the BIG champion being blown out in 2 games that year.
Do you realize he is a starter for this team? Maybe I'm bad at math but that doesn't equate the 4th best corner.
He will be drafted in the first 3 rounds.
Are we really going to do this every week?
He recently said he misses it and will re-evaluate his future after the year
I wish gambling was that easy. Indiana has covered 7 out of the last 8 games against us.
The world is not out to get us. We got smoked by Purdue and Iowa. If we win those games we are in the playoffs.
DId anyone read his emails to the girl? I have a brain cramp trying to decipher it.
A little before my time but is there room on the call for Randy Gradishar and Tom Cousineau.
I'll just leave this here for you. You are delusional if you think we were a top 4 team.
Oklahoma 31
Ohio State 16
Iowa 55
Ohio state 24
Wade and Werner's versatility make this possible.
I certainly believe Ohio State should have been ranked higher than Georgia. If the committee gets the final 4 correct, I can't be bothered to get upset with the rest. I will be up in arms if a non-deserving SEC teams gets in the playoffs over us. In my opinion it hasn't happened yet. Either way the Buckeyes were going to the Rose Bowl last year.
Why are we so obsessed with the SEC. I refuse to worry about rankings until it actually has an impact on the Bucks.
Just wait until he starts talking about Packies, bubblers, jimmys and banging a uie.
At some point we need to start looking at Dobbins. I realize its a small sample size but Teague, Crowley and McCall all rushed for over 5.5 per carry. Not to mention Mike Weber averaged 1 ypc more on a much larger sample size. Lets see if this trend continues.
I'm the complete opposite. I have more confidence in the secondary than the oline and run game.
They were playing man as well. I thought this was overstated during the broadcast.
My answer is Vonn Bell. He's clearly not the best player in the Urban era, but his singing was the moment the world knew Ohio State was going dominate recruiting on a national level.
Twitter is a dark/strange place. Once it gets the hooks in you there is no return.