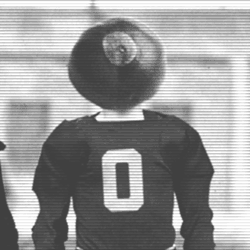 Dmac3212
---
Member since 10 August 2014 | Blog
Recent Activity
JT had a QBR of 87 but a rating of 152. Those are 2 different stats boys. Either way I wouldn't call those amazing stats. That game was defined by the running game, and that is not me taking a shot at JT.
There is no way the Patriots draft him. He doesn't fit the offense at all.
Not like JT made the choice to make a career out of playing a public sports with millions around the world watching.
Brutus whats your thought on Matt Cassel never starting a college game and getting drafted?
I get what your saying but I guess we can both agree there is no logic with the committee. I personally think we struggle to get in if we played mercy (instead of Oklahoma) and get blown out by Iowa.
That really doesn't matter. NFL is about talent and prospects. Mitch Trubisky only played 1 year and was a high draft pick. It all depends how he performs on the field.
Does anyone else think this is going to be tough match up. USC offense is legit. There running backs and slot receivers are going to cause some issues for our lbs/safety. In order to win the game we need to physically dominate the line of scrimmage on both sides of the ball. This is one of the few teams Ohio state has faced this year where they are matching up against similar athletes.
The playoff committee is suggesting we beat Iowa. Last year playing Oklahoma was the only reason we made the playoffs. People have a short memory.
Born in raised in Boston. Its a sad state that no one around here understands the joy of college sports. People think I'm psycho when I tell them I would trade in a Patriots Suberbowl for another Ohio State championship.
I'm not sure why people remember Herman as this offensive guru. Most fans were calling for him to be fired at some point. The offense only truly became explosive (besides MSU) when JT went down and Herman was unable to run the quarterback 20 times a game.
Look at Herman right now at Texas. I know Beck is on the staff but my guess is Herman has a lot of the control over the offense. Every big game Texas has they run the quarterback around 20 times and can't get any resemblance of a passing game going.
Its simple lets use the committee method. Eye test says JT is not the best quarterback of all time.
People using stats to say JT is the best QB of all time is laughable. Stats do not equate in different eras of football. Joe Montana has thrown for the 18th most yards IN NFL history. The likes of Carson Palmer, Matt Ryan, Phillip Rivers, and VInny Testaverde are ahead of him. Who is the better QB?
I would love to have a debate with someone who truly believes he is the best Quarterback in Ohio State history. We can even keep it civil.
A plus seinfeld reference
I hate this argument. Everyone has a right to an opinion. You sound like the old baseball player who is shitting on the media because they never played the game.
Are you one of these crazies that thinks Manning is a better quarterback than Brady?
I have never been so confident in something I cant prove. I just know it deep down.
They even inmitted they don't use the criteria. It's an eye test who they believe is the best team.
They were trying to win with style points. The offense just let the team down.
Everyone keeps making this argument but it's not apples to apples. I'll say it again a conference champion has never got in with two 15 point plus losses with one being a 31 point loss to Iowa. Yes, Alabama doesn't have the SOS of Ohio State last year, but no conference champ has got in with these type of losses. It's a unique situation.
Are you looking at different numbers that is the definition of up and down
Thank you. People keep commenting on something they didn't even watch
Not a good thing since herbie said he has the buckeyes in.
You did realize her or had us in his final 4. He just thinks Bama is the better team. That is how I feel as well.