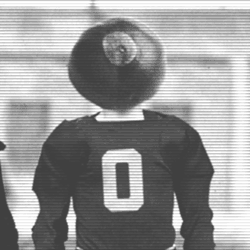 Dmac3212
---
Member since 10 August 2014 | Blog
Recent Activity
Lebron to Boston is my nightmare. Being a Celtics fan I hope Lebron stays in the East. I was at game 7 in the Garden and you just don't see that type of hatred in today's NBA game. The game is better to watch with hatred. I would much rather have the celtics win an NBA championship going through a Lebron team than with him, even if it means risking some more heartbreak.
I don't thing fans cockiness had any impact on Iowa
It was frustrating watching Weber return kicks. This is a little off topic and might sound crazy but I think Weber has better straight line speed than Dobbins.
He also gets a signing bonus from anywhere to 3-10k.
Taysum Hill also ran a 4.4 and is playing special teams. He is a versatile player.
1. Cardale never lost a game as a starter
2. JT is going be holding the clipboard in the NFL (if he makes a roster)
3. Why are you minimizing a championship?
I would be pretty bummed if they went Martell but I don't think its realistic.
I remember the double BOOM from that day like it was yesterday.
He must of done a number on Hernandez.
I'm a patriots fan from Massachusetts. The one thing I can tell you is if you played for Rutgers or Schiano, Bill is going to scoop you up.
Maybe it different for athletes with Millions in their future but at the age my only aspirations were to party. It amazes me the dedication some of these players have.
My question was when was the last time a running back was the best player on a superbowl team. Your answer pretty much proved my point.
Then he immediately has career ending shoulder surgery.
You don't take a running back number 1. When is the last time a RB lead a team to the Superbowl without a quarterback. Take the Superbowl for example. Both teams featured 3 rbs who split reps. You can find a group of rbs in later rounds who can almost equal the value of Barkley. If you don't have a quarterback you mine as well not show up on Sundays.
Foles has another year on his contract but I would assume Philly wants to trade him to maximize value.
This position battle gives me anxiety. I am a negative sports fan by nature and I am scared this one will some how get screwed up. Worst case scenario: Urban chooses the wrong QB and the other transfers. Best case scenario: I am an idiot and get made fun of all the way to another championship.
He was my introduction to Ohio State football
I've had enough ref controversy for a life time being a Buckeye and patriots fan.
You poor guys. Blessed to be from Boston.
I cant believe how bad danny fleeced the cavs.
Mike Tomlin is the issue with that team. The majority of NFL coaches would have the same success with that roster. The Steelers are terrible at situational football.
Thanks man. I just remember the double boom from the hillard/cornell announcement day. I was expecting big things but neither have really seen serious playing time. I guess we can attribute that to the amount of talent on the roster.