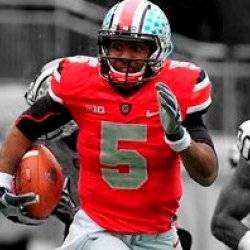 DJRivera24
Member since 10 January 2013 | Blog
Favorites
SPORTS MOMENT: Zeke Elliot 85 yards to clinch a trip to the title game and crush the hearts and souls of the entire Southern US.
COLLEGE FOOTBALL PLAYER: Troy Smith
NFL TEAM: St. Louis Rams
NBA TEAM: Los Angeles Lakers
MLB TEAM: Detroit Tigers
Recent Activity
Logged in just to up-vote this
No mention of his visor. Quite an omission.
Funny thing is in San Antonio this week we have had highs of 81-82-54 with today forecasted mid 60s and tomorrow low 40s. Every day this week I've been driving to work with the heat on. South Texas weather is strange.
Esquire is definitely one of my favorite spots. There is also a rooftop bar called Paramour that has a massive selection and a great view of the city. Can't go wrong with their Old Fashioned.
Webb/Arnette ending up on Jake Butt in coverage. It appears teams have learned not to throw on Conley/Ward/Lattimore, not to mention Hooker looming over the top. But Webb & Arnette have been the players teams have chosen to attack, and Butt is definitely good enough to cause a problem. Would say he is the biggest offensive threat we need to neutralize.
I keep checking the order status on my Fanatics account, it has moved from new into processing so we'll see
Got mine on fanatics with an order confirmation, should be good to go now? For some reason I'm worried until they tell me they've shipped haha
I am one of those Buckeye fans with Laker allegiances as well. Gotta love the way D'Angelo has been playing lately, turning around before that 3 even goes in shows the confidence he's playing with right now. Despite Byron's best efforts...
I would think it is a leverage play, but who knows. I was born and raised in San Antonio and still live here, and I know this place would go crazy for a pro football team.
Now for a semi-pro football team like the Raiders....not so sure.
Knda crazy to think one of the mentioned options earlier this week was Buckeye legend Antoine Winfield, who has no coaching experience. Urban instead goes out and gets a guy with head coaching experience at the college and pro level. Apparently he can recruit coaches too, love the hire!
I actually agree with Vannett as an x-factor, but as a blocker. If Farris has issues solo with Calhoun we may see a lot of tight end help just to slow him down and give JT more time or just give Zeke enough time to get by him.
I just got through on nike.com. It was waiting to add it to my cart for about 10 minutes.
It's really easy to get riled up about these early season playoff predictions and what not. For fun though, look back at last years playoff predictions on October 5, 2014.
http://www.sbnation.com/college-football/2014/10/5/6910243/bowl-projections-2014-college-football-playoff-predictions
Final four were FSU, Auburn, Miss St, & Oklahoma (only one of which ended up making it). We were lined up for a trip to the Citrus Bowl. A lot can change between now and the end of the season. Just keep winnin'.
He wears an under armour hoodie on the sidelines while losing a lot?
Surprised no one has mentioned the real reason Edsall is getting fired. He wears a hoodie on the sidelines.
Missed out on these, they were sold out really quick. Gotta get me a pair of these black ones though. I'll be ready to add to cart as soon as they're released.
The fact this is something being discussed by the coaches means they know the offense has underpeformed in the red zone under CJ. I agree with many on here that play calling has been awful in these situations, but there were some touch throws that were missed. The scores to several of these games would look a lot more favorable if we weren't settling for 3 so often.
Regardless, not sure it will do Cardale's rhythm any favors if he gets yanked out every time they are in the red zone.
There was a goal to go situation last week where they passed on all three downs where it felt like they should have gone smashmouth as the field got shorter and limited the effectiveness of Cardale's rocket. Take this with the usual disclaimer of I'm no football genius but it was a strange series of play calls that ended in a field goal.
So on top of the deep balls that were left short, they left some points on the board with red zone execution/play calling as well. I suppose these can be looked at as fixable errors and Urban would say.
Yes, yes, and yes. The arm strength down the field becomes less important if no one can get open downfield. Need to be able to get the 8-20 yard gains if those plays 40+ yards down the field aren't going to be there.
Another thing I've noticed with Braxton out of the wildcat is that he doesn't seem to hand it off out of the formation much either. So while the obvious variation in the play is for him to pass, I think it would also help if he occasionally gave it up to the running back to keep defenses honest, rather than simply plowing forward.
ESPN and UF really struggling to let this Urban-Gators thing go. Someone give them a hug.
That's a shame, it's gonna be a good one! I live nearby in San Antonio so it's only a 3 hour drive for me. Since I work in the oilfield I actually spend a lot of time in Houston(more than I would like). I am thinking about heading to Tempe for the Oregon game or the UofA game though, haven't been back since I graduated in 2012