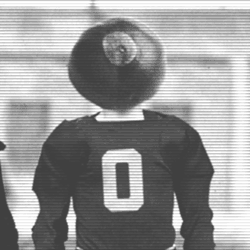 djidell
---
Member since 23 January 2012 | Blog
Recent Activity
When will the depth chart be set or is set already?
Then why was he playing in games? That is 100% coaches fault! If he had the coaching but not the talent why was he even listed on the depth chart???
You're already one of my favorite Buckeyes of all-time (including football). Let's hope you can now be one of my favorite NBA players of all-time. Good luck Sully!
Please stay DT.
The longer it takes Sully to make a decision, the better i like our odds..IMO.
Yes, the best team won it all. tOSU along with with Kansas, Lousiville, Mich St, North Carolina, Syracuse..all could beat KY on an off night with foul trouble..but really we were just 2nd tier to KY.
Kansas played like the 2nd best team in the Nation last night..they are very athletic and never gave up
I think it's ok to be disappointed, we were favored in every game of the Tourney. With that being said i was pleasantly surprised with the Final Four..i mean we could have lost to Gonzaga, Cincy or Cuse--we closed those games but couldn't close the 4th.
When is Sully announcing his decision on the NBA?
I give us one out of a million he stays.
So you're telling me there's a chance... *YEAH!*

I really enjoyed watching these guys play all year! Thanks, Willy B, Craft, Sully, Deshaun, LENZELLE!
Love you guys!
Did the schedule change? I thought we were playing Kansas..
Wait..we're playing Kansas right???
I have KY losing in 2nd round vs Iowa State..BOOM!
I can't believe most everyone in here is ok with losing early in the B1G Tourney. That is loser talk. Who cares about NCAA seeding. WE WANT TO WIN EVERY GAME!!! We can beat anyone in front of us. If we draw Kentucky. Great! Bring it on.
More games in the BTT could mean more confidence (ie: UCONN). And besides; what if we do lose in 2nd or 3rd round of NCAA's ---wouldn't you at least want to have a 2012 BTT Championship for the players?
Why does this team appear to lack focus on weekend games? Are they staying out late Fri/Sat night? It's not just WB..the entire team lacks energy and focus on Sat/Sun.
It does seem like we're getting outcoached. Tough losses like Kentucky last year are a hard pill to swallow when you feel like you have/had the better team.
According to Rivals Harvin was the #1 overall, Andre Smith #2 and Beanie Wells #3 in 2006 class.
Love this idea..but looks like he's going to MD
Doesn't sound good on Diggs?
Thanks Alex! You said on National Signing Day that we had 50% chance on Neal and 40% chance on Diggs. Do you think that number on Diggs has changed over the past couple of days?