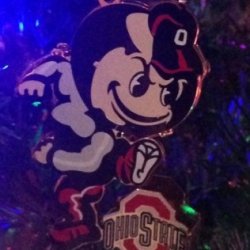 Dillon G
---
MEMBER SINCE December 01, 2013
Boring conversation anyway...
Favorites
SPORTS MOMENT: Cutting down the nets.
COLLEGE FOOTBALL PLAYER: Cris Carter
COLLEGE BASKETBALL PLAYER: Jim Jackson
NFL TEAM: Factory of sadness
NBA TEAM: Gund brothers
MLB TEAM: Dick Jacobs
SOCCER TEAM: Huh?
Recent Activity
The All Big Ten would struggle against the best front four since the Steel Curtain.
I wondered. Why does Ohio State win so much if they don't have the best players? And not the best coach?
Mo had even poorer blocking than Beanie.
I didn't need a reminder that Cooper's teams were legendary talented, and he lost the last 2 games of the year.

Galloway, Boston, and Glenn? All 3 were stars in the NFL too.
The five-star running back seems to glide across the field more than sprinting
Eric Metcalf was that way. He didn't look like he was trying hard while running away from all.
I wonder how many gifs exist of Barrett making Peppers look like the idiot draft pick he was.
If you stay with BCS +1, Joel Klatt's idea is ok. Conference champ is not an automatic bid. But you aren't in if you aren't a champ.
10 conference champs, 6 at large.
Good. Do them like Bert did to Indiana.
He will be open because the receiving corps is ridiculous.
I don't know what One America News has to do with anything.

I'm torn. I believe in America and the right to unpopular political speech. How many don't know our rules in America get you jailed elsewhere? I'm torn because they should humiliate the person doing it.
Meyer believes in "Q run". I get it, but it isn't as hard to defend as a QB that can make all the throws. 62 on the team up north, with self inflicted wounds, is my evidence.
So your saying he is faster than Josh Mettelus?
Congratulations Kevin and Mrs Kevin. This deplorable looks forward to Ramzy's great writing in the interim.
I'm not a Barett hater, on the contrary, I'll hang his jersey in my cave, in time. But, Haskins should not have come out after the Game.
Bad play calling, not bad plays. Tom Brady, Peyton Manning, Dan Marino, Joe Montana (elusive) Aaron Rodgers....
The problem is school districts elect their officials and do it their way, and others do it different.
The alignment to the gaps wasn't that different than what Schiano did. But he had Borland in the gap like a 3, not backing the line like a...linebacker. Then Booger's son runs right around him with his 4.5 speed. Don't be shocked at the results. Yes, I offering a bit of hyperbole. I am not sure RDS could have run him down out position like that.
The Oregon State back was also a burner.
I'm 100 percent confident they're useless in determining someone's college preparedness or intelligence.
The tests showed who cheated their way who high school. A person has a 3.8 and struggles to read at a 5th grade level or add fractions? Good morning Buckeyes.
These prevalence point estimates imply that 54,000 (95CI 25,000 to 91,000 using weighted prevalence; 23,000 with 95CI 14,000-35,000 using unweighted prevalence) people were infected in Santa Clara County by early April, many more than the approximately 1,000 confirmed cases at the time of the survey. Conclusions The estimated population prevalence of SARS-CoV-2 antibodies in Santa Clara County implies that the infection may be much more widespread than indicated by the number of confirmed cases.
The infection rate is not the one give on TV. It is much, much worse.
You know how the information seems to come and go, given and retracted? Well, some things remain. The infection is much bigger than thought, and the death rate much lower than thought. Zeke has it, and didn't know it. I only use that because he is in the public eye. I think many oppose the continued lockdown because of the obvious double standards from politics. Something people want to pretend like doesn't happen, therefore, don't bring it up.
We ended yesterday with sparklers and small fountains. The girls loved it.
I vaguely remember discussion regarding Ohio State being over matched at the end of Hayes's tenure. Then Cooper losing twice while not over matched. (Imagine my shock).