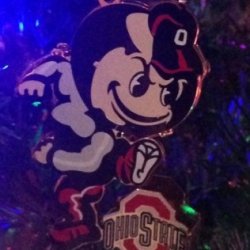 Dillon G
---
MEMBER SINCE December 01, 2013
Boring conversation anyway...
Favorites
SPORTS MOMENT: Cutting down the nets.
COLLEGE FOOTBALL PLAYER: Cris Carter
COLLEGE BASKETBALL PLAYER: Jim Jackson
NFL TEAM: Factory of sadness
NBA TEAM: Gund brothers
MLB TEAM: Dick Jacobs
SOCCER TEAM: Huh?
Recent Activity
Iowa is not a power run team this year. Mediocre.

Rutgers gave them confidence.
I think he could beat Bernie Kosar in the 40, right now.
17 for 155 is a nice ypc.
I hate the CFP. It is fraudulent, and they brainwashed simpletons into the BCS +1 so they could put 2 SEC teams in. This is why we need 8 every year, even though only 5 have a real chance. Because how can say no to a Power 5 Conference Champion? It isn't right.
Michigan struggles with teams that run the power game. They can't get stops at the defensive line too easily being smaller like they are. Brian Kelly might be purple, but he knows this.
Michigan collects its third loss. It is competitive because they played Rutgers at the right time.
Thanks Wisconsin.
That is right. I wonder if you realize in what way. Gameday is only coming if they think Ohio State will lose on the national stage.
I think OU is better than Clemson too, and wins on a neutral field.
Indiana is going bowling. 5 wins already. And I'm not sure Minnesota won't take Wisky 2 seasons in a row.
If they show up, do bring your SEC Chicken Shit Saturday signs. Kiffin's Krimson Korner still works for me.
Mike Leach did it a few years ago. I think. That tells you it should not be allowed.
Just say what you really think. Don't be a homer or anti-homer. Why is it so hard?
I haven't seen Chet is a couple of decades.
How funny. This is as bad as losing to App State or Toledo. Looking ahead much?
BTN has one too. I don't know why they can't be straight. Nicole Auerbach is a hater, if you all didn't know.
Do you all think Desmond Howard believes the bullshit he peddles? Is he actively recruiting for the team up north in picking them to win games they won't?
After watching the ball clear the uprights with plenty to spare, Jim let out an audible sigh and pumped his fist. What a night it was.
And that followed a huge punt to flip the field.
Well, there will be a big audience watching his team get "emasculated" again. Those are Steve Deace's words from the Michigan Podcast last year.
I like Fields's decisions on third down. And his ability to execute.
Not really. Too many big gains on first down. There are teachable moments.
We are created, so God given ability exists. But please don't short change effort people put into their game. For example, Dean Smith said the hardest working player he ever had in practice was his Airness, Michael Jordan.
A couple of ACC turds were on the other network. One that Maryland dropped a 70 burger on.
You mean Beck and Warriner weren't that good at play calling?
Arnette made me think of USA Network all those decades ago on All American wrestling where the villain had a fake cast on, and hit people while the referee was distracted. Cowboy Bob Orton?

That is some serious toughness. You could see him bent over on the sideline.
If Ohio State wins comfortably, the narrative will be how Wisconsin isn't what we thought. Not from all, but a bunch.