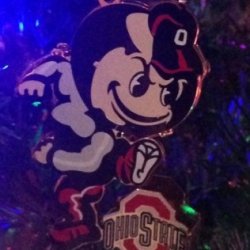 Dillon G
---
MEMBER SINCE December 01, 2013
Boring conversation anyway...
Favorites
SPORTS MOMENT: Cutting down the nets.
COLLEGE FOOTBALL PLAYER: Cris Carter
COLLEGE BASKETBALL PLAYER: Jim Jackson
NFL TEAM: Factory of sadness
NBA TEAM: Gund brothers
MLB TEAM: Dick Jacobs
SOCCER TEAM: Huh?
Recent Activity
He played quite well on 3rd downs from what I saw in my arm chair.
Williams isn't likely to see much playing time at wide receiver this year with all the veteran talent (plus Wilson) Ohio State has at that position, but his top-notch speed could enable him to earn immediate playing time on special teams like Olave did last year.
Turn him loose on the touch pass jet sweep on 2nd and 2. Just to let the defense know it can happen at any time.
The butt-hurt has to be brutal up north with 1 win and 1 interim win since 2000. I know I was bothered by 2 wins in 13 seasons. Good day, Buckeyes.
Jameson Williams is a track star who was one of the country's fastest prospects last cycle. He arrived this summer and while he does need to bulk up a bit, some are already throwing out Ted Ginn comparisons.
Or Parris Campbell.
I want to show what I showed during the year when some said Haskins needs to run, and I say no, the formation needs to change. Thank you to Day and Wilson for getting Meyer to change it at the end.
Compare and look at how few blockers there are, and how fast the defense can actually collapse on the run when there isn't really 120 yards of football field, a giant fallacy spread endorsers tout. TCU stuffed it with ease.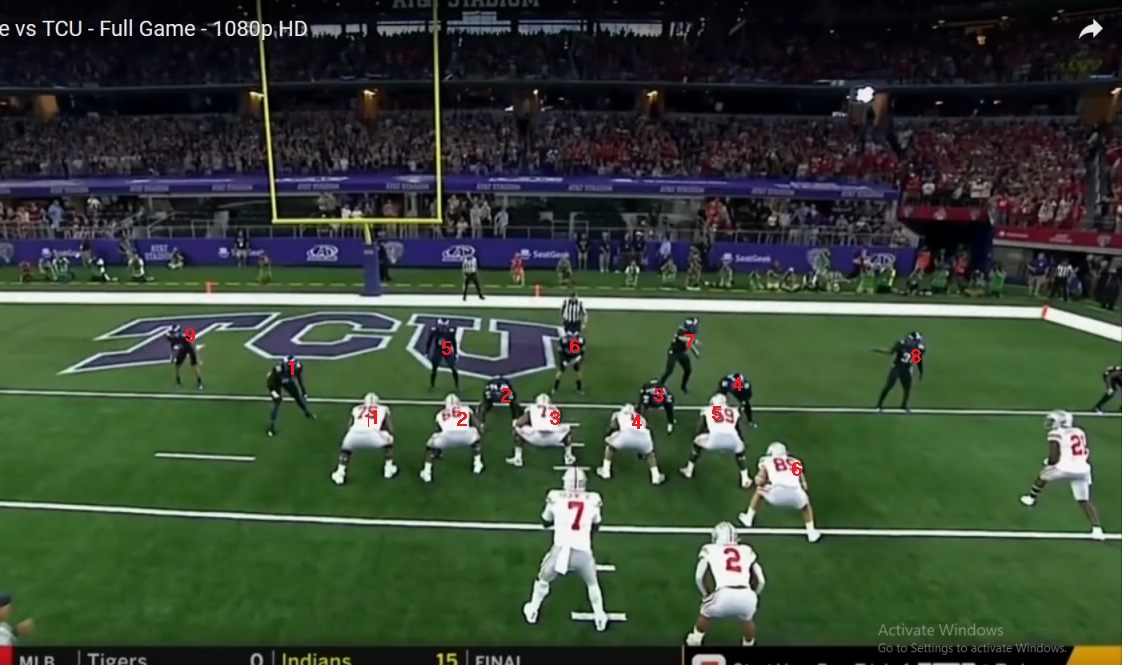 And then a clean path to the ball carrier for the defense because the offense is spread out.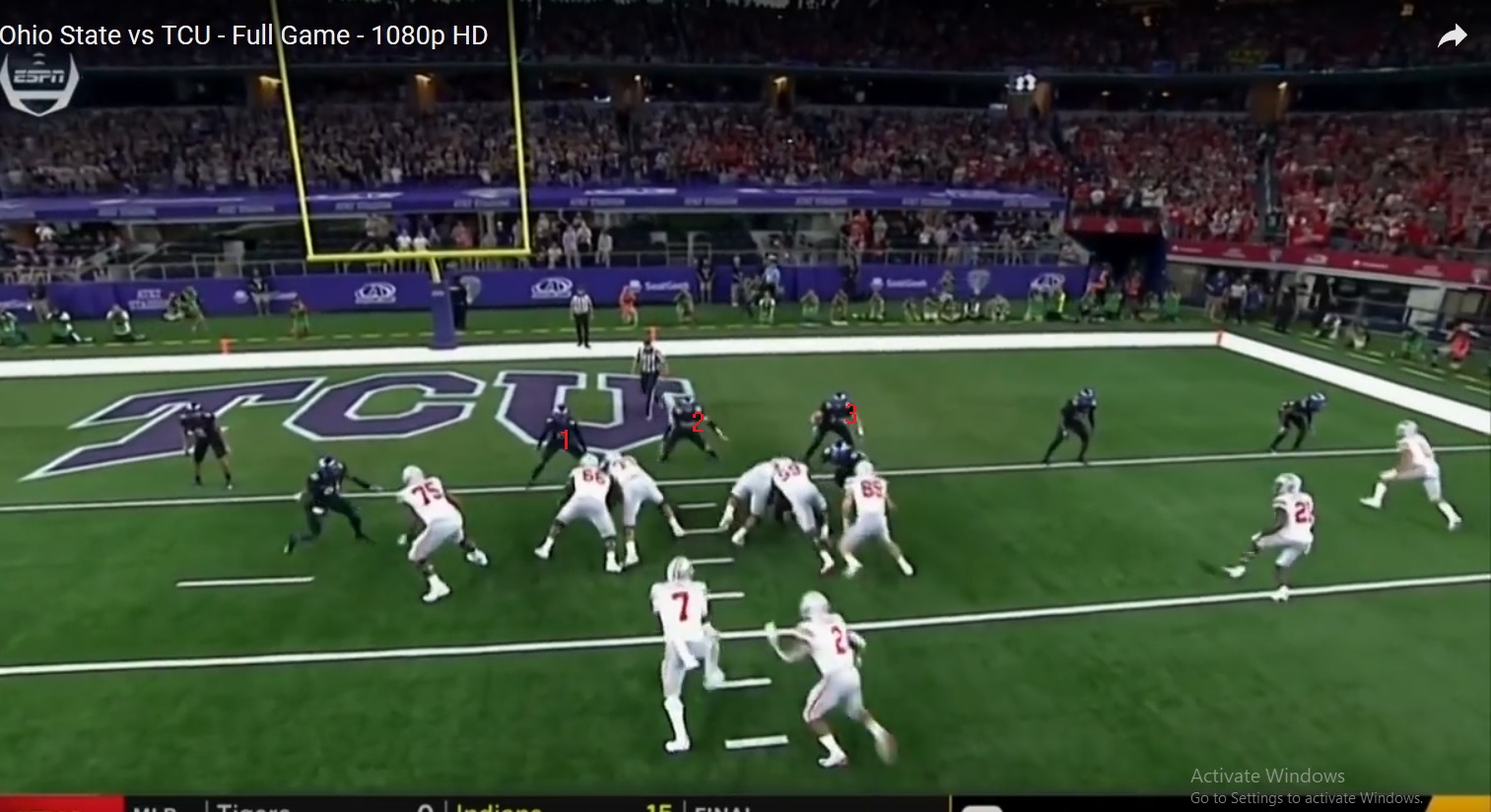 And finally, the correct formation at the 2. Pack them in. And let them try to stop a hard runner, or pick up the TE. If it is a run, the TE can release any way, once they know it is a threat, pulling defenders out of the box.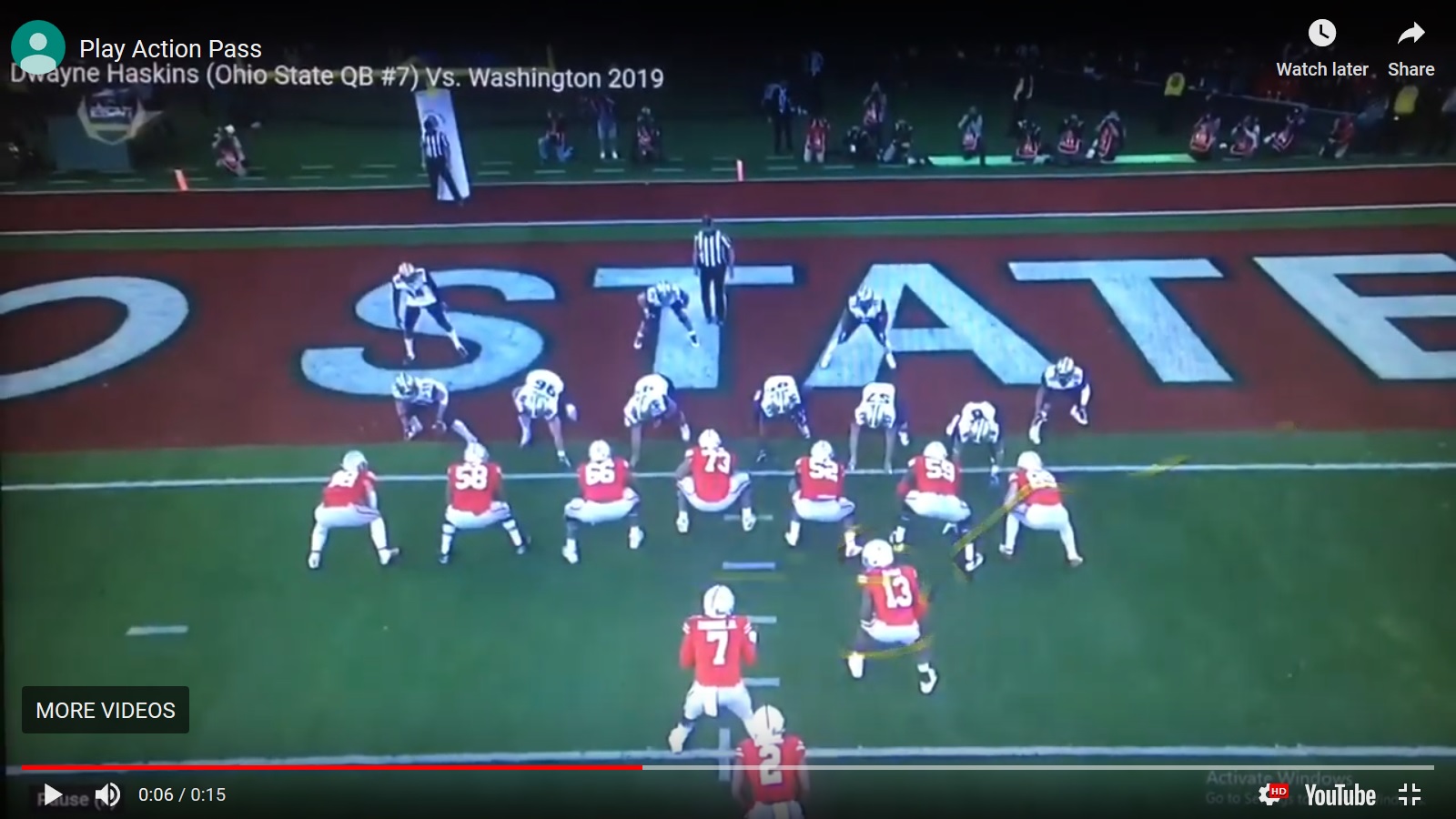 Nothing like the 3 interior linemen the size of tackles trying to get low and leverage.
What see is how things I grew up with, are back when they are not new. We, like hundreds of schools in Ohio ran out of the Delaware Wing T as the base offense. 20 and 21 were trap left and right, 28 and 29 were sweep left and right. The ball or ball fake went to the half back or full back every time. And having a 210 lb back that can run in high school chews up the yards easily.
Then at the 2 if the team is known to stack the line with 5 up front and 3 LBs tight, 8 in the box, then a new play is called. "Look out left end", which is my chance to score. The FB still runs up the middle to hit a linebacker but without the ball, and toss to the TE.
Im not denying what a weapon Tebow and Barrett are at the 2. They certainly made it look easy, giving you that security blanket.
The formation (scheme) is everything. I can add to that, and maybe I will.
So I'm not the only white guy without moves.
I don't give them a pass. I just don't rake them over the coals either. I pound the drum for the play action pass. Some of us are old enough to remember puling your hair out watching Jamie Morris not take the ball at the one while 11 Ohio State players were on him, only to see Harbaugh throw a TD pass to a wide open TE. Then Barry Alvarez followed suit.
It took Day/Wilson to dial up that play action pass for a TD every time.
Tharthan? Idiots at fucking Apple. I changed what they changed 3 times. It was right, so I hit enter and they changed it again.
Along those lines, Tarthan is first up when Miami and Florida do the first game. Aug 24. I'll be watching.
I watched all of Burrow's games that weren't blacked out/not online, or a schedule conflict with our Buckeyes.
Road trips are half the fun.
The win of Michigan on the third Saturday of November (where the Game belongs) was as good as any. Like the Brooklyn Dagger when shit happens, bum juice.
It is cool of him to have a plan.
Great article. Way to put into words things I think. Including the stats you often add in, but I don't. Other people's money also might be alimony.
We know Alabama can't guard Mike either...
If Cedar Point was not on the listed, I would have had russian hackers take down the site.
Apparently, this team won USA Basketball's national tournament – which I assume was played at a suburban YMCA – and that's why they're moving on to worlds.
Will it be broadcast on the Ocho?