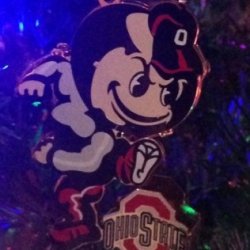 Dillon G
---
MEMBER SINCE December 01, 2013
Boring conversation anyway...
Favorites
SPORTS MOMENT: Cutting down the nets.
COLLEGE FOOTBALL PLAYER: Cris Carter
COLLEGE BASKETBALL PLAYER: Jim Jackson
NFL TEAM: Factory of sadness
NBA TEAM: Gund brothers
MLB TEAM: Dick Jacobs
SOCCER TEAM: Huh?
Recent Activity
I appreciate the correct terminology on defense. Teams over play because they can't stop them.
If you ever run across somebody who believes that in earnest, it's probably best to just smile and nod in acceptance that you can never value or trust any of their opinions about football ever again.
Or when he says Haskins is a runner and not a pocket passer. Paraphrashing of course.
That or it's the damn off-season. I have nothing against Mahomes. In fact, I like how he plays the game and believe he is generational talent. But I want Nick Bosa to plant him and wipe the smile off his face.

Then I can get in combine mode.
What determines the list and its order? How good they are at their sport or how accomplished they were while at Ohio State?
What I mean by that is actually simple. I agree the wrestler is better at wrestling than everybody else is on that list at their sport. So it should be that way.

There probably isn't a way to prove it but I think Braxton Miller is a better football player than Jared Sillinger is a basketball player. And that isn't saying Jared Sillinger wasn't a great player of course he was.
There is a difference. Ohio State was clearly better, and royally screwed. Oregon can be beaten by getting physical with them.
10-0 is coming. Make no mistake about.
If I was good enough to walk on at Ohio State, I would have done the same.
I enjoyed all of them but 2011 but my order is definitely different.
Well, Bernie Kosar from Youngstown is an NCAA champion in football, and NFL champion. But neither for Ohio.
Don't you love voice recognition?
One thing about yesterday stories on the decades worst losses. Michigan State in 2015 and that funny game with Clemson last year are not the same. The circumstances with the loss are completely different.Zeke not getting enough calories and being a little sick is the same thing as having points taken off the board and the replay booth.
I was thinking thanks for the kick in the dick. I really needed it.
The directive was it is a criminal matter (not the players part) and it is not to be discussed.
9 of the members in 2018 were of a southern influence.
What would've happened had Tressel forwarded that email directly to the compliance department?
Then he would be in legal trouble like the lawyer who sent it to him.
At least KJ wasn't underutilized the last 2 seasons. I don't think he will be a steal at the draft, unless he shows sore and runs 4.6.
It would have left the SEC out of the playoffs.
I remember Joey Bosa stepping in as a freshman and Washington coming out (the 5 star) thinking what the hell? It seemed to work out though.
Young had the most dominant season, while being triple teamed or held down the stretch.
I would have watched Penn State-Oregon, Wisconsin-Georgia, Iowa-Auburn, the team up north losing to any team with a pulse, not the team with the only 85 man roster higher rated composite than our Buckeyes.
Gus Johnson had it wrong. It wasn't barbecue that set off Ward. He caught him getting a drink during stretching in pregame.
DT's don't always get their name called, even when the big stop is directly from them, because they didn't get the tackle. Togiai and Vincent both played well. One thing stands out. Joel Klatt was heaping praise on the offense, and didn't stop when Togiai blocked a pass attempt.
People aren't watching New Year's Six bowl games live anymore, and bowl executives are passing the blame to the College Football Playoff
Uncompelling over rated match-ups don't help.
But they won dance. I suppose if I watched ESPN for something other than a non-Fox football game I might have known.