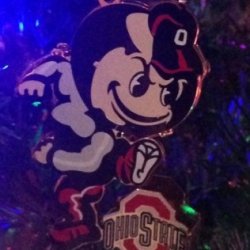 Dillon G
---
MEMBER SINCE December 01, 2013
Boring conversation anyway...
Favorites
SPORTS MOMENT: Cutting down the nets.
COLLEGE FOOTBALL PLAYER: Cris Carter
COLLEGE BASKETBALL PLAYER: Jim Jackson
NFL TEAM: Factory of sadness
NBA TEAM: Gund brothers
MLB TEAM: Dick Jacobs
SOCCER TEAM: Huh?
Recent Activity
Says who? Cincinnati, with a bunch of Ohio kids that have a chip on their shoulder will be tough. Miami and FAU? Not really. But you still have to play.
So did OJ Simpson. Therefore, giving it all on the athletic field doesn't mean I will honor someone.
I watched Jim Jackson hand them a regular season loss at what was called John F Savage Hall. Bill Robinson was on that team. Toledo used to host a lot of basketball like that. There was another game, with a team from Chicago and Uwe Blab was on their roster. He ended up going to Indiana when Bob Knight was still the coach there. I don't remember who the third team was.
I was in third grade during my developmental loss.
Offensive line coach Greg Studrawa believes the state of his position group is the best it's been since he arrived at Ohio State, and head coach Ryan Day agrees.
Yes. We had 5 tackles, that couldn't get low for leverage in run blocking, and the option formation was wrong too. It won't be zone read that improves the running game, it will be better play from the interior along with more play action pass like at the end of the year.
A lot of tears are shed on that court through the years when a team wins, and one loses in the state tournament.
Unfortunately for me, we were on the losing end.
Play action pass at the 2 works.
Rutgers needs to be between Penn State and Michigan. If they get chicken shit Saturday. So why not?
John Cooper blew up the fallacy of Norte Dame in the modern era. Lou Holtz certainly has them at the top in 1988. I think they had three top 5 wins.
Not to be confused with SEC ranking in the BCS and playoff era.
I'll give ESPN this much. They kind of did for football like Vince McMahon did for "wrestling". It was regional, and the bowl game brought it together at the end of the year. Generalizing. But it is very national now, especially if they are coming to your city.
I'll upvote to counter your wrong opinion. Ohio States run game was often ass last year because they weren't good at run blocking.
People down vote too fast, in my opinion.
He should not be a guard. He is the size of a left tackle.
He should benefit from the return of a dual-threat quarterback and the accompanying read options,
I think having dedicated interior linemen, and not 5 tackles across the line will matter more.
I can't find the original meme that one of you made.
Too much moxie causes pick sixes.
Anyway, I'm praying this ends with either Michigan and Cincinnati meeting in a postseason bowl game, or Harbaugh and Fickell meeting in a combat ring of some fashion.
Maybe Fox can whip up another round of celebrity boxing.
What kind of odds can I get on calling his shot?

That is how I read it. Browning and Gant are looking really good now. Too bad on Hilliard.
I'm still butt hurt over Haskins taking a late helmet to helmet hit, but Meyer getting the penalty.
Meyer wins, Harbaugh loses. The scoreboard is the data set.
Michigan "cheating" on defense against bad opponents doesn't make them good.
Crazy Jim. And that's all he'll ever be.
62 points on crossing routes. That proves what I'm thinking. He is the head coach of the whole team.
I mean, Ryan Day's clearly an offensive guy, so my totally unqualified and unsolicited advice to him is to just give Hafley the keys to the defense for the next two or three decades and never have to think about it again.
I get the sentiment. I don't think its a good idea though. Rich Rod was that way.