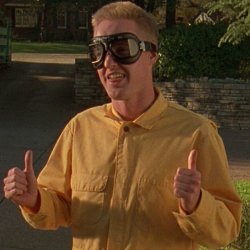 Dignan
---
Westerville (via Toledo)
MEMBER SINCE January 06, 2019
Do you remember the video of Jim Tressel being introduced as head coach? I'm the guy over his left shoulder holding the camera. No autographs please.
Favorites
SPORTS MOMENT: 85 yards through the heart of the South.
MLB TEAM: Detroit Tigers
Recent Activity
ACC with 1 team, and the AAC with 3. Crazy.
The trouble with the current system is that the criteria are both subjective and inconsistently applied. My system is simple and is based entirely upon wins and losses - in other words, it is as objective as these things can be. The only change I might make would be to deduct 1 point for a victory over any team that fails to reach a certain points threshold - say, 3. That way, a win over Rutgers counts the same as a win over your run-of-the-mill Group of 5 team, and a win over a bad Group of 5 team counts as much as a win over an FCS opponent - which is to say, it doesn't count at all. Notre Dame is included because they play against as many Power 5 opponents as anybody else - and sometimes more. They are penalized, however, for not being in a conference and not playing in a conference championship game. Clemson being number 1 at this point in the season isn't proof of anything because the bonus points haven't been added yet. If their schedule is truly weak, then they will not receive as many bonus points for wins over good teams as, say, Ohio State.
I came up with a points system and posted about it on this site earlier this year. It's simple and effective. Check it out here.
Don't count the negative yards on a kneel down at the end of the half/game against the offense. It's a small thing, I know, but it's always bothered me.
Yes, this is the correct answer.
This bums me out. I was hoping that he would be a starting LB this coming year. But best of luck to him, wherever he lands.
This explains why he is pursuing the TV gig. I don't care how much money you have saved up, going from $8 million a year to $100k is a difficult adjustment. That requires a drastic shift in the way you approach your life, and it would certainly send me looking for a side hustle.
Let's be better than Gator fans, please. Urban gave us 7 glorious years, and set the next coach up for success. What more could we possibly ask for?
Technically he did coach the team in 2019.
I love Urban Meyer, and he doesn't owe me or OSU anything. He can and should do what he loves if he is able to do it. With that said, the cyst took him to his knees on the sideline against Indiana. Against. Indiana. We all saw that, and he certainly didn't run into another coach like the sideline reporter said. They covered for him. If he goes back to coaching, I'm afraid he won't be long for this world. The stress and grind of being a head coach simply doesn't work with having a brain cyst.
I expect all of these players to wind up on the Saints' roster in the next 3 years.
Something I never noticed about that David Boston catch is that there were eight - eight! - Buckeyes blocking. It was a 2 man route! And he, quite literally, walked into the end zone untouched. Who was #23 for ASU covering? Why did he flinch back toward the middle? What a play!
There was a team we used to play a lot at the end of the year. They always played us tough, even beat us some of the time. We had a real bad stretch against them maybe 20-30 years ago, but since then I just don't remember playing that kind of opponent at the end of the year. Does anyone remember the name of that team? It'd be a nice change of pace to finish off the year against a quality opponent.
A word was said that ought never be said, and it was said about/to Justin Fields. On top of that, it was said by a fellow student athlete. There may be more, but that's enough for me. That simply must never happen; it's that serious. The University of Georgia took appropriate action, but that doesn't mean Fields should have to pay a penalty for wanting to leave there.
I calculated the totals for the top 6 schools, and here they are, in order:
1. Clemson, 31 points. 25 regulation points, plus 6 bonus points: +1 Tx A&M (12), +1 GT (11), +1 Syracuse (14), +1 NC State (13), +1 Duke (11), +1 Pitt (12)
2. Alabama, 30 points. 24 regulation points, plus 6 bonus points: +1 Tx A&M (12), +1 Mizzou (12), +1 LSU (14), +1 Miss. St. (12), +2 Georgia (18)
3. Ohio State, 30 points. 25 regulation points, plus 5 bonus points: +1 PSU (16), +1 MSU (12), +2 Michigan (18), +1 Northwestern (16) [OSU loses tiebreaker because of the loss.]
4. Notre Dame, 28 points. 22 regulation points, plus 6 bonus points: +2 Michigan (18), +1 Stanford (13), +1 Pitt (12), +1 Northwestern (16), +1 Syracuse (14)
5. Oklahoma, 28 points. 24 regulation points, plus 4 bonus points: +1 Iowa St (13), +1 WVU (14), +2 Texas (17) [OU loses tiebreaker to Notre Dame because of their loss.]
6. Georgia, 22 points. 18 regulation points, plus 4 bonus points: +1 Mizzou (12), +1 Florida (13), +1 Kentucky (14), +1 GT (11)
So in my system the playoff would have been Clemson v. Notre Dame, and Alabama v. Ohio State.
I did not factor in the bowl games, so the number I came up with for OSU is 30. 11 wins against Power 5 schools (22), 1 win against Go5 school (1), and conference champion (2). Then they got +1 for PSU (16 points), +1 for MSU (12 points), +1 for Northwestern (16 points), and +2 for Michigan (18 points). Haven't done any other schools yet.
I definitely hear what you're saying. Every year there are a not insignificant number of Group of 5 teams that are demonstrably better than another not insignificant number of Power 5 teams. I'll keep thinking of a way to factor this in.
These numbers are making me rethink the bonus point threshold. Only 8 teams in the country would qualify as a double bonus win? That seems low. Also, the criticism of beating good Group of 5 teams vs. bad Power 5 teams is well-founded. Perhaps lowering the bonus thresholds would mitigate some of that, but I'll have to look at it with actual data. If only I didn't have a day job!
Yes, these are the numbers that I came up with, but haven't had time to do the bonus points segment yet. I'll try to work on the bonus points for this year after work tonight, but I don't think the top four of OSU/Clemson/Alabama/Oklahoma will change.
There is no doubt that my system favors Power 5 teams, but so does every other system we've had. The Committee proved this year that even if a Group of 5 team goes 13-0 they're not getting in. And speaking of UCF, Navy would have counted, and they had a game against UNC cancelled, so that could have been another 2 points there. They were also conference champs, so that puts them at 14 total regulation points. But again, my system works because they played almost nothing but Group of 5 teams, and therefore haven't earned it on the field. The exception of Rutgers (bad P5 team) or UCF (good Go5 team) doesn't prove anything. There will always be exceptions no matter the system.
That's where the bonus points come in to play. A team would only get 2 points for beating the Rutgers of the world, but would get an additional 1 or 2 points for beating better teams.
I thought of this, too. Each Power 5 conference could be tied to a "littler brother" Group of 5 conference. For example, the Big Ten is tied to the MAC. The MAC champion would have the opportunity to elevate to the B1G if they reach a certain points threshold (say, 15), as long as the last place B1G team also fails to reach a certain points threshold (say, 4).